Sinas says, SONA protesters won't be arrested if they stay within UP campus
The NCRPO chief said even if protesters stray beyond UP, they won't be immediately arrested citing an agreement between police and protest groups
Jul 27, 2020
Protests on the eve of the State of the Nation Address (SONA) are as much a part of the annual stately gathering as lawmakers splurging on tailormade barongs and ternos. But this year with a pandemic still on-going, things are a little bit tricky. Will we see burning effigies of the president? Likely. The question is, will protesters be safe from police intervention and arrest?
National Capital Region Police Office (NCRPO) chief Maj. Gen. Debold Sinas says it depends. For those who will stage protests within the University of the Philippines Diliman campus less than 10 kilometers away from the SONA venue at the Batasan Pambansa Complex, Sinas said will be safe from arrests.
But even if members of these protests stray a bit from campus grounds, Sinas said they won't be immediately arrested because of an agreement between the police and protest groups.
Rallyists observe physical distancing while participating in a protest at UP Diliman University Avenue on Independence Day 2020. | 📷 Cathrine Gonzales pic.twitter.com/W2OrTd7hJ8

— Inquirer (@inquirerdotnet) June 12, 2020
"We would first talk to their leaders [to remind] them of the ban on protests, and they should disperse themselves," he said. 
"But after our dialogue and they remain hardheaded, and their activity has already caused a commotion, then that's the time that they would be arrested," he said.
Commonwealth Ave., a major thoroughfare leading to Batasan, Sinas reiterated is a "no protest zone" following a Department of Interior and Local Government directive. He said police officers dressed in civilian clothing will be deployed in Commonwealth to apprehend protesters there.
"Walang usap-usap. Kapag may maglabas ng placard, huli agad," he added.
Meanwhile in Batasan, where President Rodrigo Duterte is expected to lay out his plans to stop the spread of COVID-19, 5,000 police will be standing guard. They will be assisted by 2,000 officers from the Bureau of Fire Protection, Bureau of Jail Management and Penology and traffic law enforcers from the Quezon City government and the Metropolitan Manila Development Authority.
Maximum tolerance will be observed on the police's end, said Philippine National Police chief Archie Gamboa in a press conference earlier today.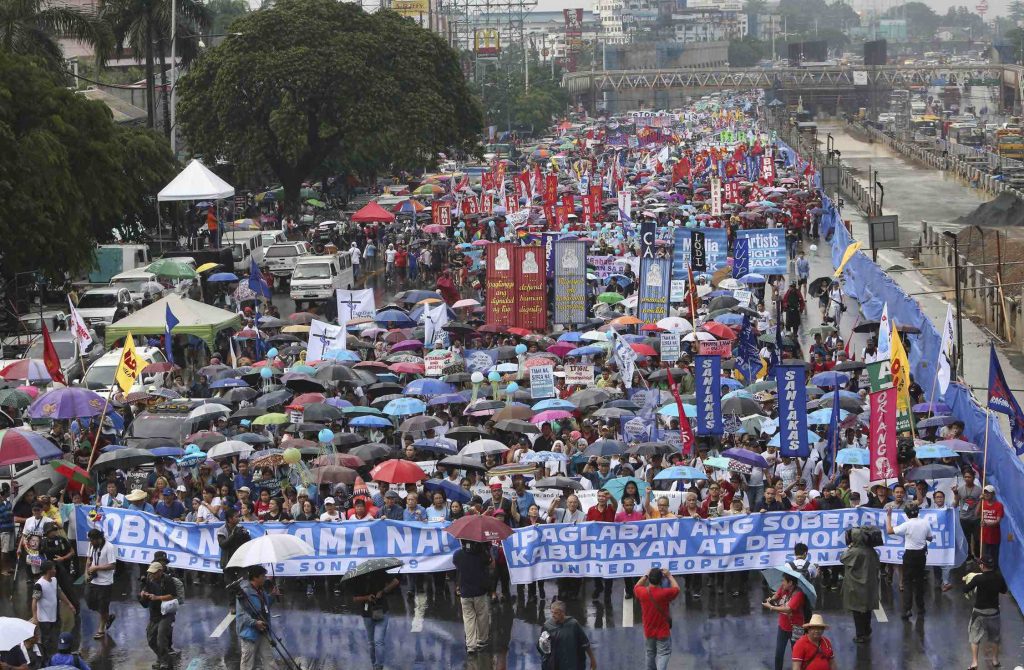 Responding to criticisms that mass protests are less likely to spread the virus compared to cramping in police quarters, he said that during a meeting with NCRPO over the weekend, he already suggested the local government of Quezon City employ a treasurer on-site at the chosen detainment area so arrested individuals could immediately pay fines and be released.
Justice Secretary Menandro Guevarra, over the weekend, affirmed the citizens' rights to assemble as outlined in Section 4, Article III of the 1987 Constitution or the Bill of Rights.
"The right of the people to peacefully assemble for the redress of grievances is a fundamental right protected by the Constitution," he said.
"It is a lawful exercise, however, such as with respect to the time and place where it may be carried out, is subject to reasonable regulation by the authorities in the interest of public order, health and safety."
LOOK: House personnel undergo rapid testing ahead of President Rodrigo Duterte's State of the Nation Address in Batasang Pambansa this afternoon. #SONA2020 | @NAMercadoINQ pic.twitter.com/EfrJsglRrb

— Inquirer (@inquirerdotnet) July 27, 2020
Only 18 senators will be present at the Senate opening but only eight will be going to Batasan to hear the president's address. Said attendees have already been subjected to reverse transcription-polymerase chain reaction (RT-PCR) test, and will undergo rapid test before entering the plenary later today.
From the House of Representatives, there will only be 27 lawmakers attending the SONA, the rest will be accommodated through a Zoom call.
Header photo courtesy of Grig Montegrande/Inquirer
Get more stories like this by subscribing to our weekly newsletter here.
Read more:
In photos: Groups "celebrate" Independence Day at the "Grand Mañanita" protest in UPD
Jailed for protesting and now sick: Two Piston 6 drivers test positive for COVID-19
DOJ has temporarily banned protest rallies. Here's what human rights lawyers have to say
TAGS: arrest covid-19 Maj. Gen. Debold Sinas PNP police protest rally SONA 2020 UP Diliman