Can face shields alone protect us from coronavirus? Not quite. Study shows how droplets move around it
Wear a mask under that face shield—but not one with a valve
Sep 2, 2020
Just as medical experts are continually trying to figure out COVID-19, we as consumers are learning every day—not at the expense of lives, hopefully. 
Since the onset of the pandemic, we have shifted from wearing face masks with valves to cloth and surgical ones. According to the updated mask guidelines by the Centers for Disease Control and Prevention (CDC), although masks with one-way valves or vents make it more comfortable in humid weather, the same structure can result in expelled respiratory droplets that can reach others.
"This type of mask does not prevent the person wearing the mask from transmitting COVID-19 to others. Therefore, CDC does not recommend using masks for source control if they have an exhalation valve or vent," the agency said.
But there's another finding that a recent study published Tuesday (Sep. 1) in the US journal Physics of Fluids by researchers at Florida Atlantic University, this time about face shields.
Using a hollow mannequin equipped with a manual pump that emulates a cough or sneeze while wearing a mask with valve and face shield (separately), the researchers track the movement of droplets of distilled water and glycerin through horizontal and vertical laser sheets.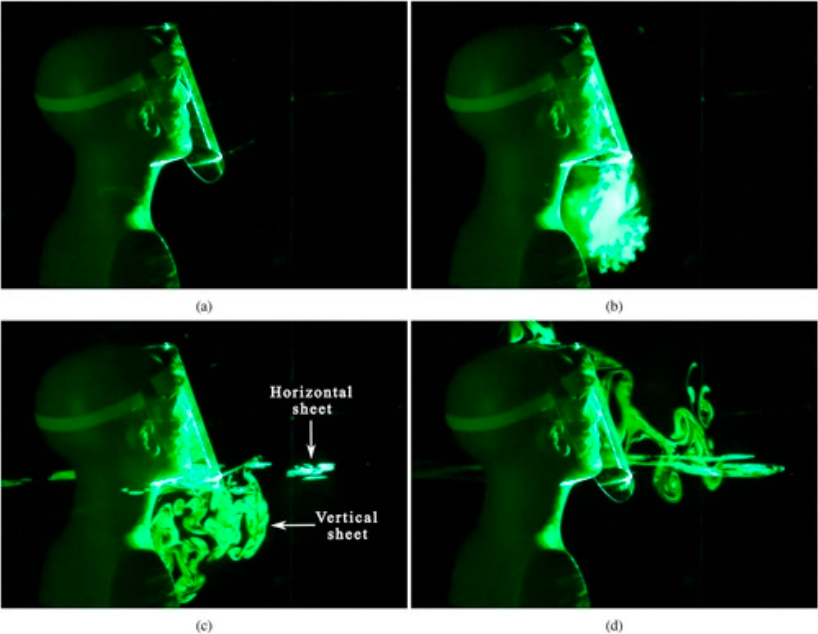 "The visualizations indicate that although face shields block the initial forward motion of the jet, the expelled droplets can move around the visor with relative ease and spread out over a large area depending on light ambient disturbances," the researchers said.
Likewise, the experiment found that droplets pass through the mask's exhale valve unfiltered, reinforcing CDC's warning against its effectiveness versus stopping the spread of coronavirus.
[READ: FDA doesn't advise using face masks with valves. Here's why]
According to the researchers, it may be preferable to use high quality cloth or surgical masks that are of a plain design, instead of face shields alone or masks equipped with exhale valves.
Last month, wearing face shields along with masks became mandatory in commercial spaces, public transportation and workplaces.
Header image courtesy of Inquirer.net
Get more stories like this by subscribing to our weekly newsletter here.
Read more:
Is it a mask or candy wrapper? These face masks look like White Rabbit and Tootsie Roll wrappers
LOOK: Face masks feature Lumban, Laguna's hand embroidery tradition—and it's less than P500
Face masks (alone) can't save you and it's also killing the environment
TAGS: CDC covid-19 droplets face mask face shield mask with valve study