If you loved Brutalist Pilipinas IG, there's a new crowdsourcing project in search of Modernist buildings
Brutalist Pilipinas' Patrick Kasingsing is far from being done defending Brutalist structures. In the meantime, he's crowdsourcing for a new page documenting local Modernist architecture
Sep 14, 2020
The Cultural Center of the Philippines is perhaps the most recognizable piece of Brutalist architecture in the country. A concrete slab seemingly floating over a body of water, the National Artist for Architecture Leandro Locsin-designed edifice turns 54 this year. 
But it is not the lone Brutalist structure in our land. Most government buildings are in fact made this way, in an architectural style often characterized by monolithic geometric shapes constructed and finished with concrete. 
Now, Patrick Kasingsing will argue with me when he finds out this is my rigid definition of this movement that started in the '50s and has subsequently swept the world through design. He is after all, knowledgeable in the subject as the one-man team behind Brutalist Pilipinas, an 8,000 followers-strong Instagram page dedicated to the Brutalist structures of the country.
Founded in 2018, the page has documented hundreds of buildings not just in Metro Manila but in neighboring regions, too. Kasingsing, of course, couldn't have done that by himself. The project is crowdsourced and powered by submissions by like-minded architectural geeks, who may or may not share Kasingsing's love of these concrete blocks of buildings—again a limiting definition.
For the record, his definition based on a recent profile of him published by a website run by ex-magazine editors called Out of Print, is not limited to the use of concrete. "Brutalism isn't just concrete. Brutalism isn't concerned with just one material, but rather how honest the material is being used. Concrete as concrete, brick as brick, glass as glass," he tells writer Toni Potenciano.

Over 500 posts later, Kasingsing isn't nearly over with his unorthodox way of educating architectural skeptics. In fact, he's set up another page called Modernist Pilipinas just this month to broaden everyone's architectural knowledge beyond this "polarizing" style.
"The goal is to create a freely-accessible information source on the subject of Philippine Modernist architecture, but also serve as means of documentation of a style fast disappearing within the archipelago."
Also known as International Style, this movement popularized in the early 20th century, revolved around the philosophy "less is more." It did away with elaborate ornaments and focused on the form and function of a building using often new materials to achieve this.
According to Kasingsing's research, the Modernist movement was in full swing domestically from 1950s to 1970s. But as new architectural trends prevail, these once-groundbreaking structures are eventually overshadowed and neglected. Such is the fate of the Philippine Banking Corporation Building by National Artist for Architecture Jose Maria Zaragoza at the Port Area (erected in 1965 and demolished in 2018) and more recently the PhilAm Life Building by Carlos Arguelles.
[READ: Up next on 2020 casualties: The historic Philam Life Theater]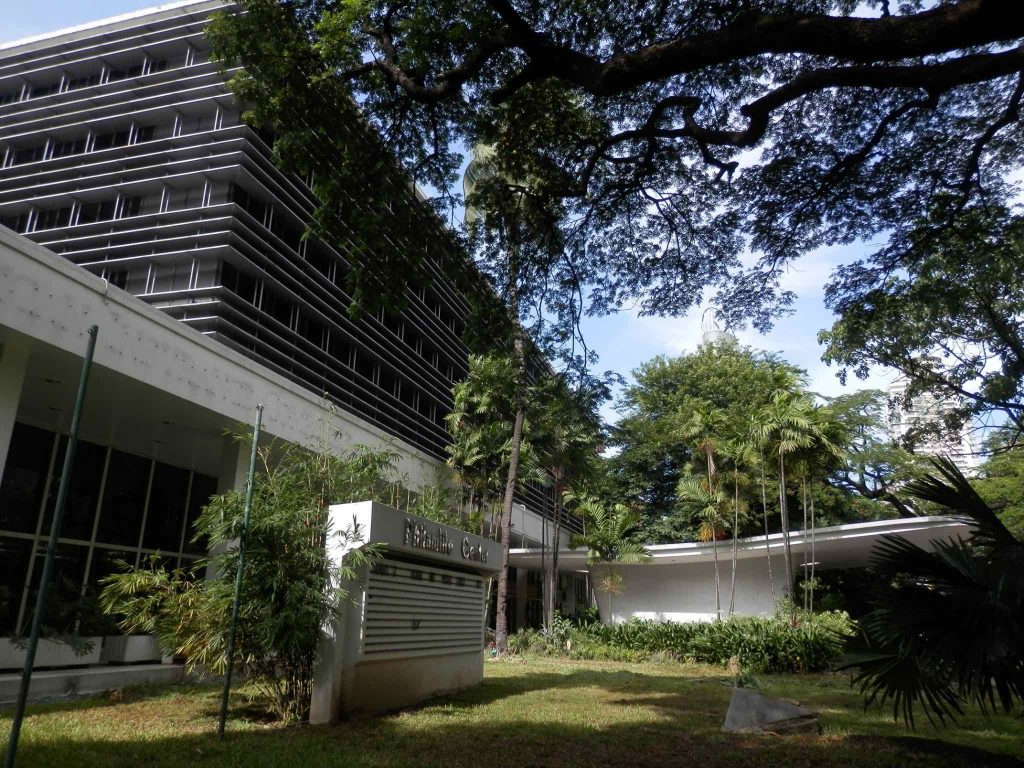 The latter, which houses a state-of-the-art theater built by the same firm behind the Sydney Opera House, will be demolished to give way to a high-rise residential. The developer, however, has vowed to honor the architectural icon by replicating the original facade while consulting the National Historical Commission of the Philippines.
Kasingsing's new project together with photographer Ed Simon paid its own homage to Arguelles' masterpiece by adopting the lines of its iconic facade within their logo.
Much like Brutalist Pilipinas, Modernist Pilipinas will feature photo submissions from all over the internet through the hashtags #modernistpilipinas, #modernistph and #modarchph.
"This account seeks to increase public awareness and promote a reacquaintance with our Modernist architecture heritage. It also seeks to bare the sorry plight some of these examples face in the context of wanton development and commercialization," Kasingsing and Simon say.
[READ: The government blatantly lacks cultural heritage literacy. Here's why]
"The goal is to create a freely-accessible information source on the subject of Philippine Modernist architecture, but also serve as means of documentation of a style fast disappearing within the archipelago."
Currently, its feed features nine structures photographed by the moderators themselves. These include the Social Security Building in Quezon City by National Artist for Architecture Juan Nakpil and his sons, a few other Carlos Arguelles buildings like the Development Bank of the Philippines along Makati Avenue, and the University of the Philippines College of Engineering's building, Melchor Hall by UP's first university architect, Cesar Concio.
Header photo screen-captured from Modernist Pilipinas Instagram page
Get more stories like this by subscribing to our weekly newsletter here.
Read more:
Architect Carlo Calma on the dynamism of architecture
The future of Philippine architecture according to industry experts
Paco Market is getting a modernist redesign but not everyone is a fan
TAGS: architecture Brutalism brutalist pilipinas filipino architecture Instagram modernist patrick kasingsing philam life building