By the time we get out of this quarantine, we'd either be great cooks or would have accumulated a long list of take-out restaurants. While eating out may still be off-limits to some (by choice), some restaurants are still thriving by way of delivery. In fact, there are even new ones popping up in Metro Manila this month amid this challenging time.
[READ:
What are cloud kitchens and how do they work?
]
Bookmark this list if you're tired of ordering in from the same place. You'll thank us later.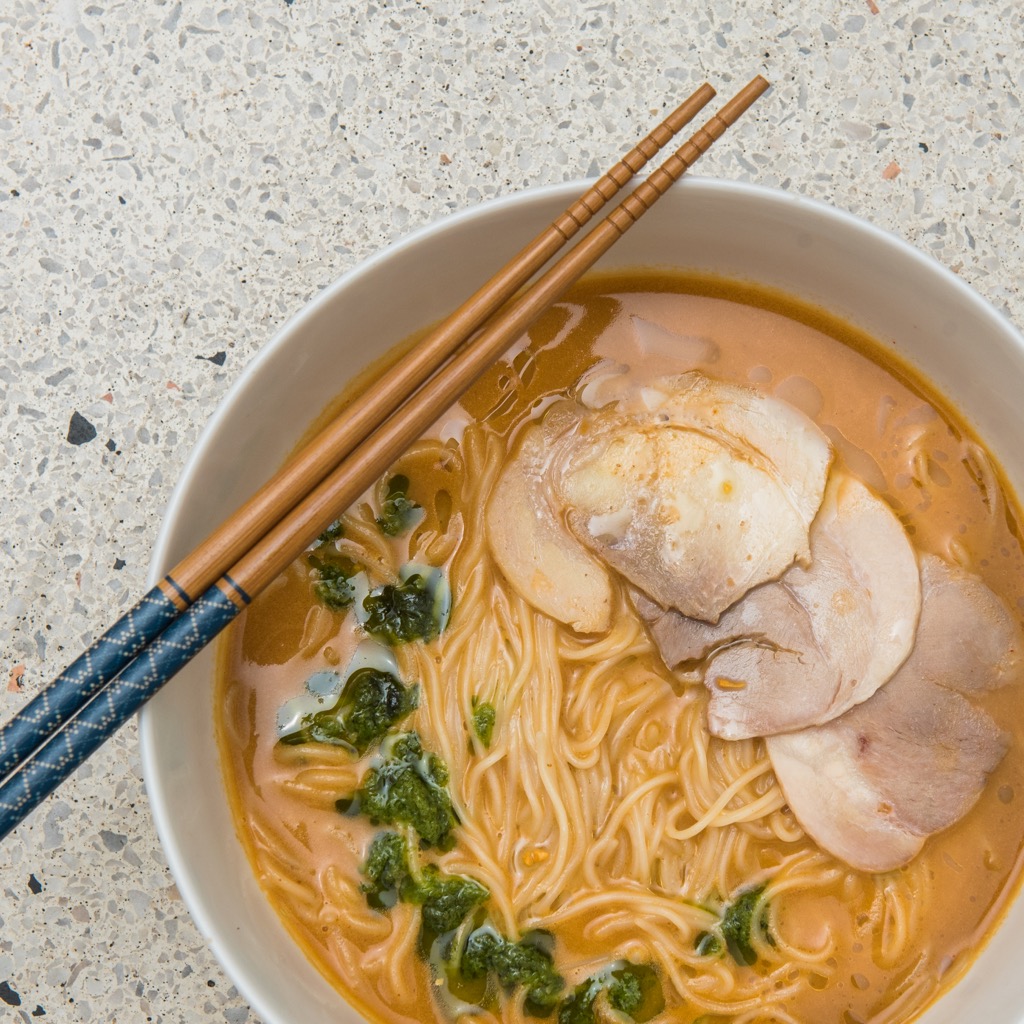 Remember the house of "inauthentic" ramen called Wrong Ramen in Burgos Circle, Bonifacio Global City? It has been closed for over a year now, but the people behind the idea—the Lowbrow Casual Restaurants group—have just come up with a new ramen concept, Ultramen. The noodles are good enough for takeout (you know how some ramen houses can be strict about this) and come in ready-to-cook packs.
Wrong Ramen's rule-breaking spirit is alive and kicking in Ultramen's menu. Instead of finishing the ramen with seasoned fat on top for richness, they use a "green oil" of basil and leek processed together with a ginger-garlic infusion that adds freshness to the broth.
Ultramen has yet to officially launch but you can already order through its website.
While Ultramen is a sort of comeback, Ramenron in Makati is a rebrand. If you're familiar with Ukokkei, one of the first restaurants to ignite the ramen craze locally, you'll recognize the flavors of Ramenron.
View this post on Instagram
Due to the pandemic, the rebrand also comes at the expense of an in-store experience, thus the switch to ramen kits. Ramenron currently has four ramen flavors on the menu: Ukokkei Miso Chashu Ramen with miso-based broth, pork chashu topping, bean sprouts, and spring onions; Ukokkei Shoyu Chashu Ramen with soy sauce-based broth, pork chashu topping, bamboo shoots, and spring onions; Tantanmen with sesame, chili, miso, and ground pork topped with spring onions; and Hiyashi Goma Ramen with cold sesame sauce, pork chashu cubes, wakame, cucumber, sesame seeds, pickled ginger, and onion leeks.
You may order by filing out this form.
This list is looking a lot like a Japanese takeout cheat sheet as this next newcomer specializes in Japanese curry. Kuma Kuma Curry from the minds behind the takeout concept Birdbox is built out of a longing to travel again and try the distinct curry flavors that can only be found in Japan.
Takumi Reyes, Kuma Kuma Curry's head chef, takes his cue from years of travel and from his stint as sous chef at Mecha Uma. Right now, the online restaurant offers three dishes: beef curry, butter chicken karaage, and signature beef curry.
You can order from Kuma Kuma Curry through its website.
While the Filipino food market can be saturated, any newcomer with a new vision and perspective on our cuisine is always welcome, especially when it's by trusted names.
The Sunny Side Group known for its Boracay restaurants is venturing into the online restaurant business with a new concept: Tabi-Tabi Filipino Grill. The idea is to replicate the turo-turo or "dyan sa tabi-tabi" food trip experience typical among most Filipino diners. For Tabi-Tabi, it's barbecue paired with expertly made sauces.
"We put our own twist to this iconic Pinoy comfort food with our house-made muscovado-garlic sauce created by Chef Natalia Moran," say Nowie and Odette Potenciano of The Sunny Side Group. 
Any self-respecting Pinoy with a penchant for anything ihaw, will recognize its sweet-tangy flavor. The barbecues come in meals with munggong may tinapa, ensaladang papaya, and garlic confit rice.
Tabi-Tabi is part of The Grid Food Market's virtual foodhall Off-Grid. To order, call 0917-7030729 or fill out this form. Off-Grid is also available through GrabFood, FoodPanda and Pick-a-roo.
Header photos courtesy of Ultramen, Chichi Tullao and Kuma Kuma Curry
Get more stories like this by subscribing to our weekly newsletter here.
Read more:
NYC 'tapsilogan' by 3 nurses becomes hangout for Filipino frontliners
If you loved Burger King's meat-less Whopper, here are other plant-based burgers to try
Palapa is the Maranao condiment you need to spice up scrambled eggs
Writer: CHRISTIAN SAN JOSE