On Dec. 15, Rome Vladimir Cuevas was surprised by a deluge of food delivery riders buzzing his door. The catch? Cuevas didn't order any of it.
"Bale nagtaka din po sila at iisa ang address na nakalagay. Kahapon po bandang 3 p.m., sabay-sabay po silang dumating. 16 riders in total," Cuevas told the Inquirer.
His grand total reached P28,000 for 16 food deliveries that ranged from P1,700 to P1,900 per order. He had to enlist the help of neighbors to buy out everything so the riders didn't have to end up paying for the orders themselves.
"Kinuha po namin yung iba tapos pati mga kapitbahay namin eh binili din. 'Yung iba po, umalis na. Ibebenta po yata sa iba," Cuevas said.
'Nagmakaawa na bilhin namin'
The riders were relatively lucky. Cuevas, with the help of his neighbors, could afford to shell out thousands of pesos for food without notice. But this is not an isolated case.
[READ: Joking about food delivery hotlines as "emergency hotlines" during a storm isn't funny]
Cuevas added that some riders didn't force him to pay for the food he didn't order, "Hindi naman po sila namilit," he said, indicating that riders are more or less used to this kind of antics. On the flip side, some riders begged them to buy the meals to avoid having to pay for them. "'Yung iba lang po eh nagmakaawa na bilhin namin."
Despite general consensus that pulling a food delivery prank is childish, unfair and inconsiderate—both to the person caught off-guard and to the unsuspecting rider—such tomfoolery still happens and quite often.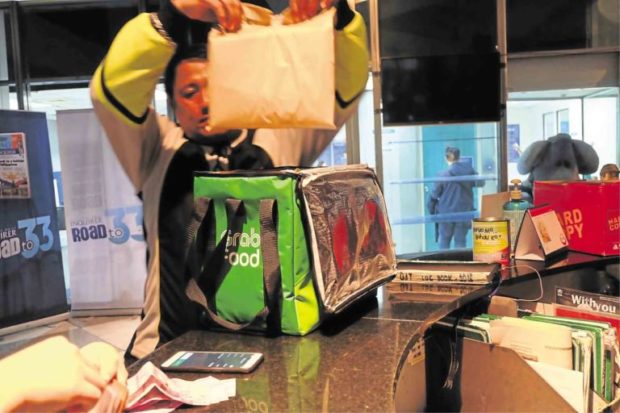 Perhaps too often that a lawmaker proposed a punishment of six years jail time and P100,000 fine along with food reimbursement for those who "abuse motorcycle delivery riders who advance the purchase price for orders by unreasonably or abruptly canceling orders (or), declining to receive and pay for orders, and bogus customers who provide wrong addresses for delivery."
[READ: GrabFood drivers won't have to worry about no-show customers anymore]
House Bill 6958 or the Food and Grocery Delivery Services Act by AKO Bicol Party-list Rep. Alfredo Garbin was filed in June and is still pending in the committee level. But the House Committee on Trade and Industry, also in June, expressed plans to consolidate it with another proposed bill, which will "ensure equal protection of consumers, service providers, and motorcycle delivery riders."
Dehumanizing and an added burden
It should not take a bill for someone in the right mind to realize that this is a heinous act that shouldn't be done at all cost—and most definitely not for the sake of enjoyment and Schadenfreude (taking pleasure from watching someone's misfortune). 
Not to mention, it is a very cruel act to pull on delivery people, minimum wage earners who strive to do decent work amid the pandemic, who struggle to meet demands with little to no insurance or health benefit.
Remember that only last month, FoodPanda riders took to the Department of Labor in Intramuros to protest unfair labor practices. According to riders, they were paid a meager P59 per delivery and in some cases were made to shoulder parking fees. This is contrary to the previous rate that gave them P75 per order plus an hourly rate of P40.
VIDEO: Mga rider ng isang food delivery service provider, nagtungo sa Intramuros para magsagawa ng motorcade at almahan ang anila'y hindi patas na labor practices. | via @Isa_Umali pic.twitter.com/cglbc96RmZ

— DZBB Super Radyo (@dzbb) November 18, 2020

Attempts at resting or taking short breaks between deliveries are also met with warnings that accumulate to a lower rating, which ultimately dictates whether or not they'd get priority booking or any bookings at all.
Oh and lest we forget, delivery personnel are made to work odd hours, especially with curfew hours lifted in most cities, for the sake of our convenience.
We forget that these are also people, not mere "service" instruments, who go home to their families after every shift, and who used to have better-paying jobs but were forced to do this grueling task to survive the pandemic because they had no other recourse.
There's the college student who balances online learning with being an on-demand delivery guy to support his family and continue his education, former pilots and flight attendants who having found themselves jobless after the travel ban resorted to making a living on land, and many other Filipinos struggling to stay afloat.
They don't deserve this humiliation and dehumanization. They deserve better.
If you are thinking of getting even with a person who did you wrong, or to pull a stunt to go "viral" online, please spare these noble workers. They have enough on their proverbial plate. There are other ways to get even or go viral that's not at the expense of hard-working food delivery people.
Header image courtesy of Rome Vladimir Cuevas via Jerah Rivera/INQUIRER.net
Get more stories like this by subscribing to our weekly newsletter here.
Read more:
Support local restaurants but practice contactless delivery
GrabFood drivers won't have to worry about no-show customers anymore
Nolisoli Gift Guide: Gifting ideas for food delivery regulars
Writer: CHRISTIAN SAN JOSE