If we are on the topic of reducing our greenhouse gas emissions by way of eating, then you might want to consider giving up cheese alongside meat. Why? Because next to beef and lamb, cheese produces about 8.4 kgCO2e per 100 g produced when you add up everything from the land and resources used for raising cows, energy from processing down to transport and packaging.
This is based on a 2018 study published by scientific online publication Our World in Data, which consolidated data from 119 countries and 38,000 commercial farms.
In fact, cheese has a bigger environmental impact than poultry and pig raising industries. This is ultimately owing to the fact that it comes from cows, an industry with the highest emissions in the world's food supply chain. Meanwhile, unprocessed cheese aka milk is also among these high-emission foods but only with 3 kgCO2e, which is lower but nonetheless significant.
Other than reducing our meat and animal-byproducts consumption, it may also be worth trying out plant-based alternatives. Yes, there are plant-based cheeses and you can find them locally (As you know, importation is also a big factor in greenhouse gas emissions).
In a Nutshell
Its dairy-free cheeses are made from local tropical tree nuts like pili nuts, cashew and coconut. They're also gluten-free. Choose from best-sellers like non-traditional cheddar and mozzarella or, for a different texture, cream cheese and chevre—all made with cashew.
Order here.
Plant Creamery
A brand by Go! Salads, Plant Creamery makes artisanal vegan cheese using modern techniques. It makes use of cashew to create plant-based alternatives that mimic the taste and texture of the real thing, case in point: its powdered parmesan cheese that's perfect for pasta and salads.
Order here.
[READ:
Cheese is it: This place has all sorts of vegan cheese for pizza and pasta enthusiasts
]
NiYog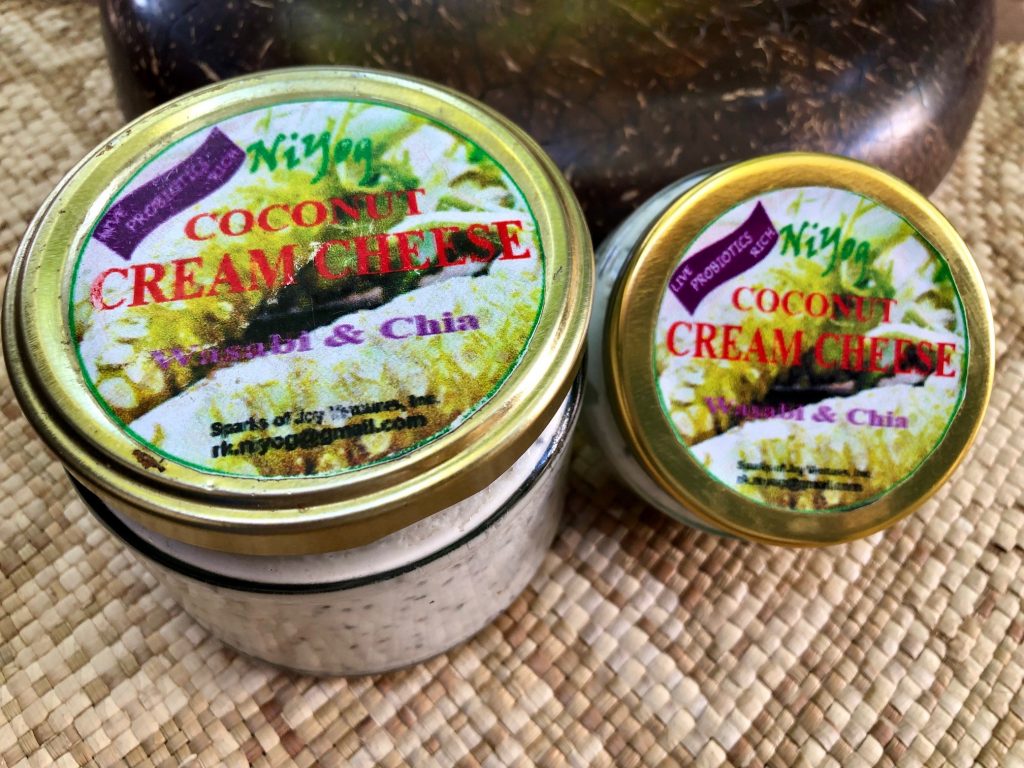 For something more spreadable but still-dairy-free, try NiYog's flavored cream cheese. Like its name suggests, its products are made with coconut milk plus probiotics. It comes in olives and herbs; basil and oregano; and wasabi and chia.
Order here.
[READ:
Coconut yogurt, a dairy-free option for the lactose intolerant and eco-conscious
]
The Real Happy Cow
Our perpetual movie night just got better because apparently dairy-free cheese powder exists to season our popcorn. But wait there is more! You can also make cheese sauce with this powder by mixing it with unsweetened plant-based milk and vegan butter.
Order here.
The Good Neighbor Ph
For cheese fit for snacking, this home-based business makes a good nacho dip made with cashew and nutritional yeast. Just microwave it to achieve that gooey texture and you're all set for that meatless nacho snack.
Order here.
Very Deli
If and when you find your Noche Buena table incomplete without the quintessential queso de bola, just DM this online shop to get a plant-based one. It's round and red and nutty and as classic as Edam gets.
Order here.