There's something intrinsically glamorous about making your own drink. Though I admittedly don't like the taste of alcohol, I do love a well-made cocktail. One of the goals I've set for myself this year is to make my own home bar where I can experiment with making different mixed drinks and try to appreciate alcohol a little bit more (read: try).
I haven't truly gotten started on my collection of spirits and equipment yet, but based on research, cross-checking, and suggestions from friends, here are a few basic things you should have in a home bar.
Alcohol
Something that I learned while doing research for my home bar is just how expensive making one can be. A bottle of the good stuff can retail for thousands, which is why I'm chalking everything up to an investment.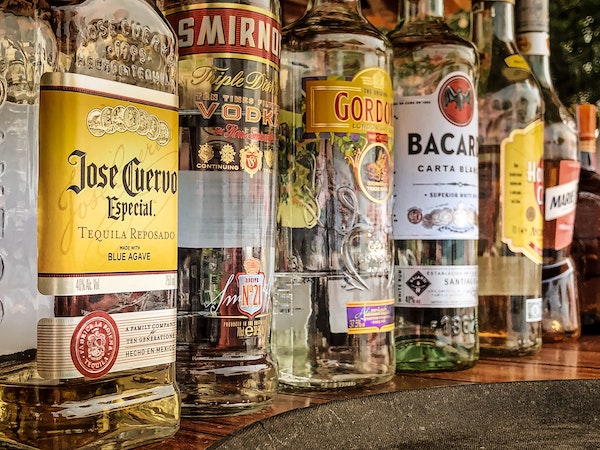 A few drinks that you should have in your bar are whiskey, vodka, rum, tequila, and gin. These five spirits serve as the base for a wide variety of classic cocktails. Another bonus is that they're also versatile enough to use in your own creations, depending on your specific taste.
An important thing to remember is that you shouldn't splurge on the really good stuff. My personal rule of thumb is that if I like how something tastes, I'll use it even if it's not the "best quality" thing on the shelf. And buying expensive liquor to use as just a base for a cocktail seems like a bit of a waste. If you're not a fan of the more affordable options, you can always graduate to the classier stuff later.
Equipment
The most obvious piece of equipment you need for a home bar is a shaker. Stirring your drinks in ice will not do most of the time. When you're making a cocktail, you need to thoroughly mix all the ingredients together so the drink tastes uniform. I mean, it would kind of suck if all the alcohol settled at the top or at the bottom.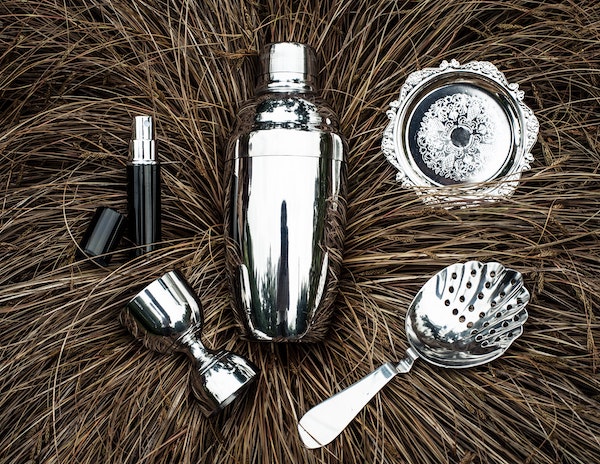 Another important piece of equipment you need is a jigger. Again, for uniformity's sake, you need all of the drinks you make to be consistent. And it's easier to use a jigger to make a drink than to eyeball it most of the time.
Other must-haves are cocktail spoons, a strainer, and a good ice mold. A good ice mold can help your drink stay colder for longer versus the tube ice packs you get at the convenience store. The spherical ones are especially great if you don't want your ice to melt too quickly. 
Glassware
The vessel you drink your cocktail from is an important part of the experience. You can drink your cocktail from a water glass or a mug, but the important question is do you want to? It's easy to go insane over the immensely vast variety of glassware for alcohol, but you really just need two if you're starting out.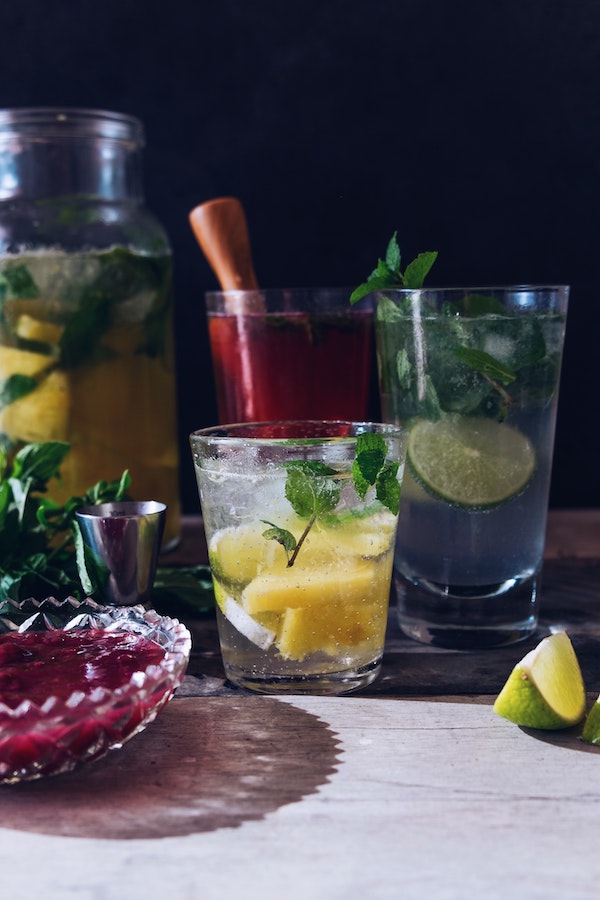 The first type you need is a rocks glass. It's best for drinks that don't require a lot of ice or for spirits served neat. The second type is a highball, which is the tall narrow glass cocktails served with more mixers and ice come in. 
There's an optional third glass, the coupe, which is usually for drinks that are served chilled with no ice, but personally, it's something you can probably work your way up to.