The definitive guide to Manila's museums and galleries
Bookmark this, stat!
Mar 1, 2018
Want to go on a cultural trip around your city? Or maybe you're looking for the perfect spot to take your friends from overseas or out of town—a place that can really introduce them to the country's history and heritage. Whatever the reason, we'll save you the trouble of having to search for each location. We've marked the museums and galleries you can visit on these handy little maps. Save these to your phone for easy reference.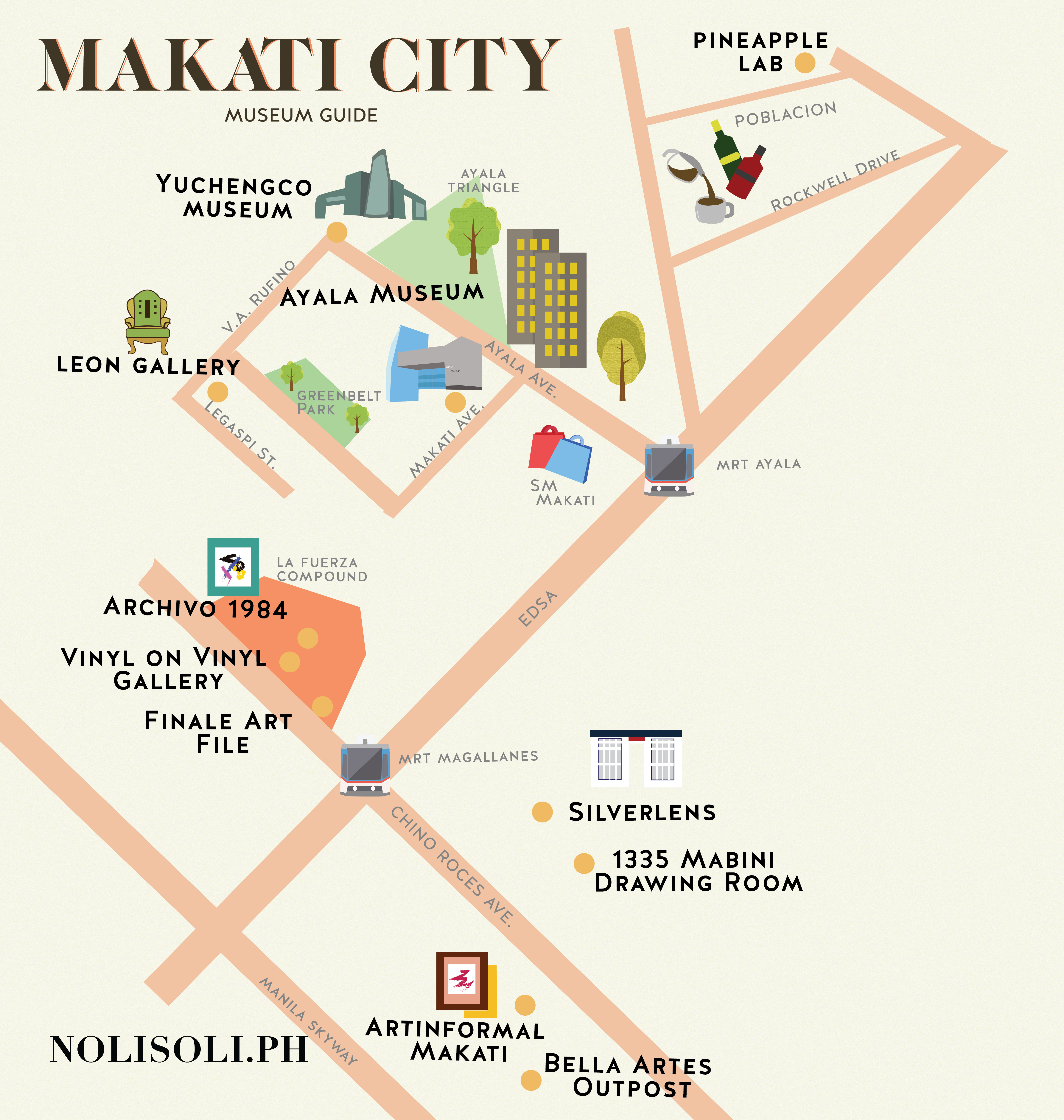 Pineapple Lab
6053 R. Palma, Makati
834-5763
@pineapplelabph
Yuchengco Museum
RCBC Plaza, Ayala Ave. and Senator Gil. J Puyat Ave., Makati
889-1234
yuchengcomuseum.org
@yuchengcomuseum
Ayala Museum
Ayala Center Makati, Ayala Ave. cor. De La Rosa St., Greenbelt Park, Makati
759-8288
@ayalamuseum
León Gallery
Eurovilla 1, Rufino cor. Legazpi St., Legazpi Village, Makati
856-2781
leon-gallery.com
@leongallerymakati
Archivo 1984
2241 Pasillo 18 La Fuerza Compound, Chino Roces Ave., Makati
832-6191
Tues. to Sat. 12 p.m. to 7 p.m.
archivo1984.com
@archivo1984
Vinyl on Vinyl Gallery
2241 Pasillo 18 La Fuerza Compound, Chino Roces Ave., Makati
vinylonvinylgallery.com
@vinylonvinyl
Finale Art File
2241 Chino Roces Ave. Makati
813-2310
finaleartfile.com
@finaleartfile
Silverlens
2263 Chino Roces Ave., Makati
0917-5874011
silverlensgalleries.com
@silverlensgalleries
1335 Mabini Museum*
C1B Karrivin Plaza, Chino Roces Ave. Ext., Makati
818-0013
@1335mabini
*This used to be the 1335 Mabini Drawing Room, but was renamed when they closed down their branch in Ermita, Manila
The Alley at Karrivin, 2316 Chino Roces Ext., Makati
@artinformalgallery
Karrivin Plaza, 2316 Chino Roces Ave., Makati
817-2205
Tues to Sat., 12 p.m. to 8 p.m.
@bellasartesprojects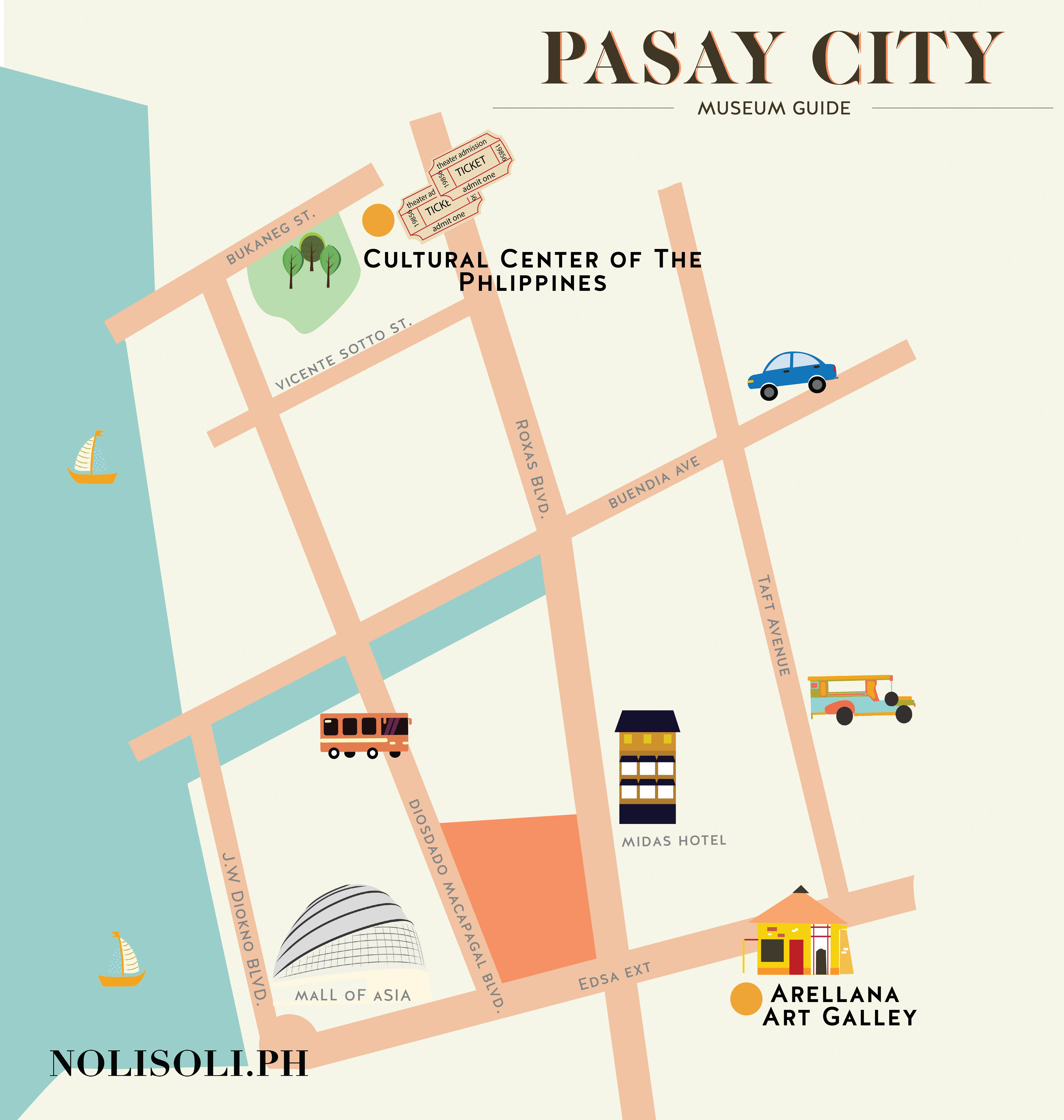 Cultural Center of the Philippines
CCP Complex, Roxas Blvd., Pasay City
832-1125
Tue. to Sat., 9 a.m. to 6 p.m.
@culturalctrph
Avellana Art Gallery
2680 FB Harrison St., Pasay City
833-8357
Mon. to Sat., 10 a.m. to 7 p.m.
@avellanaartgallery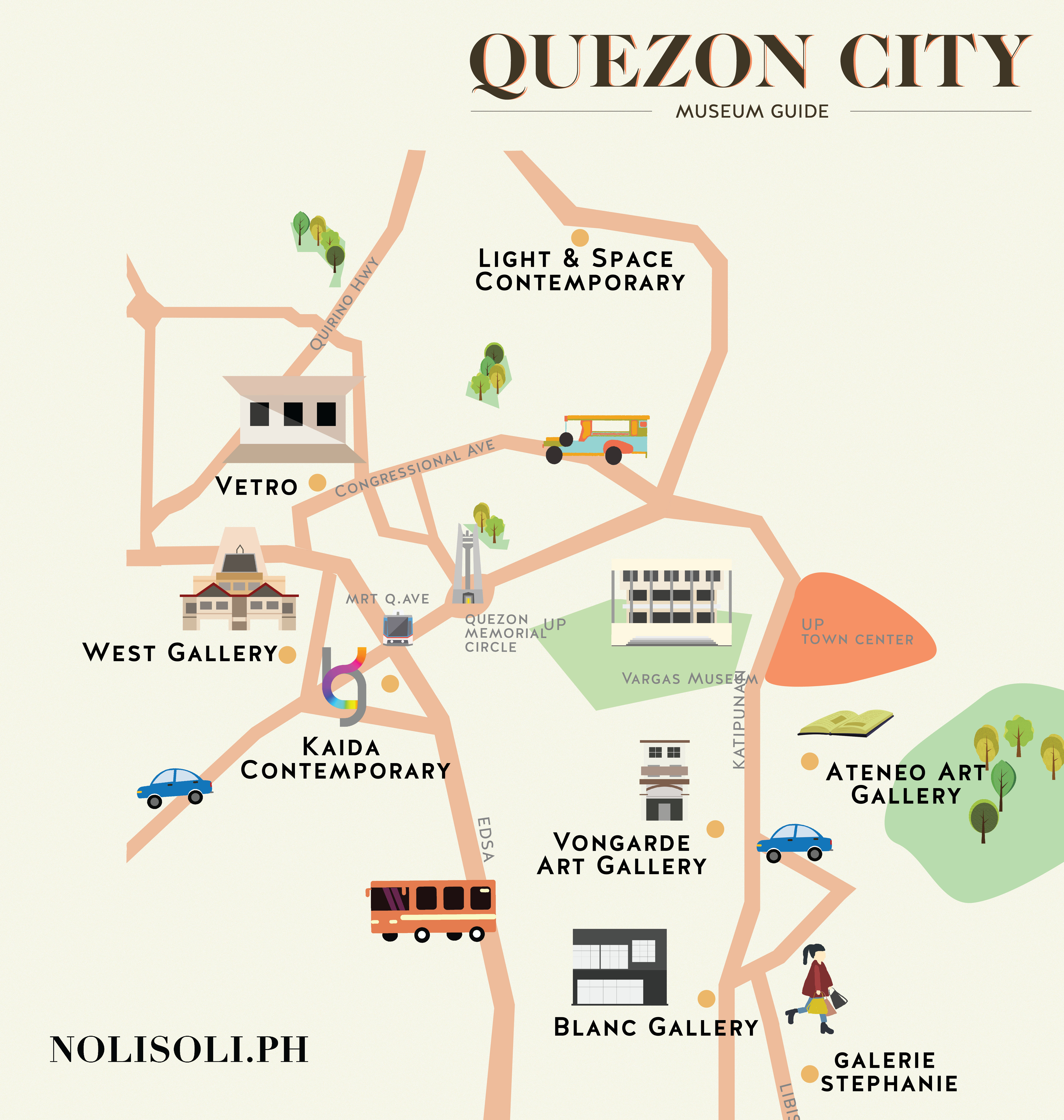 Light & Space Contemporary
53 Fairlane St., West Fairview, Quezon City
239-8202
@lightandspacecontemporary
Vetro
135 Congressional Avenue, Project 8, Quezon City
0921-6748890
vetromanila.com
@vetromanila
West Gallery
48 West Avenue, Quezon City
411-0336
westgallery.ph
@westgallery
Kaida Contemporary
45 Scout Madrinan, South Triangle, Quezon City
463-5859
@kaidacontemporarygallery
UP Vargas Museum
Jorge B. Vargas Museum and Filipiniana Research Center, Roxas Avenue, University of the Philippines, Diliman, Quezon City
928-1927
vargasmuseum.wordpress.com
@upvargasmuseum
GF Arete, Ateneo de Manila University, Katipunan Avenue, Quezon City
426-6488
Tue. to Sat., 9 a.m. to 7 p.m., Sun. 9 a.m. to 5 p.m.
ateneoartgallery.com
@ateneoartgallery
Vongarde Art Gallery
GF ALCAL Building, 285 Katipunan Avenue, Quezon City
952-1947
@vongardeartgallery
Blanc Gallery
145 Katipunan Avenue, St. Ignatius Village, Quezon City
0920-9276436
blanc.ph
@blanc.gallery
Galerie Stephanie
Unit 1B Parc Plaza Building, 183 E. Rodriguez Jr. Avenue, Quezon City
709-1488
galeriestephanie.com
@galeriestephanie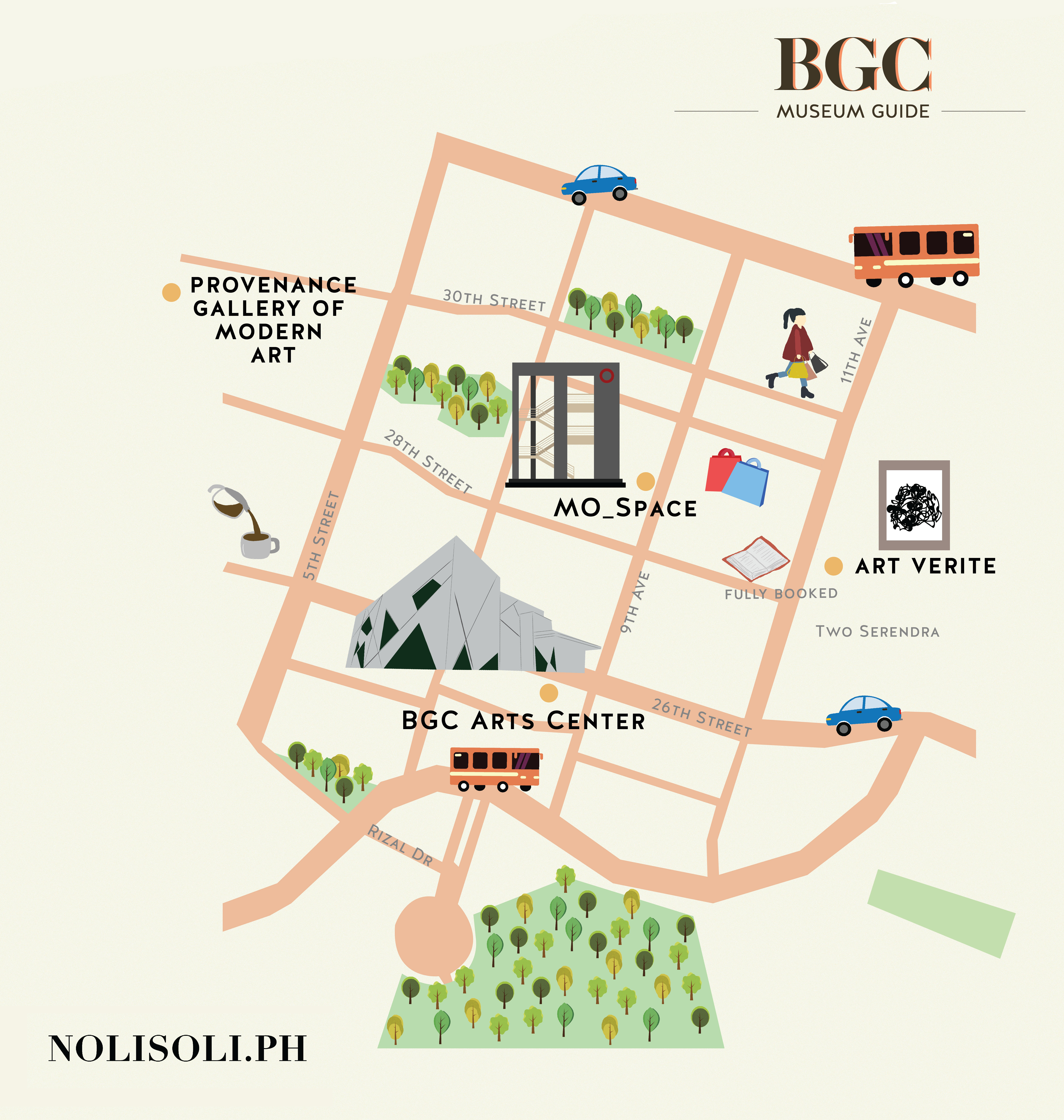 Provenance Gallery of Modern Art
Shangri-La at the Fort, 2nd Floor, 5th Avenue corner 30th, BGC
946-3236 or 917-8252041
@provenanceartgallery
MO_Space
3F MOs Design Bldg, B2 9th Avenue, Bonifacio High Street
856-7915
mo-space.net
@mo_space
Art Verité Gallery
2C-05 Shops At Serendra, BGC
915-1982
Mon. to Sun., 11 a.m. to 9 p.m.
artverite.net
@artverite_
BGC Arts Center
26th St. BGC
218-2577
bgcartscenter.org
@bgcartscenter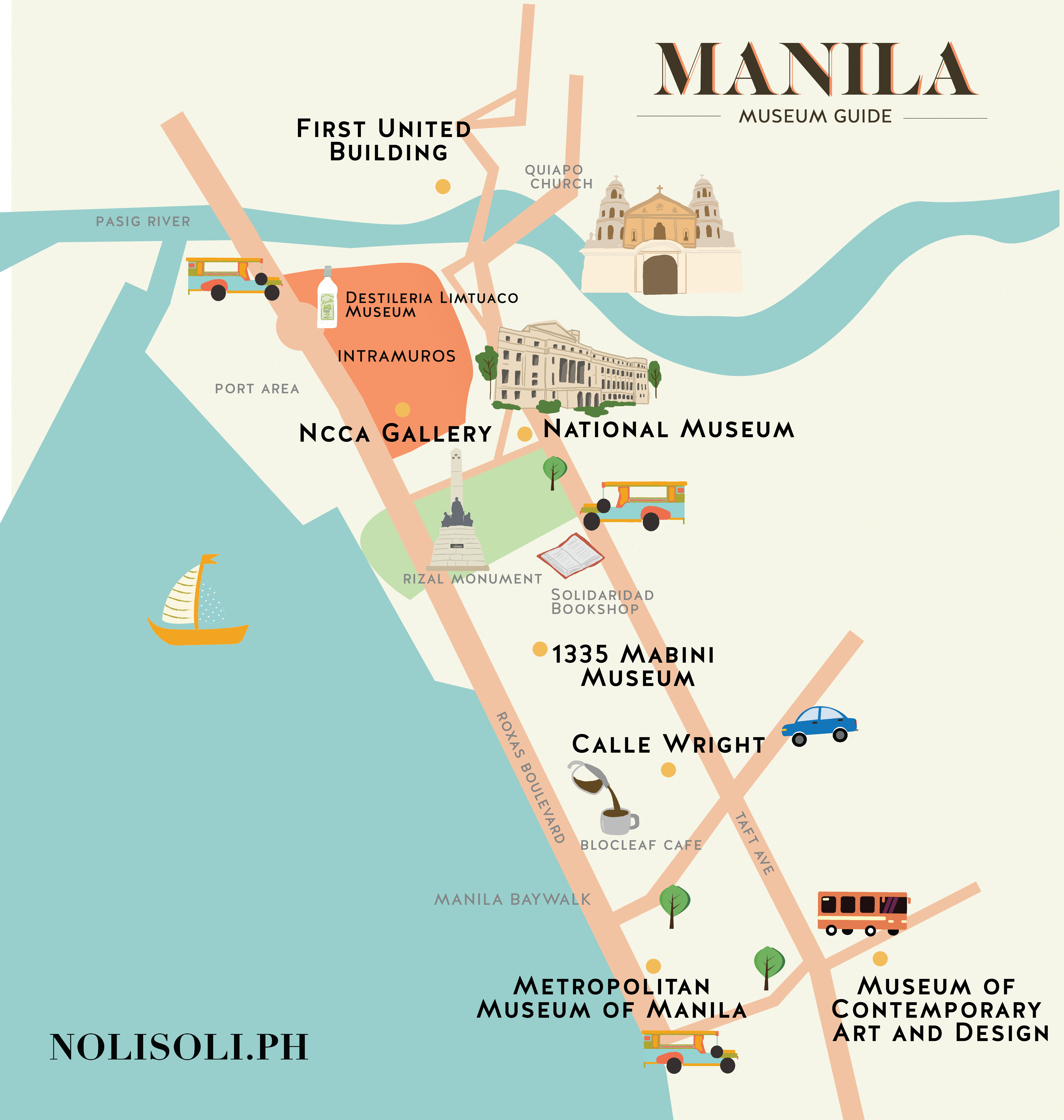 First United Building
413 Escolta St, Binondo, Manila City
241-0243
@firstunitedbldg1928
481 San Juan de Letran, Intramuros, Manila
limtuaco.com
@destilerialimtuaco
NCCA Gallery
633 General Luna St, Manila City
fb.com/nccagalleryofficial
National Museum
Padre Burgos Ave, Ermita, Manila City
Tues. to Sun., 10 a.m. to 5 p.m.
nationalmuseum.gov.ph
@natmuseumph
1890 Vasquez St. Malate, Manila City
526-9267
@calle.wright
Metropolitan Museum of Manila
BSP Complex, Roxas Blvd, Malate, Manila City
708-7828
metmuseum.ph
@metmuseummanila
Museum of Contemporary Art and Design
Benilde School of Design and Arts Campus, Dominga, Malate, Manila City
230-5100
Tues. to Sat., 10 a.m. to 6 p.m. and Sun, 10 a.m. to 2 p.m.
mcadmanila.org.ph
@mcadmanila
*1335 Mabini Museum in Ermita, Manila has closed down, with the owners choosing to focus on their space in Makati (see above)
Read more:
The Ultimate Art Fair City Guide
Seven heavens in Manila for every bibliophile
New gallery in Ermita is a hub for contemporary art
Remember the contributions of our women in history at this house-turned-museum
TAGS: art bgc city guide culture gallery heritage history makati museum museums in manila pasay Pasig quezon city where to go where to go in manila