You've got to try TETSUO's fried mantou ice cream buns
Apart from their signature fried chicken, that is
info
TETSUO

Japanese Fusion

Monday to Saturday: 11 a.m. to 10 p.m.; Sunday: closed

0917-8513000

₱

P480 for two people
After having done numerous pop-ups and running a successful food stall at Ateneo JSEC—a cafeteria cum training ground for entrepreneurial university students to pursue their culinary ventures—the young team behind TETSUO has finally established a home for their Japanese fusion creations.
They haven't strayed far from their humble beginnings, though; you'll find the restaurant in 88 Esteban Abad Street, which is just a block away from the Regis Center, a hub for many students around Katipunan.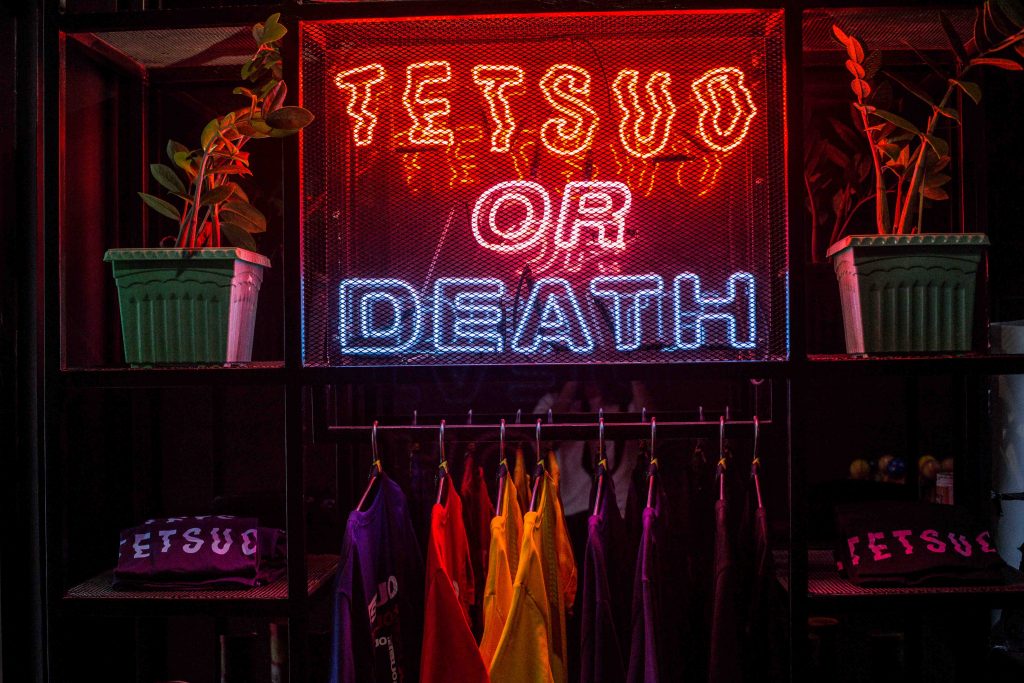 TETSUO's atmosphere is very reminiscent of many Poblacion eateries: a cozy (i.e. small) and relatively dark space, filled with as many seats and tables as possible while still maintaining the minimum amount of comfortable elbow space between you and your friends; an open kitchen that will leave your clothes smelling like whatever food is on the grill or deep fryer; a palpable energy from the crowd (majority of whom are Millennials); a strong brand identity (thanks to the young creative and culinary team behind it); and food that tastes great sober, but even better when drunk.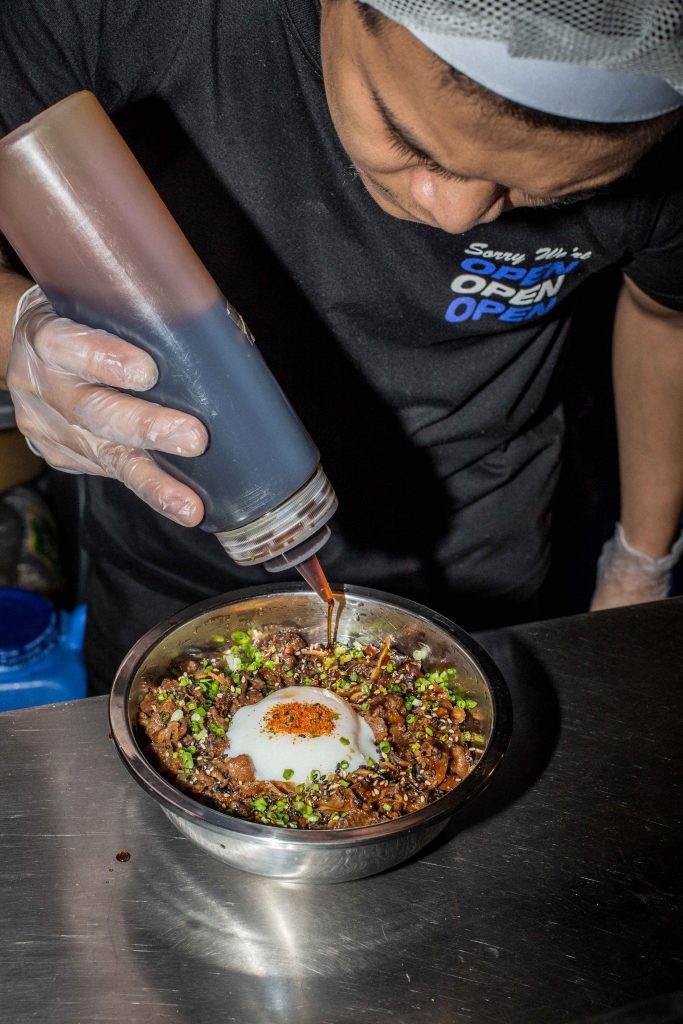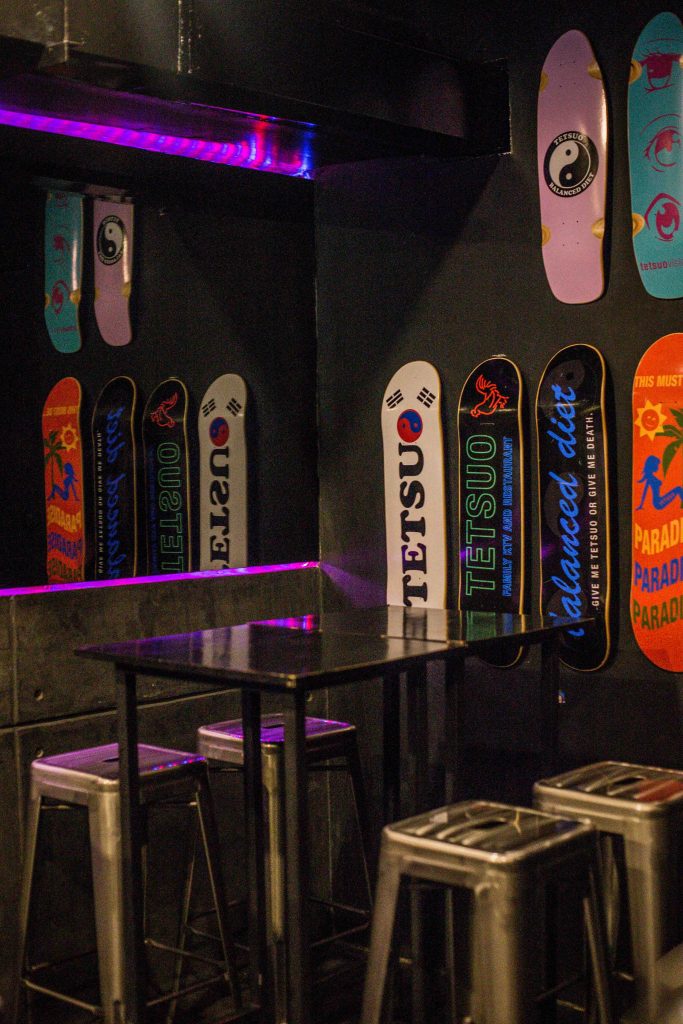 First timers will want to try the Signature Fried Chicken, which comes with a serving of rice sprinkled with nori and a buttery gravy to give it a little Southern touch. You can choose between two or three pieces of chicken and select from three different spice levels: Sansho, a tangy, lemony homemade blend of spices that gets its kick from strong black pepper; Ichimi, made with Togarashi (a relatively mild Japanese spice); and Kaneda, another homemade blend with a smoky and slightly tangy taste—and the spiciest option available.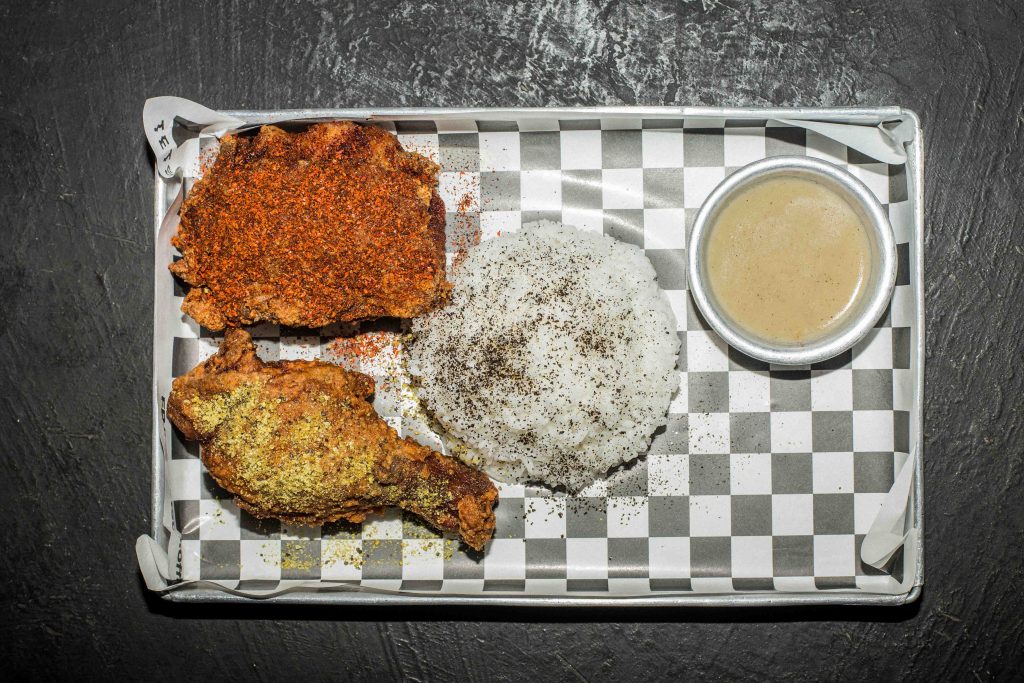 The buttermilk-coated chicken is deep fried to a golden brown, crispy skin that your cholesterol will struggle to resist (but inevitably give in to), and you'll hear a sharp crunch regardless of whether you cut into it with your utensils or hold it with your hands and go in for a bite.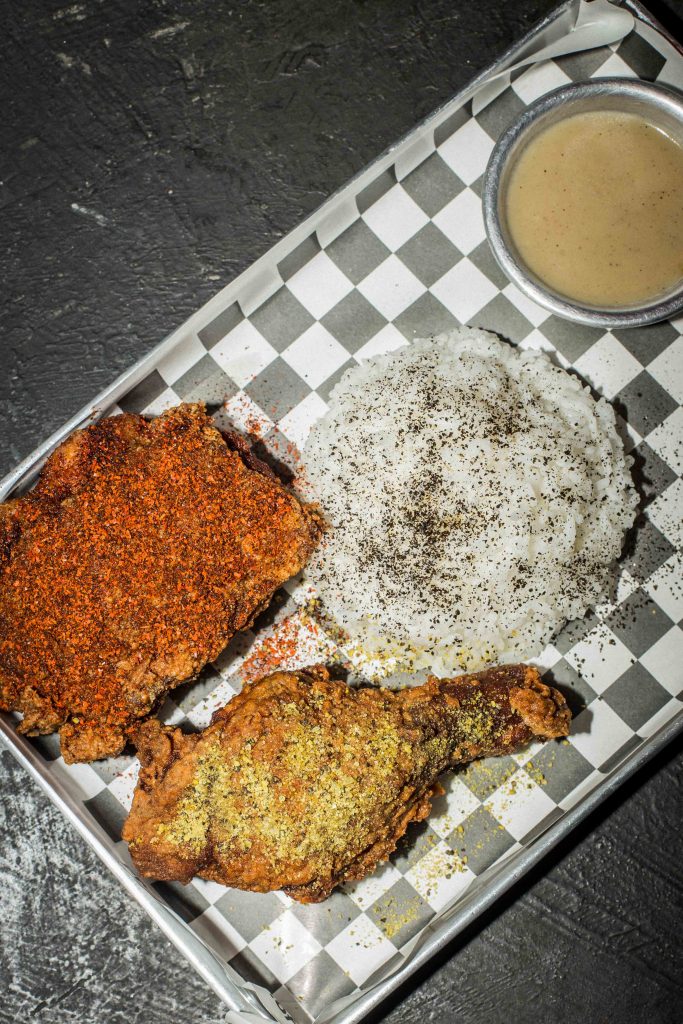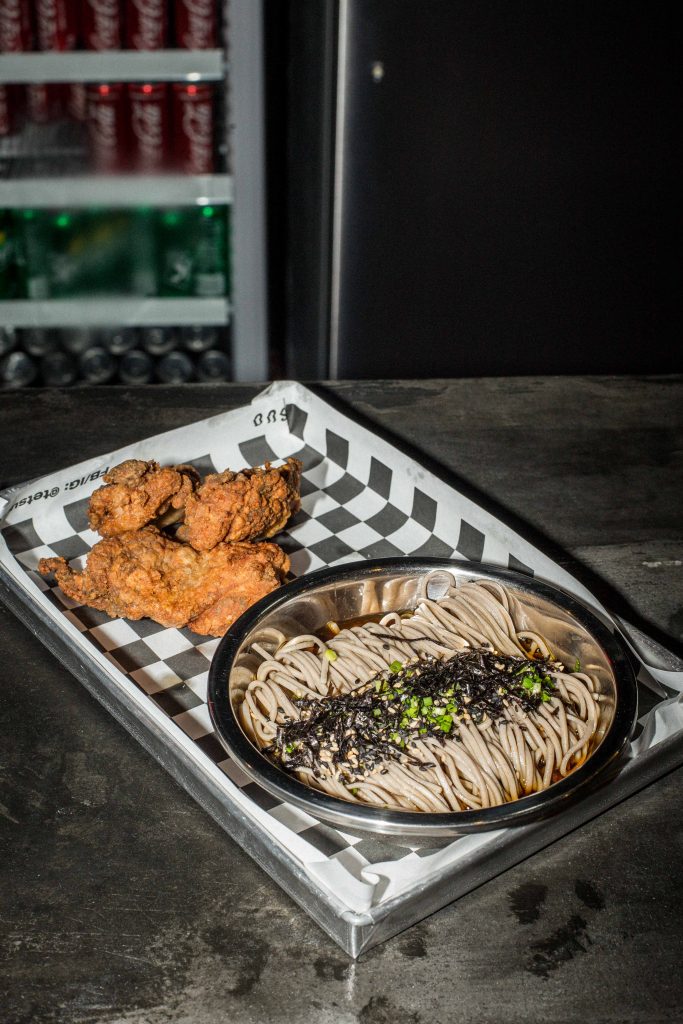 Alternatively, you can try the Karaage with Soba (buckwheat noodles). The noodle sauce is light and slightly sweet—a nice complement to the Japanese fried chicken. This pairs best with plain karaage (no spice).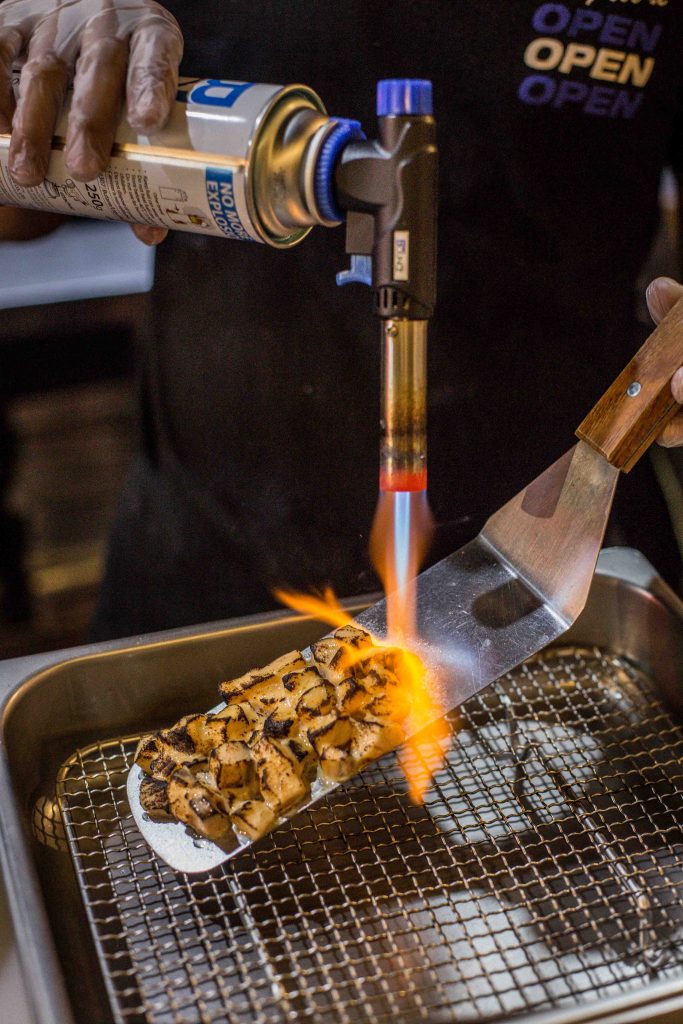 To some degree, the Torched Salmon Bowl is a lighter option to the fried chicken—it's fish, after all. But the fresh miso-marinaded salmon chunks that are torched (giving it those nice, crunchy black bits) are given a generous drizzle of spicy mayo and teriyaki sauce, which essentially makes it as decadent as the fried chicken. At least the homemade pickled cucumbers are there to balance it out, right?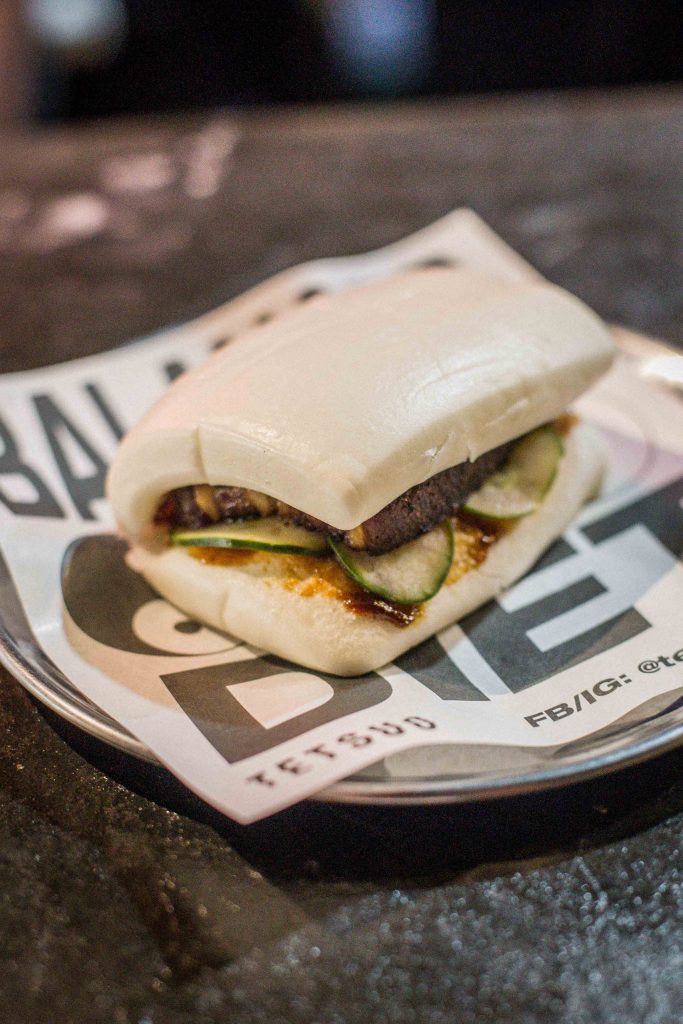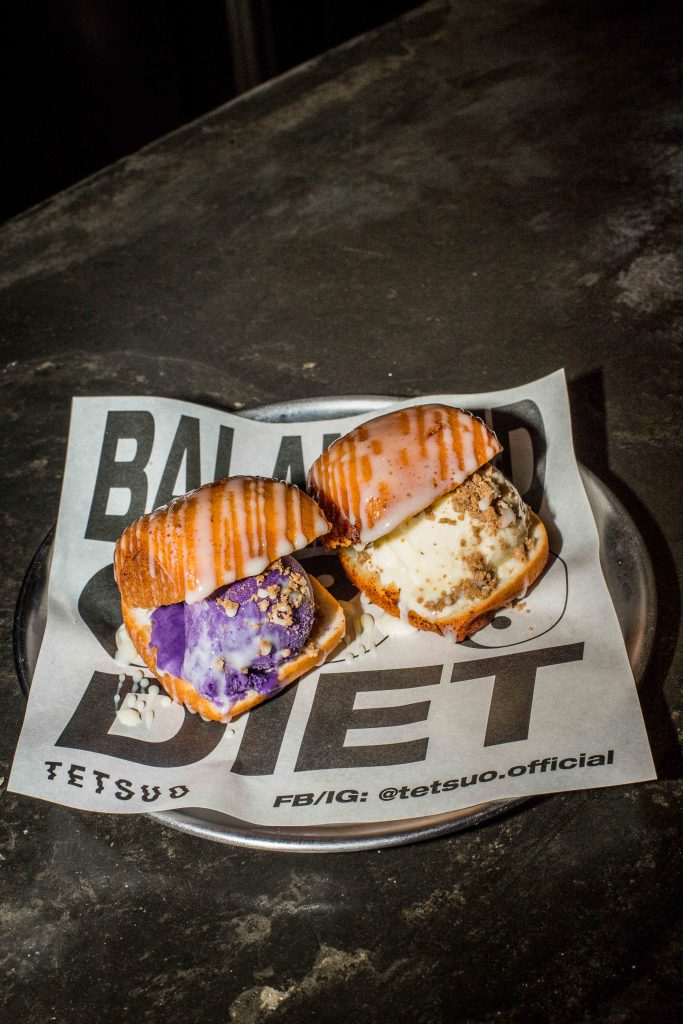 Rice and soba aside, TETSUO also offers cuapao or mantou. The Pork Bun: a sweet and savory sous vide chunk of pork belly in a soft, steamed cuapao. And for dessert, a golfball-sized scoop of ice cream sandwiched in a smaller deep fried mantou bun, one vanilla scoop and the other, the flavor of the day (so far, they've had ube, mango, cheese, and strawberry on rotation). Add a drizzle of condensed milk and Chocnut crumbs, and you've got a pretty irresistible dessert for just P80.
Be sure to subscribe to our newsletter to stay up-to-date on the latest restaurants, events, and happenings.
Read more:
Ever wished you could eat and talk in the library? Enter Tweedle Book Café
The Lib is the study place we wish we had in college
Oomori is Banawe's latest hotspot for sushi lovers
Read more by Jessica Alberto:
This is the burger joint for fitness buffs looking for #gainz
Find this millennial pink cocktail at a hidden bar in Tomas Morato
Indulge in bagnet, salted egg, and bone marrow without feeling too guilty
TAGS: fried chicken ice cream buns Japanese restaurants karaage new restaurants in manila soba TETSUO torched salmon bowl
WHY GO?
The Torched Salmon Bowl will satisfy your Japanese food cravings for only P250.
MENU