Where to eat in Boracay from 7 a.m. to 7 p.m.
A day-long food itinerary to guide you as you navigate your way through the reopened island
Jan 3, 2019
The offerings of Boracay can be quite intimidating. If you're planning to visit the reopened island this year, expect a crowd. Not of people though (since a daily maximum peg of 19,000 tourists is allowed each day), but of bars, cafés, diners, and restaurants. It's a great place to let yourself loose and have a gastronomic feast.
To help you navigate your way through the wide variety of food and refreshments offered, we curated a day-long food itinerary involving restaurants you can find on the front (or right around) the famous four-kilometer long White Beach.
For breakfast: Sunny Side Cafe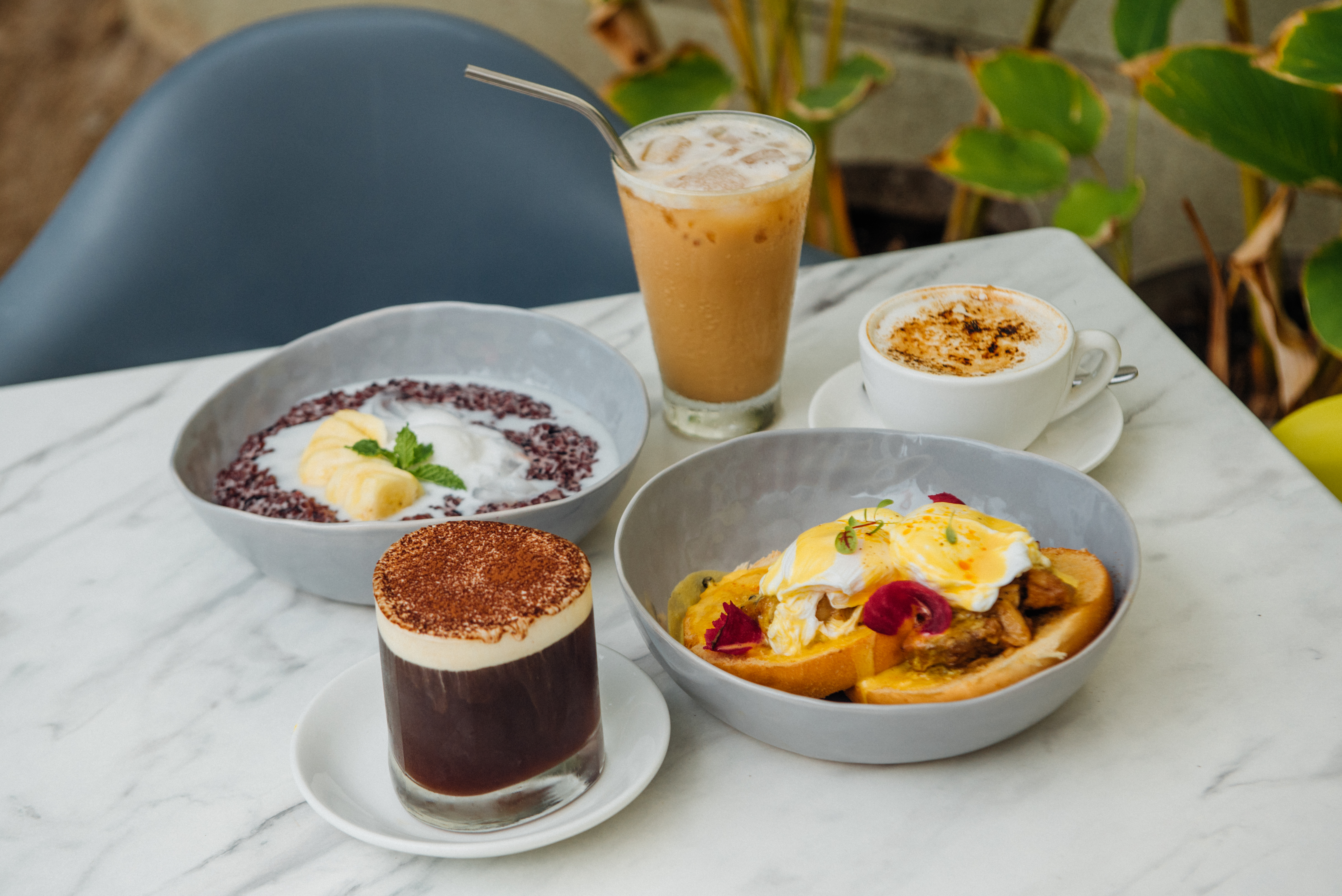 Start your day with a fancy breakfast at The Sunny Side Cafe, which opens as early as 7 a.m.
Situated along the more quaint area of Station 3, this restaurant boasts of comfort and indulgence. The all-white Mediterranean-inspired exteriors of Boracay Sands Hotel, where Sunny Side occupies the ground floor, is made vivid by the restaurant's bright yellow accents. Inside you'll find an atmosphere fitting for a morning set-up: a wide dining area with comfortable grey and yellow chairs, a hardwood counter overlooking an open kitchen, and cheerful servers all clad in yellow.
Dishes on their all-day breakfast menu don't disappoint either. After skimming through their menu, I already knew that I won't be having a taste of any of the usual breakfast food in the city. Have any of it and find out for yourself.
However, I do recommend you trying their unusually green pancakes, which are actually made of locally sourced black sesame seeds. Slathered on top is a green tea cream topped with pistachios, making the whole dish a balance of a sweet and nutty breakfast.
A normal two-stack pancake may seem like a light treat for most people, but this isn't one of those. It's actually made for sharing.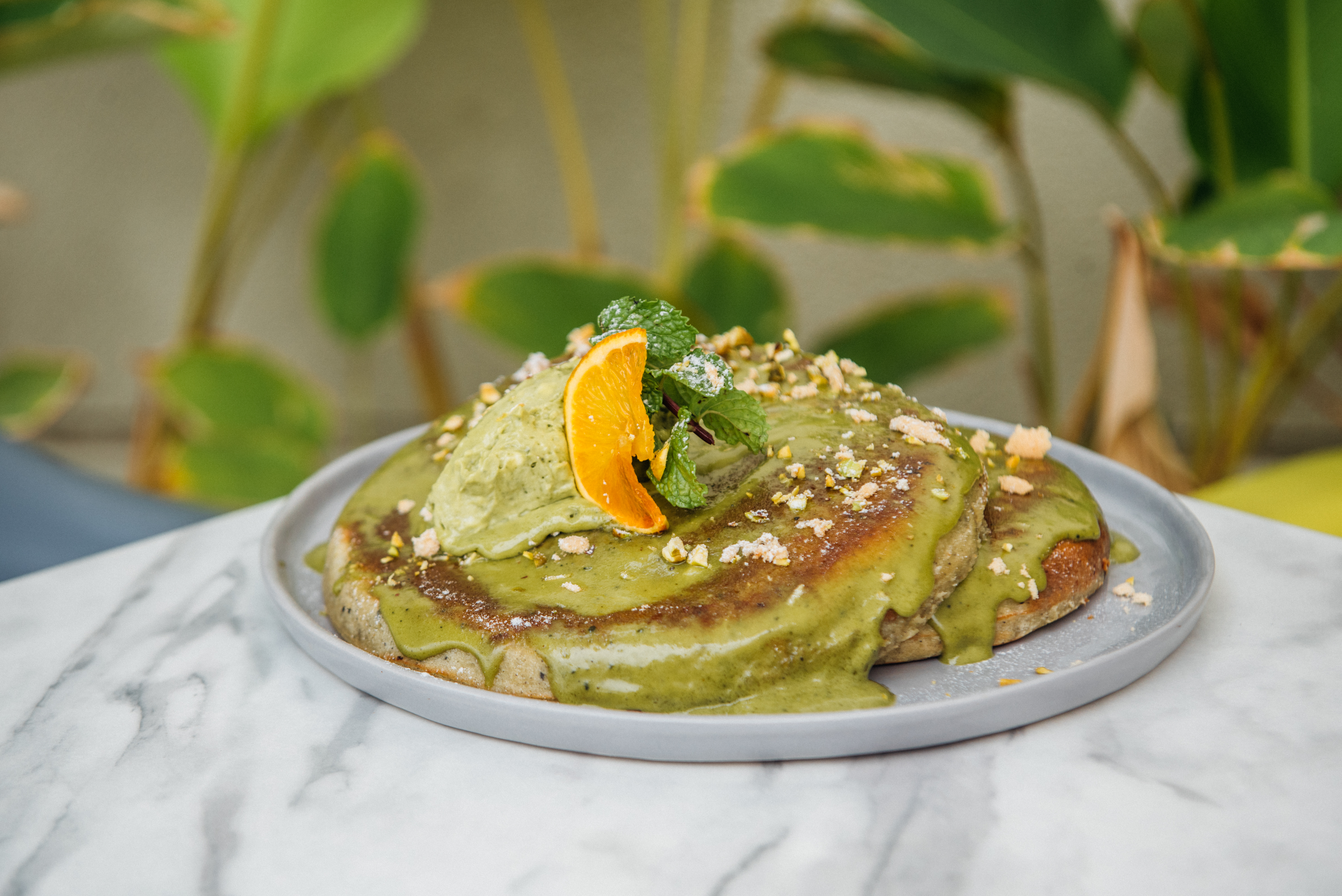 On a vegan diet or not, you can't miss Sunny Side's newest take on our favorite champorado. Called the Purple Heirloom Rice Champorado, this dish is made with sticky rice from Luzon's Mountain Province. To make it even more unconventionally sweet, they topped it with coconut ice cream, candied coconut strips, and a sliced fresh banana.
This dish was released recently along with their unique champorado dish: the Matchamporado (made of white chocolate and matcha, of course).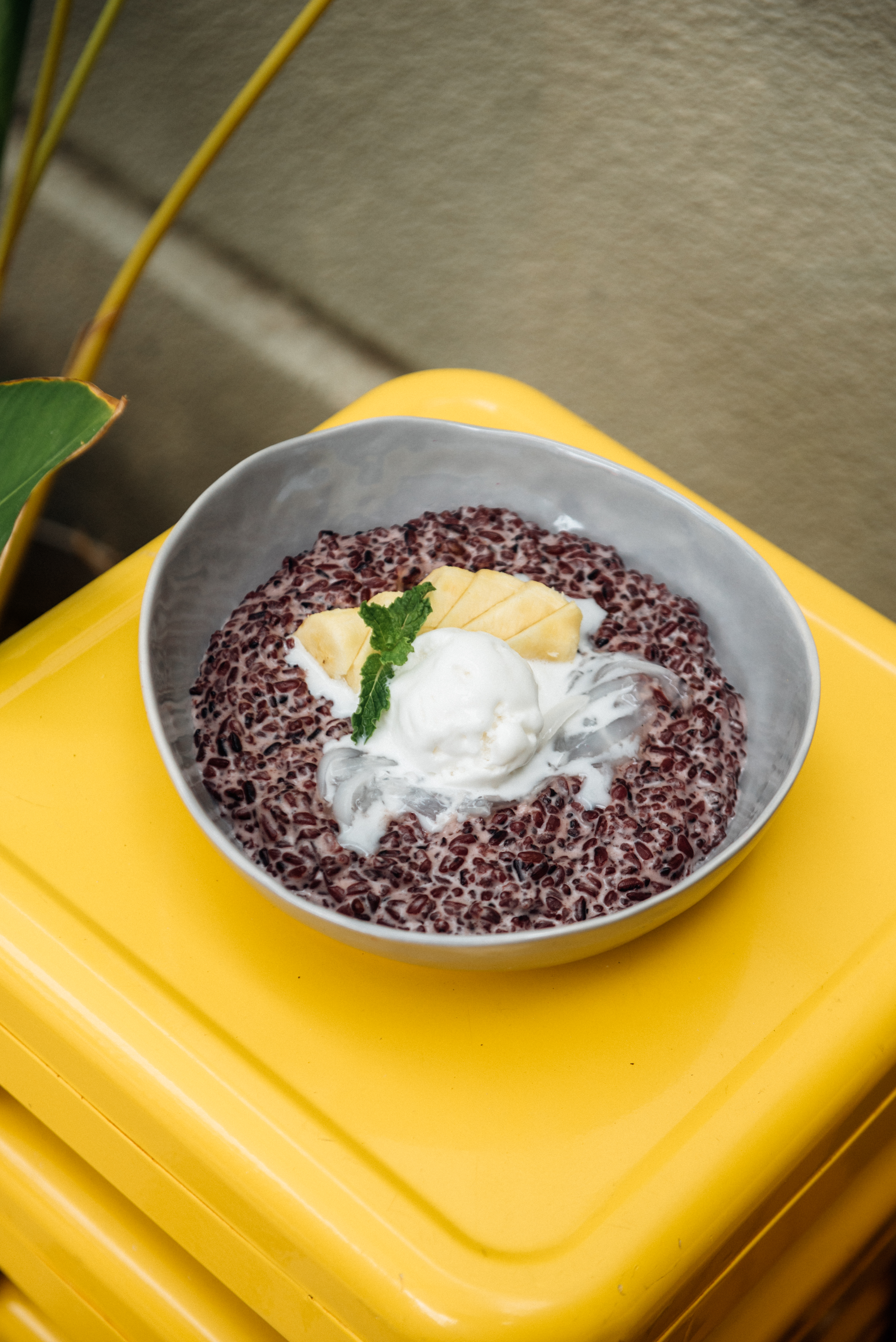 But what's breakfast without eggs, right? If you're opting for a loaded day starter, try their Adobo Eggs Benedict that's both salty and just the way you want it. Adobo sauce is smeared over a giant pan de sal topped with two poached eggs and hollandaise.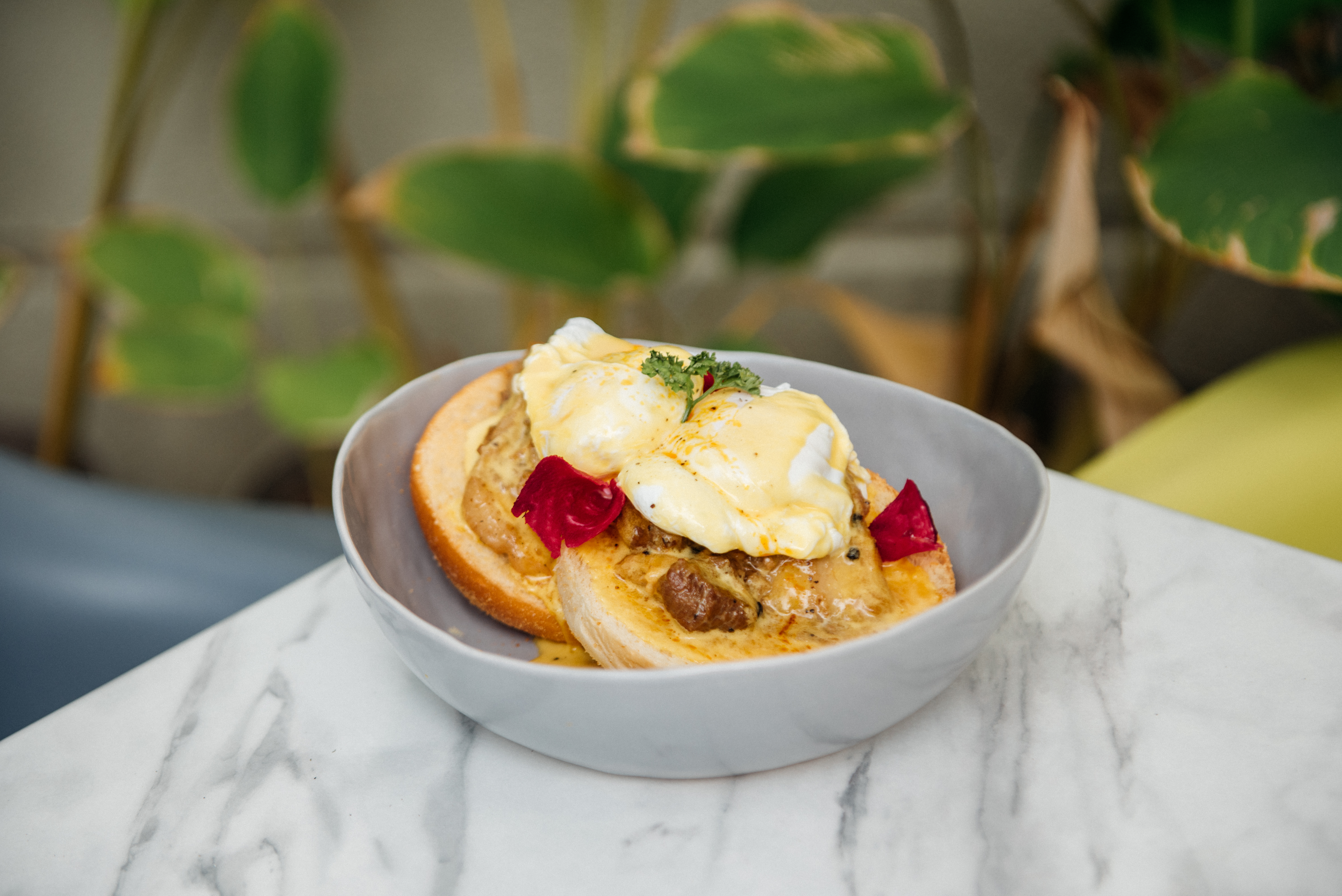 Just make sure you won't get yourself too loaded if you're planning to swim afterwards!
The Sunny Side Cafe
Ground Floor, Boracay Sands Hotel, Station 3, White Beach
Open every day from 7 a.m. to 10 p.m.

For a light morning snack: Real Coffee and Tea Cafe

They say you can't leave Boracay without having a taste of the famous Calamansi Muffin nowhere else than its origin cafe, Real Coffee.
This cafe is the product of a mother-daughter team. Lee Rosaia, who has been fascinated with Boracay ever since she visited the island around 30 years ago, established Real Coffee to give residents and tourists a taste of "light American food."
They built the restaurant at a time when Boracay had sands all throughout. "There was not much concrete, which is why we opted for a place built with bamboo," Rosaia said. It has since become their signature design, even after having to relocate two times.
Real Coffee has long been recognized for its unique fruity delicacy that blends the sweetness of a muffin and the distinct sour taste of a calamansi. "Some customers even call [the muffin] the Boracay delicacy," owner Lee Rosaia told Nolisoli.ph. "It's my daughter's recipe."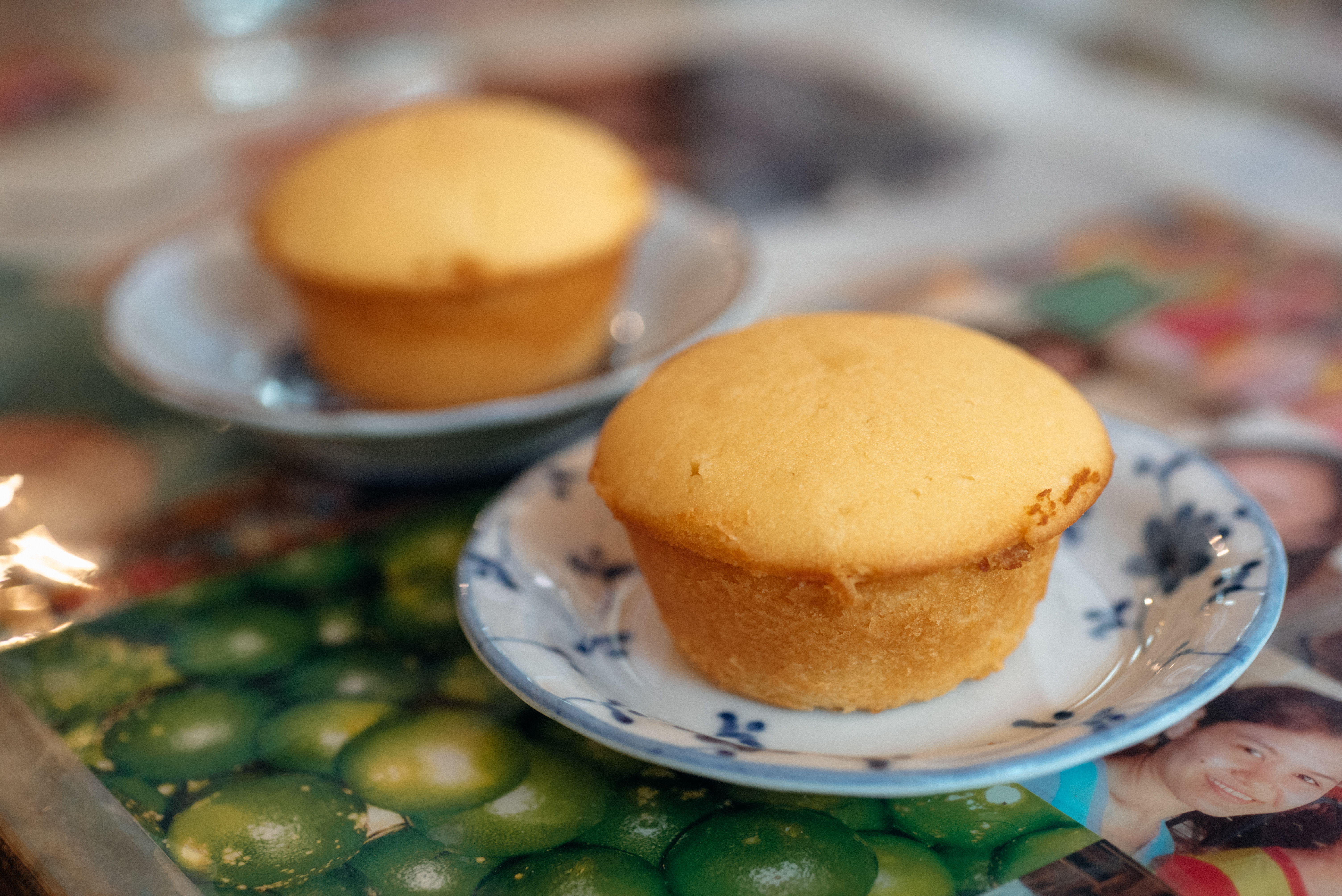 Unlike regular fluffy muffins, this one is not dense. It's crumbly inside, which comes actually a surprise since it has a soft, smooth, and crusty outer layer. It is very fitting that you try this muffin along with the 22-year-old cafe's other light offerings in the morning, paired with their signature coffee.

Real Coffee's signature blend is actually made of beans sourced from Batangas.
Real Coffee & Tea Cafe
Second Floor Sea World, Station 2, White Beach
Open every day from 7 a.m. to 7 p.m.
For lunch: Spicebird

To balance the sweetness you've had all morning, treat yourself to a hot lunch with SpiceBird's savory dishes. Most if not all of their dishes are grilled and smeared with chili pepper sauce called "piri-piri" or "bird's eye." Not to mention that their dishes are all served generously, which is why I recommend you to have it for sharing.
If Sunny Side Cafe was consistent with their vibrant theme and dishes, expect the same with SpiceBird (they're owned by the same group, after all). Unlike Sunny Side's bright and light vibe though, the menu boasts of barbecued dishes on its boldest versions and flavorful textures. There's the piri-piri grilled pork, chicken skin dressed in piri-piri sauce (which goes well with the restaurant's craft beer, by the way), and the newest seafood offering, piri-piri crab. All can be served with spiced or steamed rice. And as if the flavors aren't bold enough, you can even add to it by choosing from any (or all) of SpiceBird's five sauces: piri-piri sauce, garlic and lime, curry curry, hotbird sauce, and their newest, sexy sauce no. 5.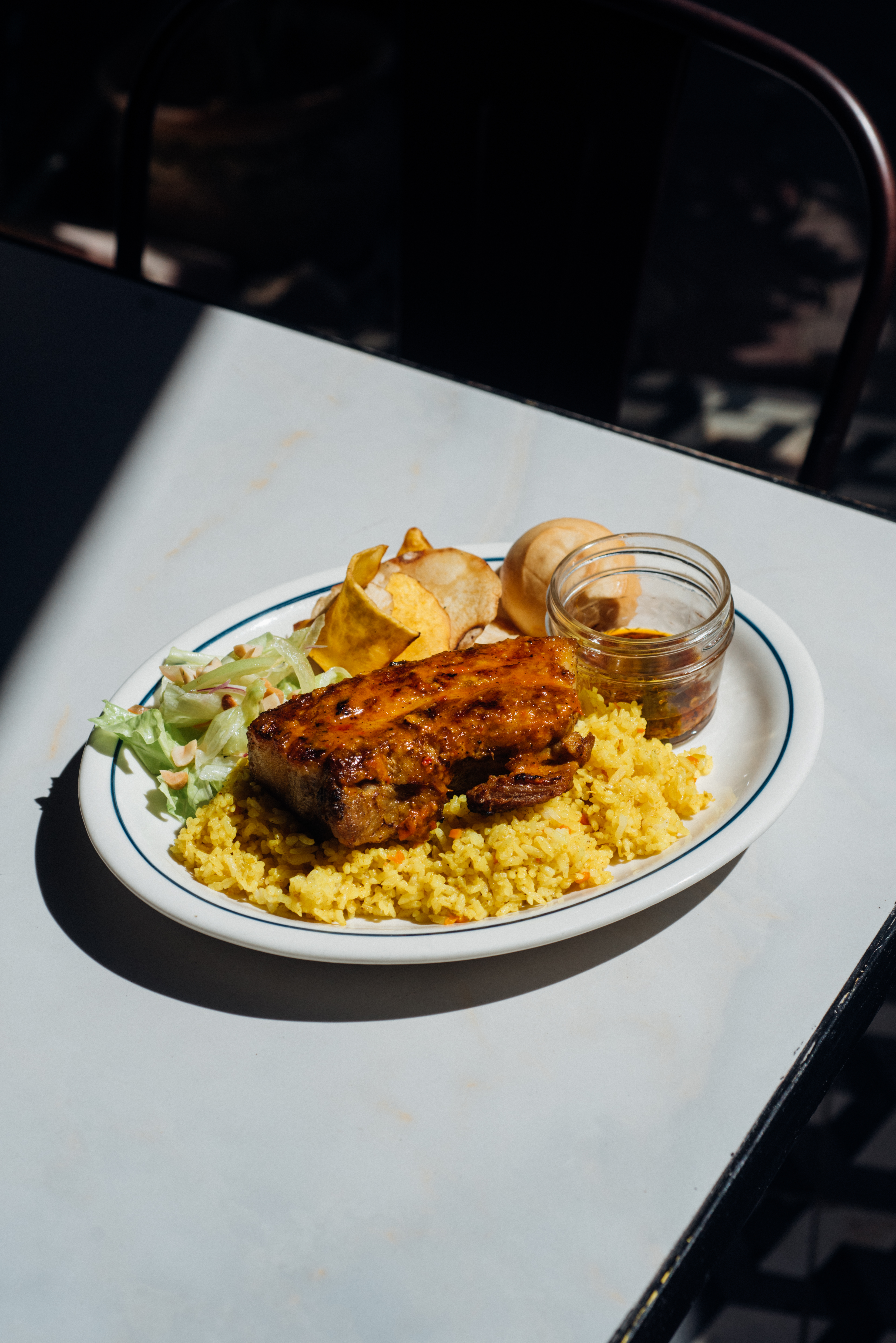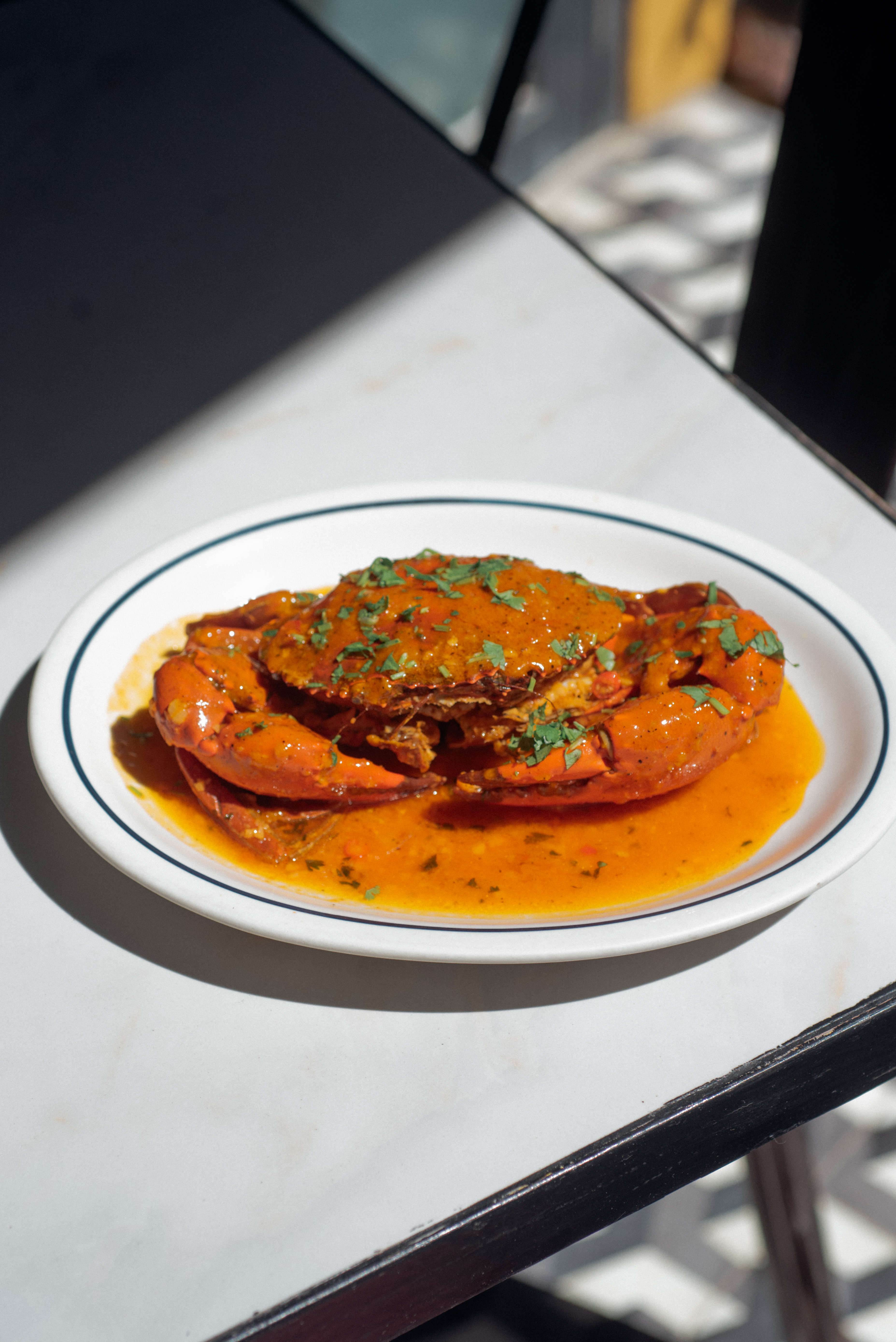 SpiceBird
Unit 108 D'Mall Plaza, Boracay Island
Open everyday from 11 a.m. to 10 p.m.
For a pick-me-up: Jonah's Fruit Shake and Snack Bar

This is another Boracay food treasure you can't miss.
Jonah's Fruit Shake offers a wide variety of refreshments that caters to any person's taste. Step into their retro-themed bar along Station 1 for a mid-afternoon drink and know why they have long been dubbed by the locals and tourists as "the best fruit shake in the island."
They offer unique fruit blends such as the Banana Mocha Peanut and Mango Rhum. The drinks are often served in plastic bottles with holed caps for straws (bummer) but you can refuse it by offering your tumblers instead. (This also serves as a reminder for us tourists to reduce our waste production in the island!)
Jonah's Fruit Shake and Snack Bar
Station 1, Brgy. Balabag
Open everyday from 6 a.m. to 11 p.m.
For dinner: The Pig Out Bistro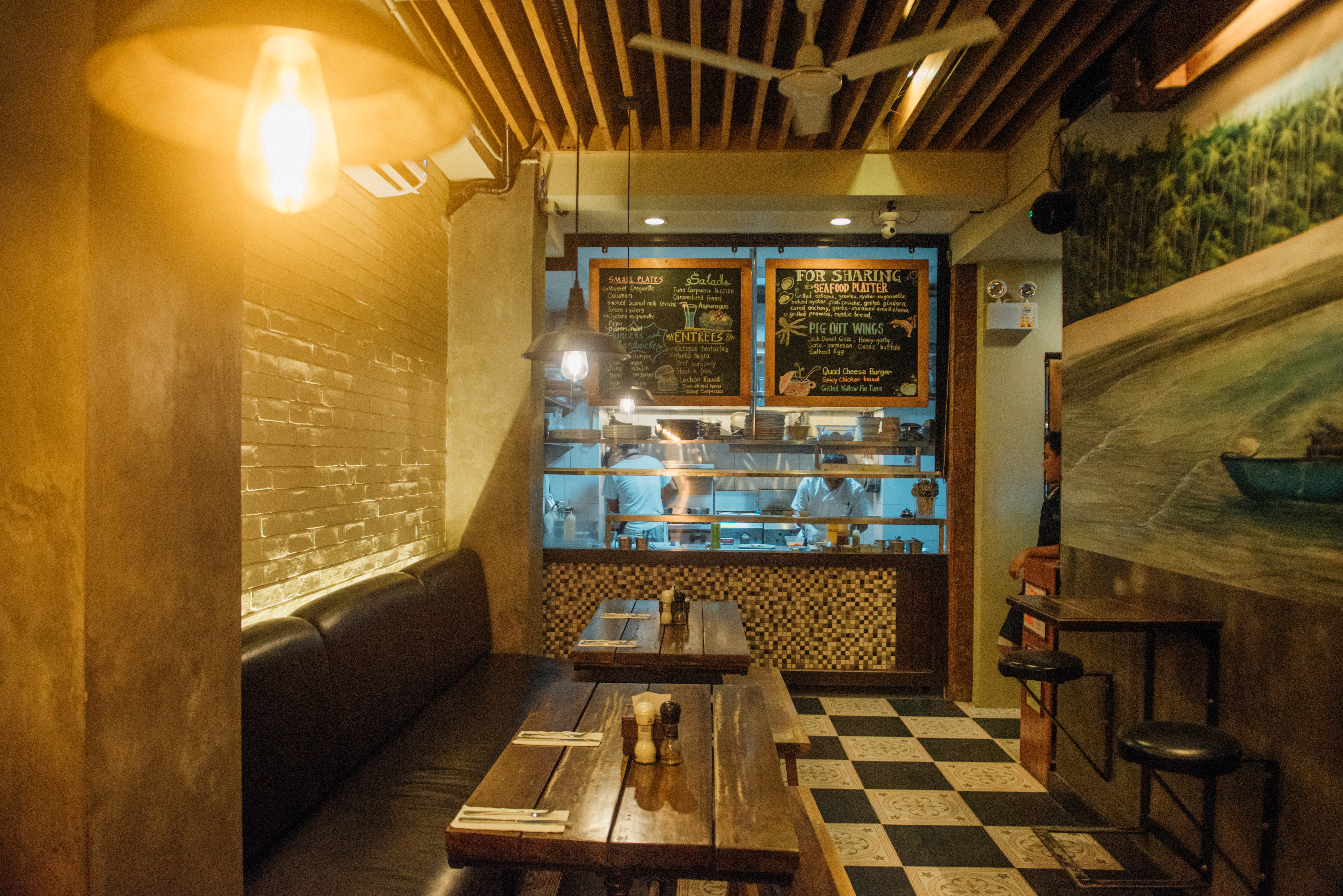 Nothing kicks in the tropical island vibe more than by ending your day with fresh seafood. The Pig Out Bistro specializes in this as their seafood dishes ranges from light to heavy meals.
They have a crab burger made of locally sourced crab meat that, without you noticing it, could already make you feel full. This roughly textured burger is smeared with tartar sauce, tomato confit, and arugula which explains the perfect balance of its salty and  savory flavors. Eat it lightly with fries on the side.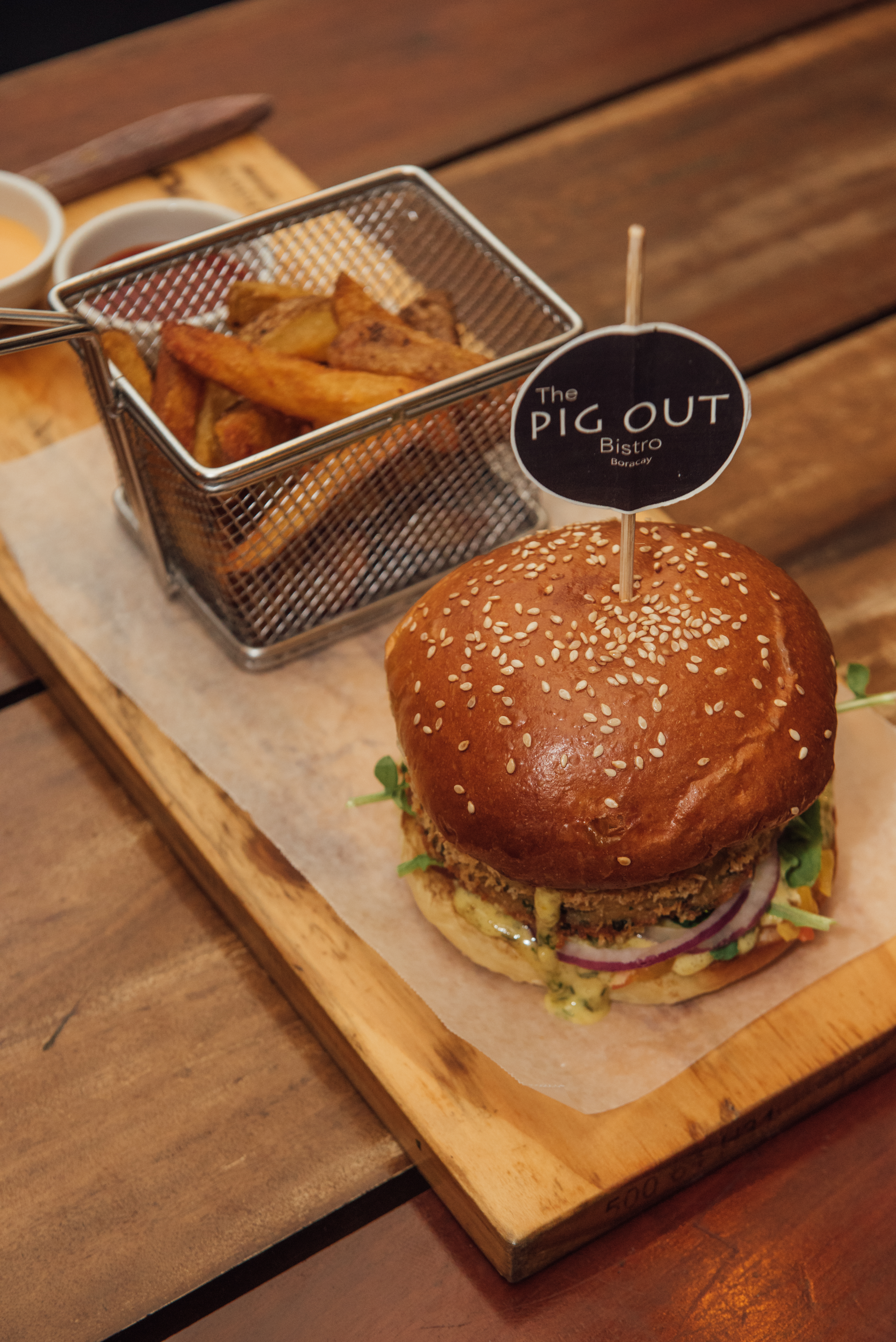 You also shouldn't miss the Octopus Tentacles which happens to be one of the bistro's most popular dishes. It's composed of yet another locally sourced main ingredient covered with squid ink that gives it a rich and briny texture. On the side are potatoes and a slightly sweet vinaigrette dressing. A flavorful meal to end your night with.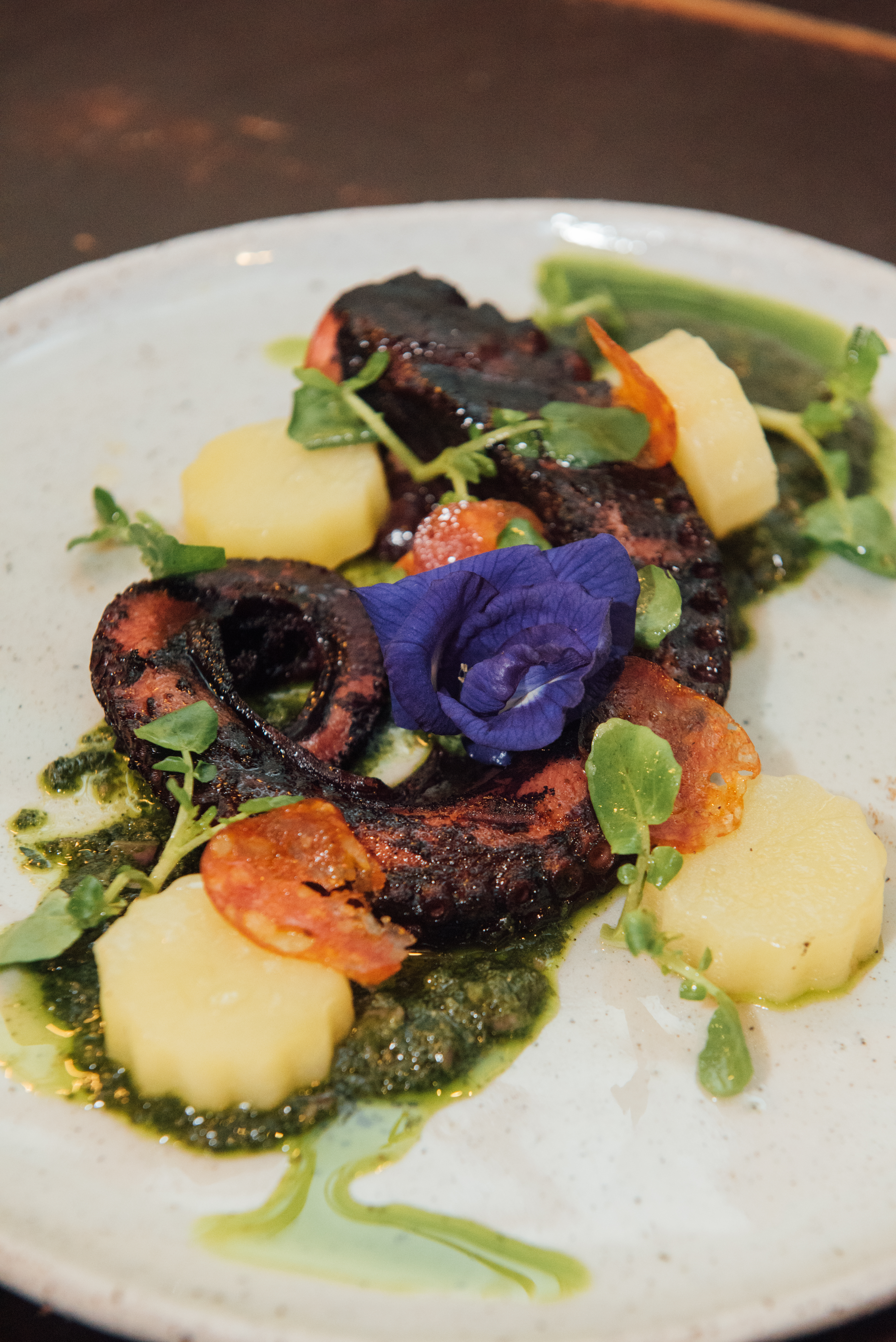 Pig Out Bistro
In front of Astoria, Malay
Open everyday from 7 a.m. to 11 p.m.
Read more:
Only 30% of Boracay businesses are ready 2 months before reopening
Boracay's back: What you need to know about the island's reopening on Oct. 26
FYI, Boracay isn't your personal dumping ground
Read more by Amierielle Anne Bulan:
There's a brutal ban of dogs from the Boracay beach
This is the problem with the portrayal of IPs in TV shows
Dear companies, recycling is not the answer to plastic pollution and you know it
TAGS: boracay eats good eats meat ocean restaurants Seafoods Vegan vegetables