For Demna Gvasalia's debut collection for Balenciaga, the genius behind subversive brand Vetements sent models down the runway wearing puffer jackets, dresses with clashing prints, and big bags reminiscent of those striped shopping bags used in public markets.
Filipinos were quick to catch this reference. After all, we see it often on the shoulders of palengke and Divisoria goers looking to squeeze their haul in one handy, inexpensive, and durable bag.
Opening Ceremony designed similar tote bags, as well as Comme des Garçons, made from actual sako material and not lambskin like Balenciaga's Bazar Shopper. Think Ikea bags.
Traders and farmers, however, know that this material is not as sturdy as its counterpart that is just as colorful but made with woven nylon which they use in transporting crops and other heavy products. Similarly, synthetic banig or mats common to Filipino households are made from the same material.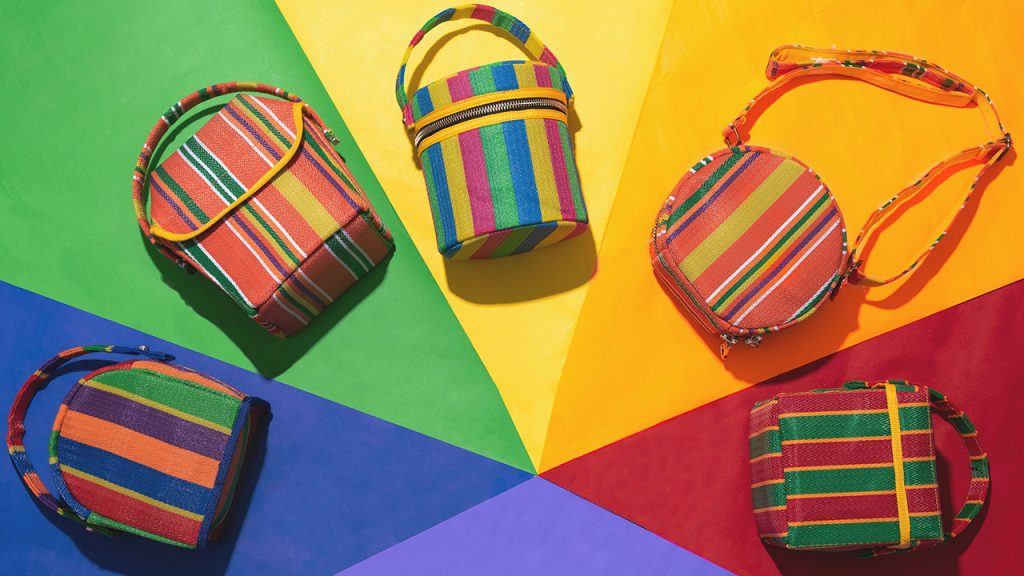 Harvey Alumisin has always had a fascination with these big bags. Every quarter they would receive produce packed in these large colorful sacks from Mindoro where his dad has a farm.
"I love it because they come in very colorful patterns and it's different every time. Plus it's super durable," says Alumisin of the bags which he calls Divisoria bags.
So when he wanted to make a bag for himself to amp up a white and khaki outfit he was wearing to a wedding, it instantly came to mind.
"One day, I decided to use it to make a 5"x5"x5" box bag. I thought, 'Oh my god! This is the exact vision I had in mind. It will be perfect for the bag.'" The bags were just lying around in his office filled with papers after unloading the vegetables, and it helped that his brother has a bag manufacturing business.
This is how his first design—the cahon—was conceived: out of necessity. Under the brand San Teodoro, the community in Mindoro where the material is sourced from, Alumisin now has five designs in total, all inspired by everyday objects.
There's the tinapay that's shaped like a loaf of bread which comes with a detachable strap. A cylindrical one that looks like a bucket bag is called timba. While puto is a circular sling bag.
The latest addition to his collection takes its cues from the structure of a bahay kubo and thus named after this Filipino architecture. It has a rectangular body with a roof-like flap, as well as a handle.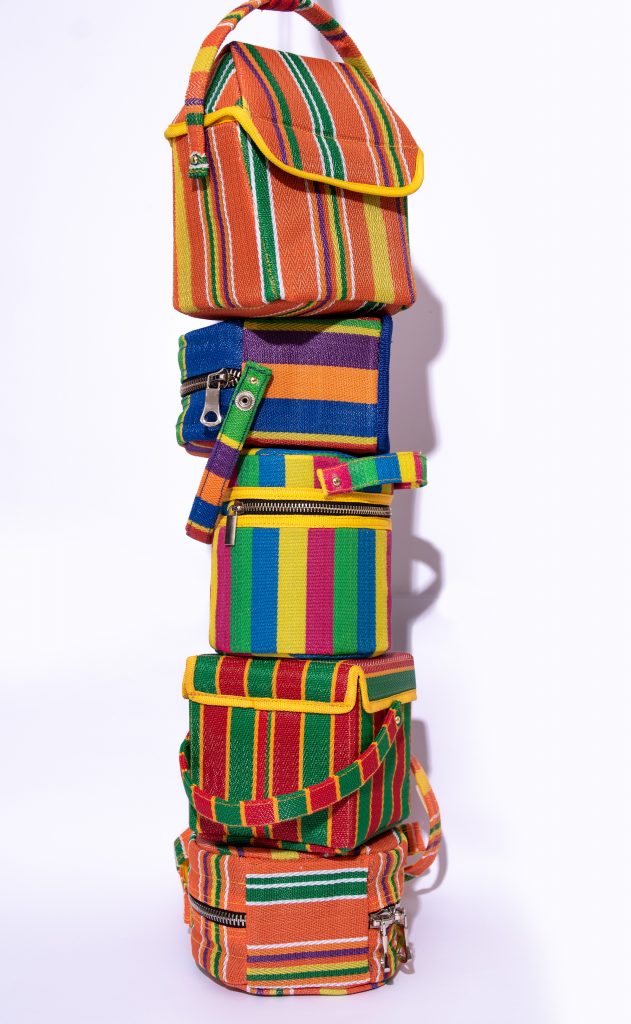 On a recent trip to Hanoi, Alumisin brought the bahay kubo with him—as with his other bags which he occasionally borrows for his own use—and was surprised when some locals expressed interest with it and placed orders.
San Teodoro's business model, however, is unconventional in every sense of the word. Having started from posting images of his designs on his Instagram stories, Alumisin wants to keep it that way—at a personal level, that is.
"I take orders mainly through my Instagram account, some through the office number (laughs) because I feel like if I start putting it up online on its own platform then it becomes a real thing with more expectations. The way I'm working now which is more personal, there's a feeling of understanding that this is sort of like my passion project, which is what it really is." Alumisin's day job is overseeing a manpower agency.
And since making the bags take some time, Alumisin maintains a waitlist. But strangely enough, he doesn't ask for a downpayment. Again, to keep expectations at bay.
From an outsider's perspective, Alumisin's business is only in its infancy, something that he agrees with and revels in knowing that there is still room to grow.
"I only started designing bags [last] November, [and] came up with the rest of the styles this January along with branding. For now, it's just really about establishing the brand and making sure that I am capable of producing quality bags before I go large scale."
For orders, message Harvey Alumisin on his personal Instagram account.
Read more:
Handwoven bags that support local craftsmanship
Where to buy well-crafted leather bags in Manila
Fun and functional bags for sunny days
Read more by Christian San Jose:
A vintage shop in Poblacion with museum-quality Pitoy Moreno and Ramon Valera
The terno is not dead. But new designers are killing it
This designer just gave us an idea how to reuse those 6-pack rings
Writer: CHRISTIAN SAN JOSE
PHOTOGRAPHY JP TALAPIAN