Senior high school (SHS) students at the only public school in the municipality of Lubuagan in Tabuk City, Kalinga will soon be taught in their Home Economics classes the "laga" or the traditional backstrap weaving technique from the province's indigenous peoples.
To "further strengthen the Indigenous Peoples Education in the Cordillera Region," the Department of Education (DepEd) announced on Monday that "laga" will officially be integrated in the curriculum of those under the Technical-Vocational-Livelihood SHS track. "It's a way to ensure that the weaving technique is passed on for generations," Education Secretary Leonor Briones said.
Along with Kalinga State University and the Technical Education and Skills Development Authority—Kalinga, DepEd declared that the new curriculum will require students to be part of a "Work Immersion Program" with the local government of Lubuagan where they will be given a "hands-on experience or work simulation by learners." They will be assisted by the consultants and experts from the Kalinga State University, who will also help in the development and revival of the backstrap weaving technique, training designs, and the resources for the production.
By the end of the school year, Grade 12 students are guaranteed to receive a training certificate on "laga" weaving.
The backstrap weaving technique is important for families in Lubuagan, where the annual "Laga Festival" is held.
In Mabilong, one of the municipality's villages, weaving is considered as a "sacred tradition." Josephine Fejer said in Business Inquirer article in 2011 that the weaving technique is what their small community is most known for.
"In Mabilong homes, almost every member of the family helps in the weaving of garments. As soon as women finish weaving, the male family members come in and stitch the designs, which are drawn from their environment such as stars, mountains, lakes, birds and animals," Fejer said.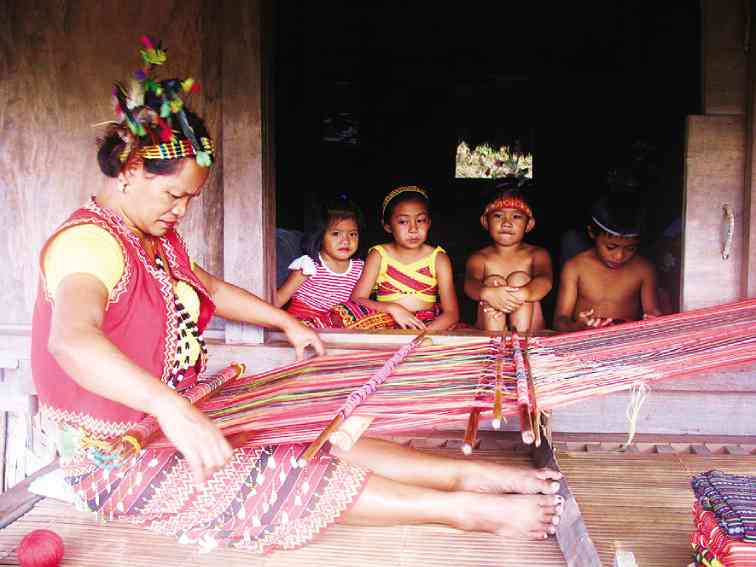 The integration of this technique in schools comes handy, especially when a lot of designs in the art of weaving, despite the resistance of these small communities, are being forgotten, as noted by the Philippine Textile Research Institute of the Department of Science and Technology in 2014.
As fast-fashion continues to rise, the support for weavers in communities all over the country are declining. There is also a lack of proper acknowledgment (and even payment) to those working hard in the weaving industry. (READ: Underpaid and unacknowledged: The current state of Filipino weavers). It is only by addressing this now and raising the new generation's awareness on our rich culture and heritage can we assure that none of our traditions will be neglected or die down.
Header image shows a weaver from Kalinga province. Photo courtesy of EV Espiritu/ Philippine Daily Inquirer
Get more stories like this by subscribing to our weekly newsletter here.
Read more:
Textiles from ASEAN region, 100% cotton weaves at HABI Fair 2018
Fashion designers parade inabel weaves in pop up exhibit
So you think you know your local weaves?
Read more by Amierielle Anne Bulan:
Local weaves could be used in uniforms, too, DOST upholds in fashion show
A first look at the design of "Wave," Marvel's first Filipina superhero
Why it's important to view art to understand than to critique
Writer: AMIERIELLE ANNE BULAN