Vote-buying will never be an acceptable practice, Mr. President
The voter's right to choose the next batch of leaders does not have a cash equivalent, whatever the amount
May 16, 2019
"Worrisome" hardly captures the seemingly relaxed attitude the administration has displayed about the issue of vote-buying in the recently concluded election.
President Duterte himself casually offered an excuse that people who might be receiving money in exchange for votes can use.
"Just tell them you took the money not for the vote but because you want your fare to get home," he said in a campaign rally of daughter Sara's Hugpong ng Pagbabago (HnP) days before the May 13 polls.
Section 261 of Article XXII of the Omnibus Election Code specifically prohibits candidates running for any government position from giving away of money or "anything of value" to voters.
There was even an effort to organize a task force called "Kontra Bigay" requiring the Philippine National Police, Department of Interior and Local Government, and the Integrated Bar of the Philippines to monitor vote-buying.
But hearing the President rationalize the acceptance of money from political candidates strikes a dissonant chord among voters, especially when it sounds loud and clear that he is willing to tolerate the practice.
Even after his own former special assistant Bong Go made a show of reminding him onstage that vote buying is illegal, Mr. Duterte hinted it would be better to take the money instead of "offering yourself (for sale) before you could go home."
An Inquirer report said the President even blasted the Commission on Elections (Comelec), whose job it is to uphold the election code, for enforcing an "unrealistic" regulation.
"Don't believe the Comelec," he barked in Cebuano.
Enablers?
Even Oscar Albayalde, director general of the Philippine National Police, advised voters to "take the money" when asked to react to the President's statement at the rally.
"Just because you're giving away money (doesn't mean you're buying votes)," Albayalde said on another occasion. "It depends on who gives the money and to whom," he added.
The PNP chief said there are instances when a candidate gives money to campaign "supporters" for logistical expenses.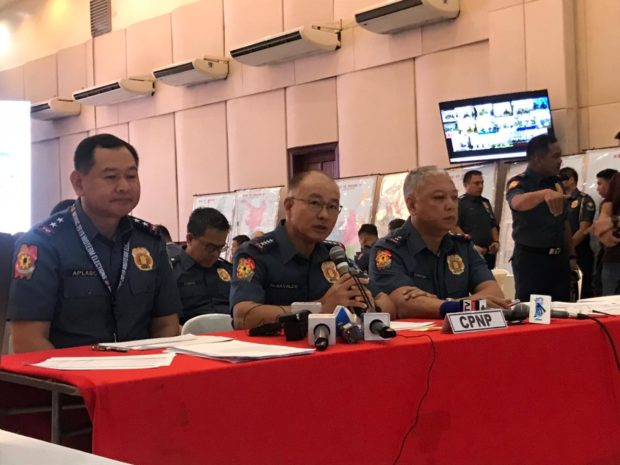 And apparently playing it safe, Comelec spokesperson James Jimenez dismissed their statements saying, "These are personal opinions."
Vote-buying is not only a crime. Rampant practice during elections is an indication of grievous malaise.  It means people are willing to surrender their right to suffrage. A national leader who rationalizes it or gives an excuse to absolve whoever takes cash is pushing the alarm.
The thing is, vote-buying is a form of dishonesty. And it appears that this administration is willing to dismiss violations as long as the job gets done.
Remember how the President's daughter Sara Duterte, mayor of Davao City, shrugged off questions about the inclusion of candidates facing corruption and dishonesty in her HnP senatorial lineup?
"Walang isang kandidato diyan na hindi nagsisinungaling kaya hindi dapat nagiging issue ang honesty ngayon," she bluntly told media at the sidelines of a rally in the early days of the campaign period.
Presidential spokesperson Salvador Panelo, asked about his boss' vote-buying statement last week, also expressed willingness to accept his preferred excuse.
"It's fare because you went to a far place. If you don't have money and it's only P50 for your fare, that's OK with (the President)," Panelo reiterated.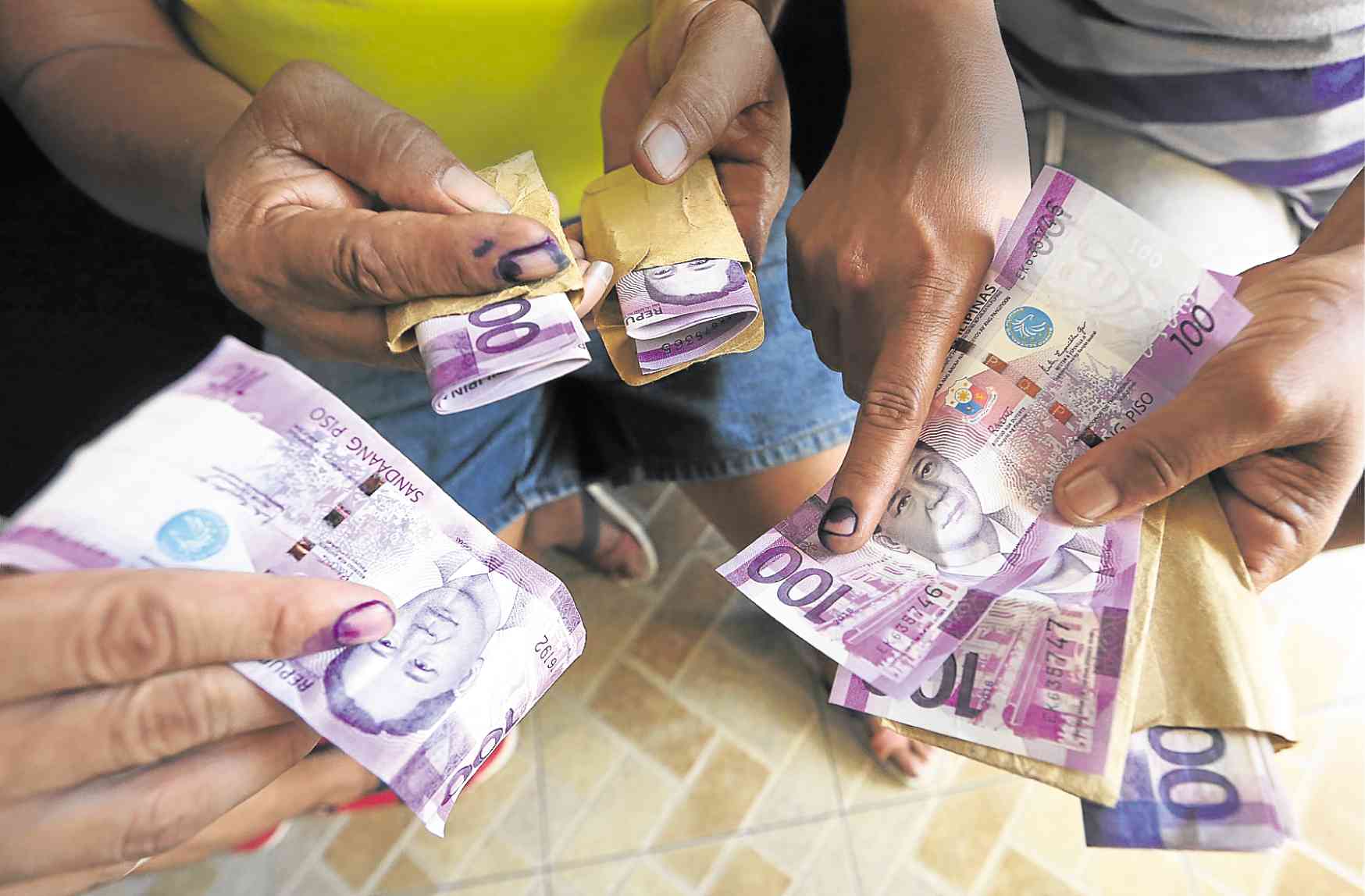 "An integral part of election"
Trouble is, it would be hard to believe that a candidate would go out of his way only to reimburse the voters' transport fare. Besides, is there a candidate who still gives out P50 these days?
Mr. Duterte may have been provoked to give a bolder statement when he was asked anew about the vote-buying issue after casting his vote in Davao City.
"Buying votes has been an integral part of an election in the Philippines," he stressed.  "There is nobody who doesn't buy votes.  Point to me someone who doesn't buy votes."
The President maintained that handing out cash should not be quickly interpreted as buying.
"You know, when you start to give money and I told the Comelec, that's not because I'm buying the vote of the fellow.  It's because I'm giving him money to go to the (voting) precinct, cast his vote and go home. Not all people have money (for transport fare)."
Still, Mr. Duterte warned later that if vote-buyers are caught, "they will be prosecuted to the fullest (extent) of the law."
On the eve of the election, the Inquirer gathered reports of arrests due to vote-buying in Makati City, Isabela, Cavite, Bataan, Laguna, Oriental Mindoro, Iloilo, Sibuyan island, the Bicol region and Eastern Visayas.
And in dramatic fashion, police arrested Quezon City Rep. Bingbong Crisologo for intervening in the arrest of individuals inside his campaign headquarters who were allegedly engaged in vote-buying.
"Breakdown of moral values"
So far, only the Parish Pastoral Council for Responsible Voting has been vocal about its objection to vote-buying as an acceptable practice, lamenting how this has "become part of the country's election culture."
The group said vote-buying "somehow confirms a breakdown of moral values of Filipinos."
In most cases, politicians would not agree to a free lunch. Politics, especially here, usually involves quid pro quo. Any form of financial assistance normally expects some form of remuneration. Although not expressed openly, it is simply part of our utang na loob culture.
But a voter is not synonymous to a campaign volunteer or supporter that a candidate MUST provide logistics to. A voter goes to a precinct to exercise the right to choose the next leaders. A voter should not go to a precinct to claim cash.
No amount of rationalization or denomination will justify vote-buying, Mr. President.
Header image courtesy of Niño Jesus Orbeta/Inquirer
Get more stories like this by subscribing to our weekly newsletter here.
Read more:
Why are Comelec's equipment still faulty, four automated elections later?
LOOK: Campaign materials upcycled into bags, school supplies
As poll results come in, searches on migrating surges
The Fall of House Estrada: Is this the beginning of the end of political dynasties?
TAGS: 2019 elections 2019 midterm elections comelec Duterte elections midterm elections President Rodrigo Duterte rodrigo duterte vote buying