As poll results come in, searches on migrating surges
But this shouldn't be the case at all
May 14, 2019
It's quite obvious that some Filipinos are not happy with the initial election results that came in yesterday—but the Facebook posts, tweets, and protests happening today aren't the only ones proving it.
When the Comission of Elections (Comelec) released 0.38 percent of the total results for senatorial positions 6:15 p.m. last night (and stalled the supposed to be real time updates until 2 a.m. the next day due to the glitches in their transparency servers), a number of Filipinos were dismayed and thought about leaving the country for good. The partial and unofficial election updates showed that administration party PDP-Laban and regional party Hugpong ng Pagbabago dominated the top 12 while no one from opposition party Otso Diretso was able to get in.
Search engine Google was abuzz with queries on terms "migrate," "migrating, and "how to migrate." In a data from Google Trends, it was shown that those terms were only searched by 2 to less than 1 percent of Filipinos for the past seven days. But when the results were released, the number of searches hit Google's peak popularity value.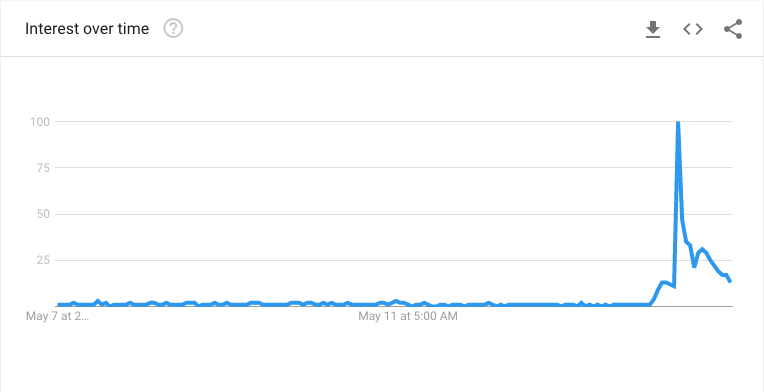 The data revealed that Filipinos preferred to relocate to Japan, Canada, Australia, and New Zealand. The phrase "migrate to Japan" even rose by 110 percent. Bicol region has the highest number of searches followed by Eastern Visayas, Metro Manila, Calabarzon, and Western Visayas.
However, this shouldn't be the case.
The results might be painful, heartbreaking even, but it is no reason for us to turn our backs to the Philippines and our countrymen. I do understand that some of the searches were made in jest, a way we express our lost of hope, but this elections is not the end.
We're lucky that we have a choice to leave, to not see the faces of Duterte's new enablers in the legislative branch, to not hear from them ever again. Most of our fellow Filipinos don't, and they are the ones who are most likely to be affected by the changes in the government. Our nationalism may be wavering, but let's also be compassionate our brothers and sisters. We can't leave them behind.
I know that for some—especially for those who have long been on the streets clinging to the chance of being heard by the ones in power—this is the last straw. I also know that your emotions of hopelessness and distress are real and valid. But let's give this one last try.
We can move forward. A part of the roster of senatorial candidates may have been living representations of our nightmares, but the other part is composed of names that give us a glimmer of hope. We were not totally dominated by plunderers, political dynasties, celebrities, and enablers of the president in the elections. We were introduced to people who can actually help, to the ones who have been on the grounds all along, fighting with us, listening to us. We can and will move forward and join them in the fight.
Get more stories like this by subscribing to our newsletter here.
Read more:
Nolisoli.ph's comprehensive guide to voting in the 2019 midterm elections
Spare trees from election campaign materials, environmental group urges COMELEC
Why are voters being handed out ID cards campaigning for specific candidates?
Comelec to election candidates: Use recycled materials for campaigns
TAGS: election elections midterm migrate mock results philippines poll