Comelec to election candidates: Use recycled materials for campaigns
The campaign color that will reign this season is green—for the environment
Apr 30, 2018
With the upcoming Barangay and Sangguniang Kabataan (SK) elections this May 14, the Commission on Elections (Comelec) released Resolution No. 10294, which lays out the rules and regulations for the implementation of the "Fair Elections Act" this year.
There are some interesting tidbits in the 15-page resolution, such as the inclusion of "blog," "collective blog," and "micro-blog" in the list of terms defined in Section 1 of the resolution. Goes to show how pervasive digital and social media is nowadays, especially in the realm of politics.
Aside from standard election rules though, the current resolution also promotes some pretty green practices. Under Section 6, or Lawful Election Propaganda, Comelec writes:
So aside from their names, corresponding numbers on the ballot, and the position they're running for, make sure to check if your local candidates are following this motion to go eco-friendly with their campaign materials, too.
If you're a candidate yourself and you're looking for ideas for recyclable materials to use for your campaign (aside from empty and broken promises—let's not recycle those, please), here are some:
For re-electionists, reuse your old materials
Maybe you still have those tarps lying around (or plastered somewhere). Just do a new paint job/update the date and position you're running for this time around.
Use old paper or cardboard
Handwritten letters are allowed to be used as lawful election propaganda, so use that to your advantage. It'll take more effort, but handwritten notes can be a lot more personal or heartfelt, too.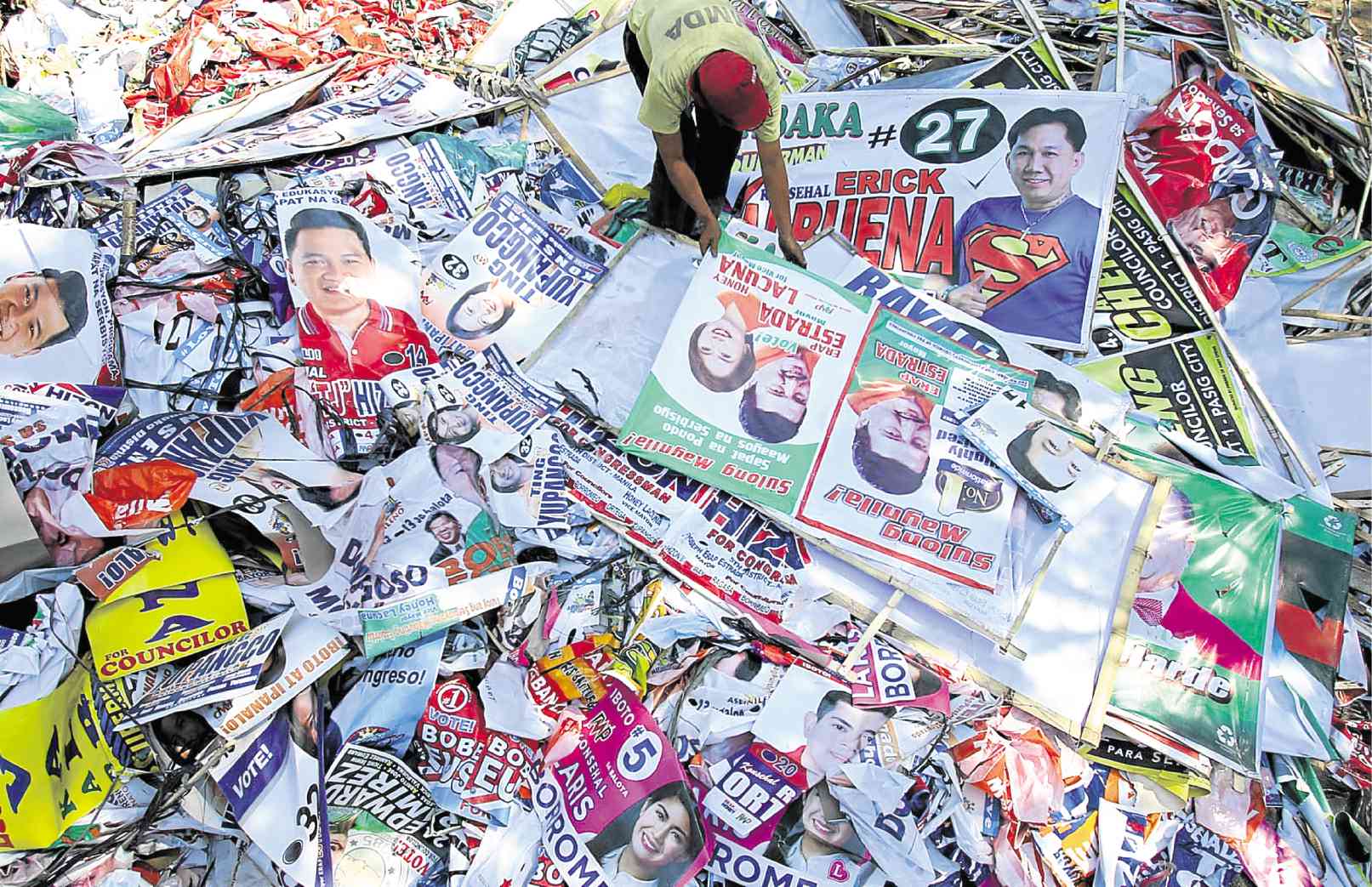 Go online
Another option is to just go digital. That way, you won't be producing any physical waste. Just make sure your online materials adhere to the guidelines Comelec set for online election propaganda.
Header photo courtesy of Inquirer.
Read more:
Baybayin could soon be our national writing system
How to start your government ID collection
Traitors in Philippine history who are only loyal to one thing
TAGS: 2018 barangay sk elections 2018 elections barangay sk elections comelec fixture government News nolisoli philippine elections