Why do cosmetic brands find it difficult to set up refilling stations?
Apparently, the Food and Drug Administration's policies are limiting. But it's time to change that.
May 22, 2019
The Philippines throws away 163 million sachets every day, the Global Alliance for Incinerator Alternatives estimates based on its five-year waste audit. These wastes remain in our environment for thousands of years, polluting our lands, seas, and air.
"We can't solve the problem of plastic pollution if we don't attack it from the source," says Human Nature founder Anna Meloto-Wilk during the brand's launch of its refilling station in March at SM North EDSA. That facility is their shot at tackling this problem.
But there lies a big hindrance to the local beauty and wellness brand's attempts to widen the scope of their refilling facility: the Food and Drug Administration's (FDA) existing regulations on establishing refilling stations.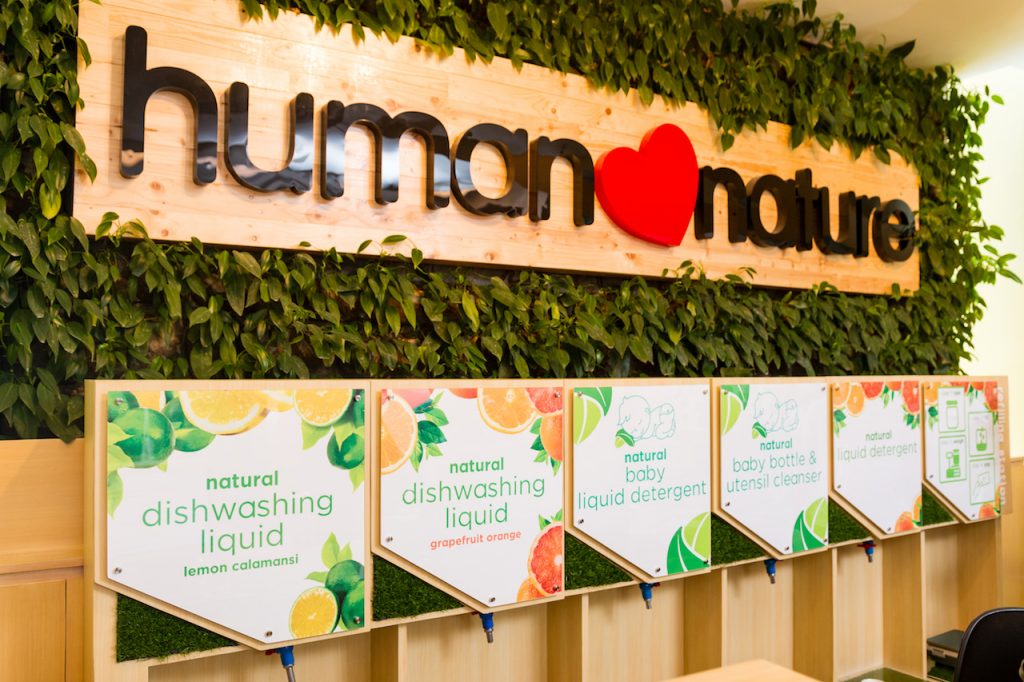 "It's not an enabling environment as of now because there are [government] policies that restrict refilling as of now," says Meloto-Wilk. Setting up water refilling stations (which should be more regulated, by the way) is even easier, she says. "But we're willing to experiment and try [refilling] out. It's our imperative and responsibility to make changes and to not be complacent." As of now, Human Nature only offers to refill homecare products.
Together with environmental advocates and nonprofits like Save the Philippine Seas, Mother Earth Foundation, Greenpeace Southeast Asia-Philippines, and WWF Philippines among many others, Meloto-Wilk filed a petition to the FDA to change the existing rules to be more responsive to refilling setups.
They also have an ongoing online petition (To sign, click here) where they raised three opportunities that deals with safety, traceability, and adaptation of the products for the agency to enhance the implementing rules and regulations of Republic Act No. 9711 or The Food and Drug Administration Act of 2009.
"First, instead of classifying refilling activities under 'filling,' a manufacturing activity under AO 2016-0003 (Guidelines on the Unified Licensing Requirements and Procedures of the FDA) and Good Manufacturing Practices, we propose that a new, separate classification be developed such as 'Refilling/Repacking Stations' within a retail outlet similar to how the Retail Outlets for Non-Prescription Drugs were developed.
"Second, to fulfill the FDA requirement of protecting consumers' health, we propose these Refilling/Repacking Station requirements:
Business permit
Sanitary permit
Products (cosmetics and household) for refilling must be FDA-notified
Authorized refilling representative trained and certified by the company to conduct safe and sanitary refilling (patterned after food establishments' safety compliance officer) and not necessarily a pharmacist or a graduate of an allied science profession.
Refilling procedures to ensure the safety of refilling
Flat rate fee for the refilling License to Operate similar to government agencies such as Bureau of Animal Industry (BAI) and Philippine Drug Enforcement Agency (PDEA), and not based on business capital.
"Third, if the packaging to be used is the emptied product bottle, the minimum mandatory information is already in the label. The Batch No. and Expiration Date will be
stamped on the label for every refill.
"If the packaging to be refilled will be different from the emptied product bottle, the existing minimum mandatory requirement should be displayed on the Refilling/Repacking Stations for the consumers' information. We propose that the following be stamped/stickered on the label for every refill:
Product Name
Batch No.
Expiration Date
Special precautions to be observed (if applicable)."
Meloto-Wilk wants to make this case with the petition: that if water refilling is allowed for as long as there are standards, we can have a similar setup for cosmetics and home products.
"We seek to bridge the policy gaps and promote a sea change in the way responsible Filipino companies and ordinary citizens use plastic—not just temporary measures, but permanent and lasting policies, structures, and systems," writes the proponents of the petition.
Subscribe to our newsletter here for more stories like this.
Read more:
LOOK: Zero-waste sari-sari stores in Negros that have refilling stations
Environment stories to inspire us this Earth Day 2019
Farm to fashion: How regenerative agriculture makes fashion sustainable
TAGS: human heart nature Human Nature refilling stations in manila sustainability