It's mental health month, so I'm going to reveal a secret I've been keeping for the past few weeks. Here goes: I was recently hospitalized because of a huge breakdown that turned me into an anxious wreck unable to leave my room and, eventually, made me choose to commit suicide. (I'll spare you the gory details.)
This article isn't exactly about that, but the huge, huge fees I ended up incurring later when I was taken to the hospital.
At the hospital, my friend checked in with my health card office to see if they would cover my confinement—they wouldn't. Okay. We figured it might be a long shot, anyways. We did, however, think that they would help cover my ER fee, or at least for the X-ray scan that the doctor insisted I take.
They didn't.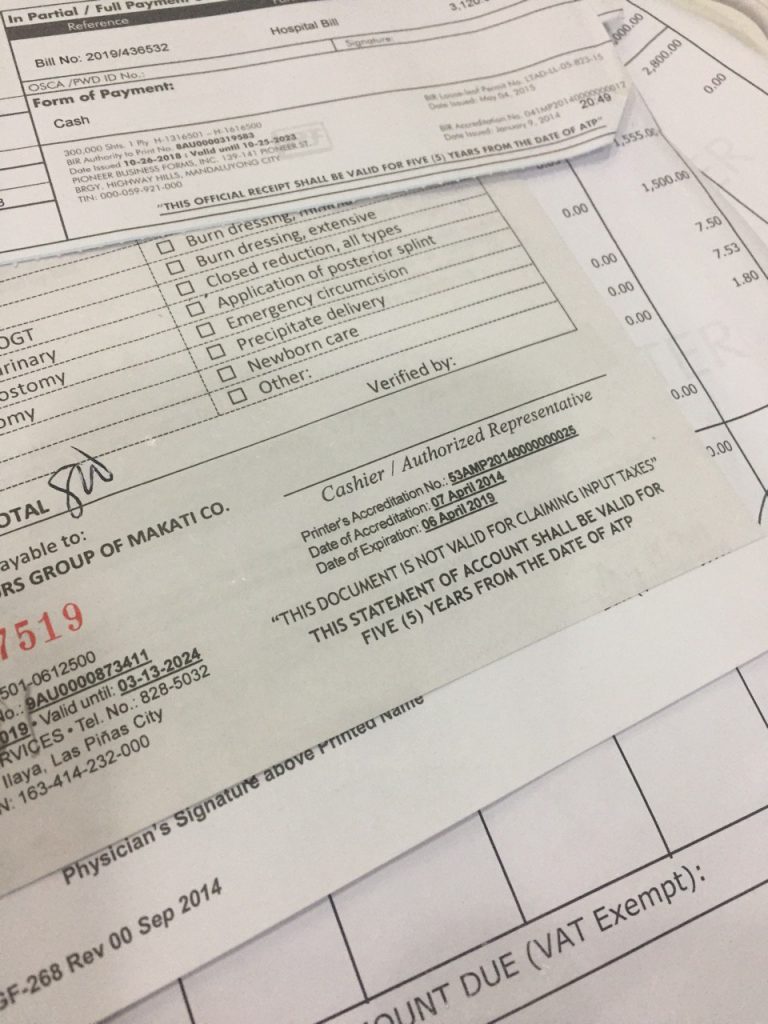 This meant that I ultimately had to go home (or, as they put it, home against medical advice) instead of getting the care I needed. It may surprise you, but writers don't have a lot of money. There was PhilHealth, sure, but it wasn't enough. This was already a huge bummer, but an email from our HR office the next day was a huge sucker punch. With the subject "health card perks," it contained a link that sent me to a list of benefits and discounts my health card offered.
Here's a list of things my health card would rather dish out instead of helping me: a spa day, a massage, a meal at a restaurant, a day at a theme park, and etc.
And the sad thing is, this is a common scenario for many people dealing with mental health issues. The ER psychiatrist who took care of me told me that virtually no insurance companies cover mental health care even after the Mental Health Act was signed into law. (My mom had one of the few that did, apparently, but since I live far away from home, it was of no use) My other friends dealing with mental health issues also had the same problem.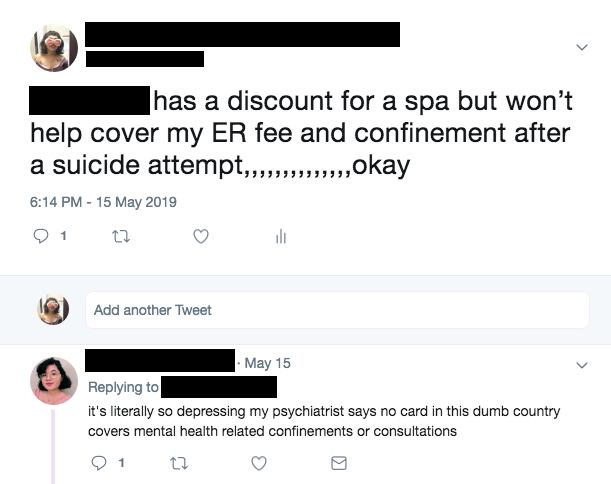 Here's the thing: I'm not writing this because I want to humiliate my health card provider. (If I did, I would've named them.) Instead, I want to ask why insurance companies don't think that mental health is something that they need to cover. Mental health issues are huge problems that could lead to physical damage. I could have died. I have burn scars from years of self-harm that won't disappear. Are those not strong enough cases?
"A formulation gathers up all the biological, psychological and social factors that have led to a person becoming unwell and considers how these factors interconnect…These factors are not located solely within the brain, nor are they solely located within the individual," writes Dr. Lisa Pryor in an article about mental health for the New York Times. "The brain exists within a human body, which in turn exists within a family, a culture, a society, an economy," she adds.
The Global Burden of Disease (GBD) study, a health metrics research program that maps out the burden of diseases on mortality, disabilities, and etc., constantly places mental health as one of the top causes for either premature mortality or years lived with disabilities (YLWD). In the 2010 GBD Philippine profile, major depressive disorder placed 7th as a top cause for Disability-adjusted life years (DALY), a term for the combination of deaths and YLWDs with anxiety disorders at 23rd.
Mental health issues are real problems with concrete, physical effects. And even if there weren't any, that's still no reason to dismiss them. So why do we allow our health cards to?
Get more stories like this by subscribing to our newsletter here.
Read more:
ICYMI: There's a new 24/7 mental health crisis hotline
The rights and services under the recently passed Mental Health bill
Remembering Ren Hang: the eroticism of mental health
Read more from Zofiya Acosta:
The many narratives of Mara Coson's "Aliasing"
No plastics, says this eco-friendly delivery service
This series matches Filipina goddesses with western zodiac signs for the modern diaspora
Writer: ZOFIYA ACOSTA
ART MELANIE CHANG