This wings and steaks chain from Marikina now serves champorado and tapsilog breakfast meals
Blakes' Wings and Steaks is more than just wings and steaks now, they also serve Filipino breakfast staples along with classic American pancakes and waffles
info
Blake's Wings and Steaks

American

7 a.m. to 10 p.m.

₱

P200 to P400
Since opening its first branch in Marikina in 2014 and its subsequent branches in Quezon City and Makati, Blake's Wings and Steaks has been known mostly for their American menu consists of, well, wings and steaks.
But fans of this restaurant have more to look forward to now as it launches a breakfast menu exclusive at its stand-alone branches like Salcedo, Katipunan, and Marikina.
You can now enjoy their classic dishes like the Blake's all-in platter that has 1⁄2 kg of chicken wings, 1⁄2 kg of pork ribs, and three orders of T-bone steaks, complete with sides, together with new additions to their menu that are perfect for early risers (you can order any breakfast dish as early as 7 a.m.!).
As usual, these breakfast options include American favorites like pancakes and waffles paired with crispy bacon and fried chicken for that classic sweet-savory pairing. But knowing us Filipinos, our mornings won't be complete without our fix of local flavors such as the champorado topped with crispy dulong (perfect for these gloomy days) and a refined version of tapsilog which tapa is made with Angus beef.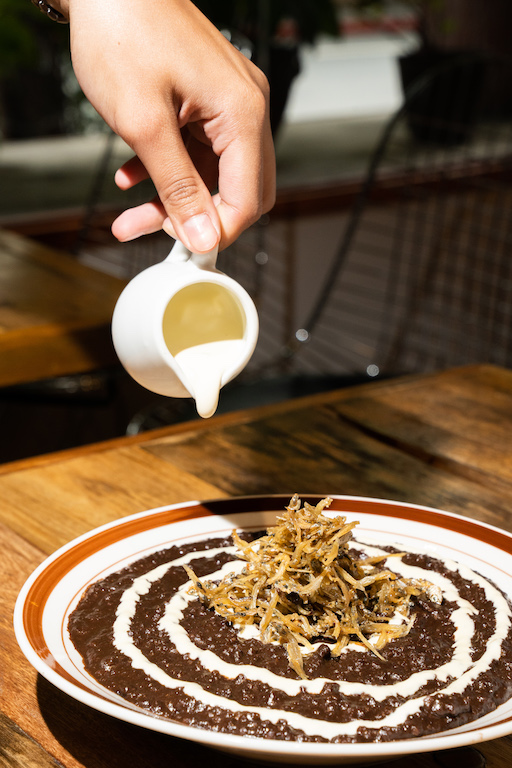 If you're not the type to eat (Instagram-perfect) sunny-side-up eggs, there's also an omelet of chopped bacon, sausage, ham, and cheddar cheese served with brioche toast and house salad.
Or if you're indecisive or just flat out want to load up for the day ahead, try their fully loaded breakfast sampler that combines two Italian Garlic sausages, thick-cut maple bacon, your choice of sunny side up or scrambled eggs, house salad, and brioche toast in one plate.
Get more stories like this by subscribing to our weekly newsletter here.
Read more:
Breakfast idea: baked egg casserole with greens and cheese
ICYMI: Poison has champorado and tuyo donuts
A small stall in Banawe, Quezon City sells these artisanal pandesal
TAGS: blake's wings and steaks breakfast filipino breakfast
WHY GO?
From 7 a.m. to 11 a.m., you can order any of these new breakfast offerings from the champorado with crispy to dulong and Angus beef tapsilog to American favorites like pancakes and waffles.
MENU