To quote Nicki Minaj in her latest guesting on "RuPaul's Drag Race," "I hate, hate, HATE—talking to a sales rep whenever I go shopping." Okay, that may be more Filipino shoppers than Minaj speaking. 
Apart from having to stand up for hours in company-issued standard three-inch heels, sales representatives at department stores also have the dreaded job of talking to customers, whether into buying what they are selling or just to make it less awkward as a customer mindlessly goes through every item in every size and color—much to the ire of the often overworked and underpaid congenial worker.
Conversations not sales talk
At Aesop's first store in Manila, things are a bit different. Sales representatives don't have uniform shoes or uniforms, period. They aren't even called sales reps but "consultants." Speaking to a woman touring me through shelves upon shelves of amber-colored bottles, she tells me they just have to wear either black or white head-to-toe. Well, that and really good skin.
Inside the spacious, concrete and organic-looking structure that is Aesop at Greenbelt 5, these consultants with their pristine white and black ensemble and constantly ready smiles fit in like monks in a temple. This is unlike their mothership that stands out in the mall where glass and warm lights are the norm, despite the architect's intention to make it blend into the context of the locale. (It did achieve that by mimicking the warm eggshell color of the mall's outer wall, let's give them that.)
They are chosen and subsequently made presentable for a reason: to talk to customers—er, "to have conversations" with clients. "So, how many of these 'conversations' have you had today?" asks my companion. Affably she answers, "four so far," before adding that they have all been meaningful. Later that noon, I saw her strike one with a six-year-old kid left to her own devices while her mother is being whisked away by another consultant.
The sink is strictly for the hands
A conversation at Aesop begins with tea on the house on a cup inscribed with a saying from Kafka or some philosophical statement from Kant as with any Aesop product. You could occasionally grab an almond or a chocolate shard, which is a perfect excuse to just nod as consultants explain each product.
You can opt to have a tour of the structure, too, if you wish if there are enough consultants not preoccupied with a well-to-do client, the way we did. From the far side of the space, you'll be introduced to their obscure line of fragrances both for home and body. Who knew they had one?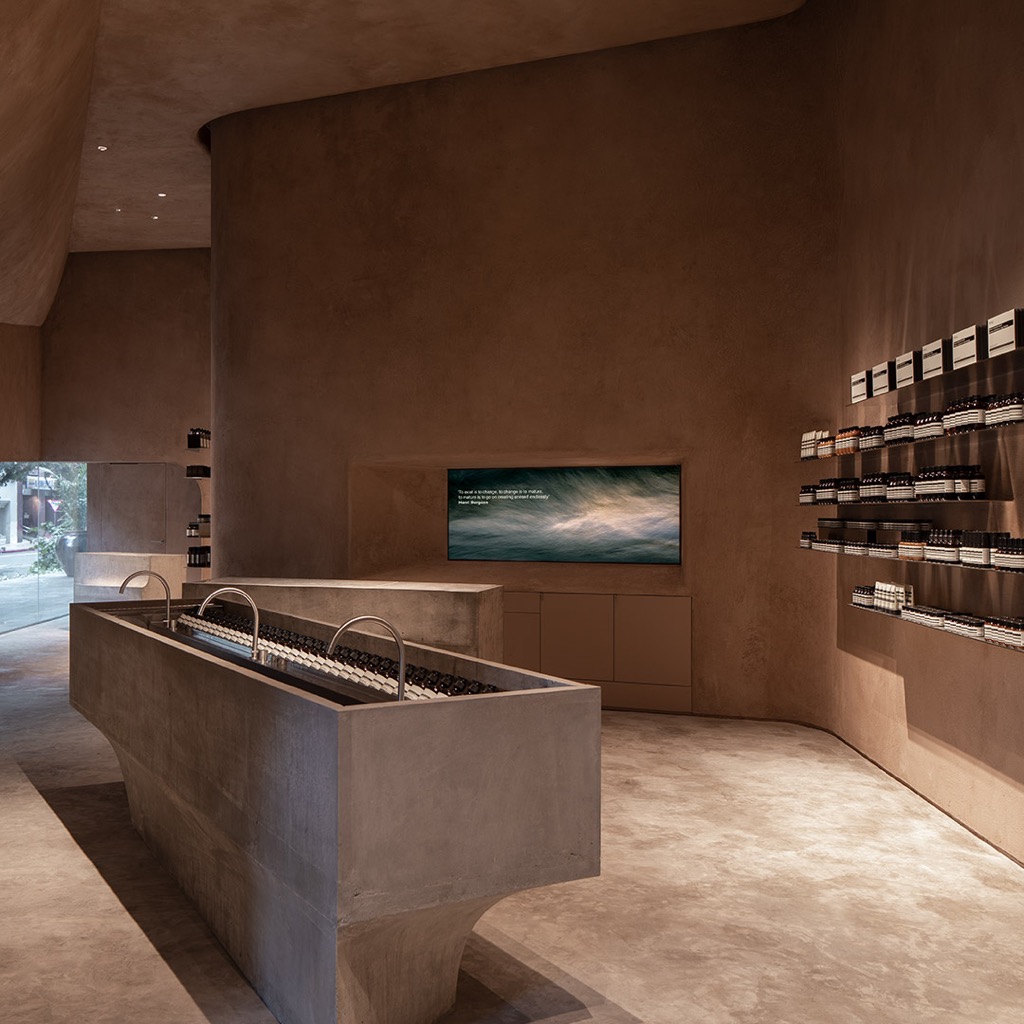 And then to the personal hygiene corner you go, where the tubes are stacked neatly against the wall cast in a soft light. You'll soon notice that presence of a huge sink (if you neglected it out of excitement coming in as I did). The consultant in return notices that you've noticed and proceeds to explain its presence. Turns out, this is where you can try out some of their products—the heart of the store, a misplaced sharp-edge object in the middle of a softly sculptured interior.
But here's the catch: you can only try out products—regardless if they are meant for the face or body—on your hand. I know this because I tried to convince them to try a facial cleanser on my face and was subsequently denied, with a smile, of course.
But first, sanitize at the door
With my nth cup of tea in hand, Paulo Reyes, Aesop's Marketing Manager steals us from a consultant as politely as a camp counselor in a silent retreat. He proceeds to take us out through a discreet glass panel that slides open, the store's door. Much like any other Aesop store in the world, he explains, this one is designed with the history and context of the area in mind.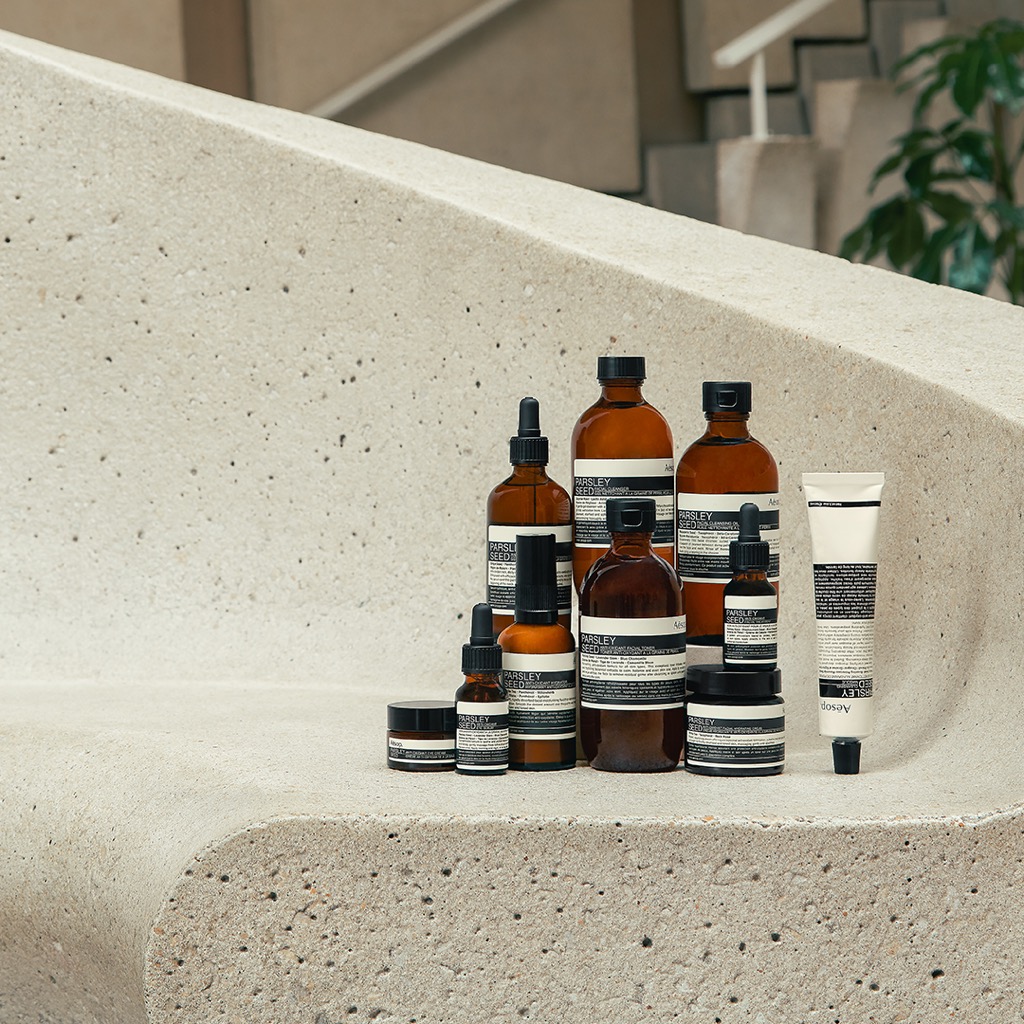 Reyes tells us that this part of Greenbelt used to be an extension of the Ayala Museum, designed by the National Artist Leandro Locsin, who also did the Cultural Center of the Philippines in Pasay, a great Brutalist landmark. The use of concrete and negative space is pure Brutalism, an ode to Locsin's body of work.
Before heading back inside, he directs our attention to three curious bottled testers stationed by the entrance. It turns out you don't even have to come in or even shell out a fortune to experience Aesop. The three bottles were sanitary measures, a line of rinse-free hand wash and balm perfumed with Mandarin rind, rosemary leaf and cedar atlas called "Resurrection."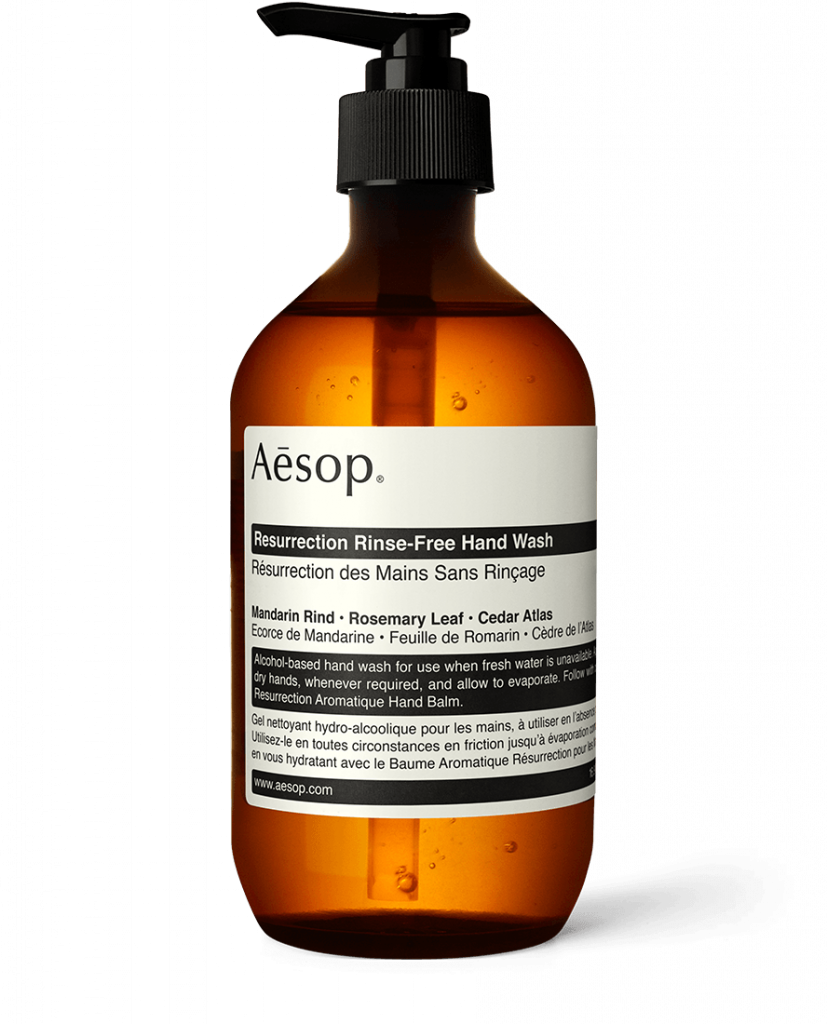 You can douse yourself in pumps of this goodness prior to coming inside but know also that the consultants don't discriminate. They'd still talk to you and offer you a cup of tea or a hand massage even if you haven't washed your hands with their rinse-free wash.
Photos courtesy of Aesop Philippines
Get more stories like this by subscribing to our weekly newsletter here.
Read more:
The first Aesop store in Manila is opening at Greenbelt 5
Fact or fiction: Debunking misconceptions amid the coronavirus outbreak