San Miguel donates swabbing booths, testing kits to provide testing to underserved communities
The diversified conglomerate has teamed up with 17 Metro Manila LGUs to put up testing booths in areas with high number of COVID-19 cases
May 12, 2020
According to a report by the Department of Health (DOH) dated May 10, we have conducted 173,144 tests over the course of the COVID-19 pandemic. In the last two days, DOH was also able to reach its 8,000 daily tests target—a small step towards mass testing in the country, which still remains a dream.
Private companies such as San Miguel Corporation (SMC) have since pledged financially in the fight against COVID-19. The diversified conglomerate's latest initiative is donating swabbing booths and testing kits to 17 Metro Manila local government units to make testing more accessible especially to underserved communities.
The swabbing booths donated to locations with a high number of COVID-19 cases, as well as test kits distributed to the most affected communities will complement the government's mega swabbing facilities in Manila, Pasay, Taguig and Bulacan.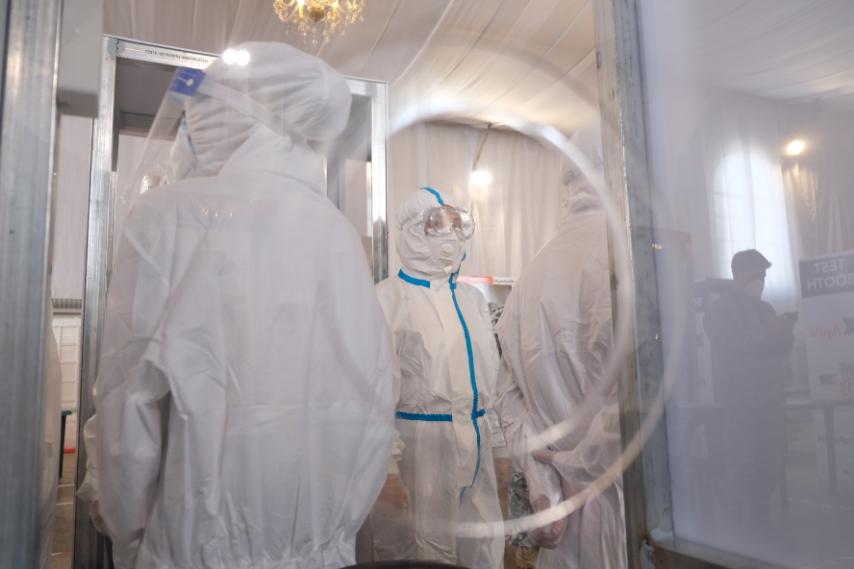 "Our aim is to help flatten the curve in our less fortunate barangays, especially in areas where there have been outbreaks. Our less-fortunate countrymen are really vulnerable because their living conditions make it harder to observe social distancing and other preventive measures. So we want to focus our efforts on helping them," said SMC president Ramon S. Ang.
Other than these donations to Metro Manila LGUs, SMC also plans to push through with its own testing laboratory to test its 70,000 employees and extended workforce.
SMC will also be donating three more sets of testing equipment—consisting of reverse transcription-polymerase chain reaction (RT-PCR) machines and automated RNA extraction machines—to health facilities and institutions in Metro Manila, including the National Center for Mental Health in Mandaluyong.
According to DOH, there are over two dozen Stage 3 to Stage 5 testing facilities in the country, which includes major hospitals. DOH is working to accredit more laboratories around the country to ramp up our testing capacity.
Header photo courtesy of San Miguel Corporation
Get more stories like this by subscribing to our weekly newsletter here.
Read more:
NCR, Laguna, Cebu City under new IATF classification modified ECQ
LOOK: PH's first mega swabbing center to open May 6 along Roxas Blvd.
VP Robredo's next project: A delivery app to help small-scale vendors, tricycle drivers
TAGS: covid-19 DOH mass testing san miguel san miguel corporation swabbing booth test kits testing