"Many years ago there was an Emperor so exceedingly fond of new clothes that he spent all his money on being well dressed," so goes the famous tale about an emperor and his new "clothes." 
Danish author Hans Christian Andersen writes, "He cared nothing about reviewing his soldiers, going to the theatre, or going for a ride in his carriage, except to show off his new clothes. He had a different suit for every hour of the day."
Of course, as we all knew, the king turned out to be naked after being swindled by two smart scoundrels who claimed only the worthy and enlightened could see the supposedly magnificent garbs. Afraid to admit they were fools, everyone from the kingdom, from the emperor to the common folk, pretended to be in awe.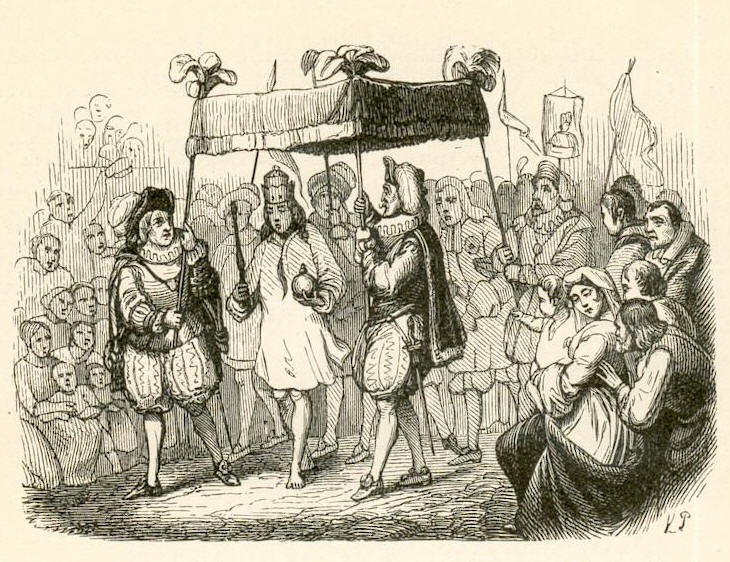 "So he walked more proudly than ever, as his noblemen held high the train that wasn't there at all."
Dare I say, the emperor is all of us. But the New York Times would rather have us think this obsession for new clothes and showing it off is strictly an attribute of the younger Gen Z shoppers. 
In a piece published last year, three young women from the US, Australia and UK were asked about their shopping behaviors—what they buy, how frequently they shop for clothes and what are their motivations for it. Surprise: Their shopping behaviors were influenced by the pressure of social media appearances, of not repeating an outfit ever, of parading new clothes to people on the other side of the feed.
The only dilemma now is how to make people want to spend money they could easily spend on clothes they can physically try on and keep, unlike these pixelated garments.
Out of thin air—err, pixels
Just like the tale of the outsmarted emperor, the effects of subscribing to this ideology through mass-produced fast fashion is a fabled tale. We know of the unfair and sometimes illegal labor that goes behind the production of these ready-to-wear clothes. Much more, we know about its effects on the environment and climate. But acknowledgment is not always equal to absolution, as writer Jia Tolentino points out.
[READ:
Are we doing sustainable fashion right?
]
What would it take to make us stop patronizing fast-fashion? Clearly, shaming people out of it rarely works. Producers of these cheap clothes are now even coopting the green/sustainability/zero-waste movements by turning it into campaigns without real transparency and accountability.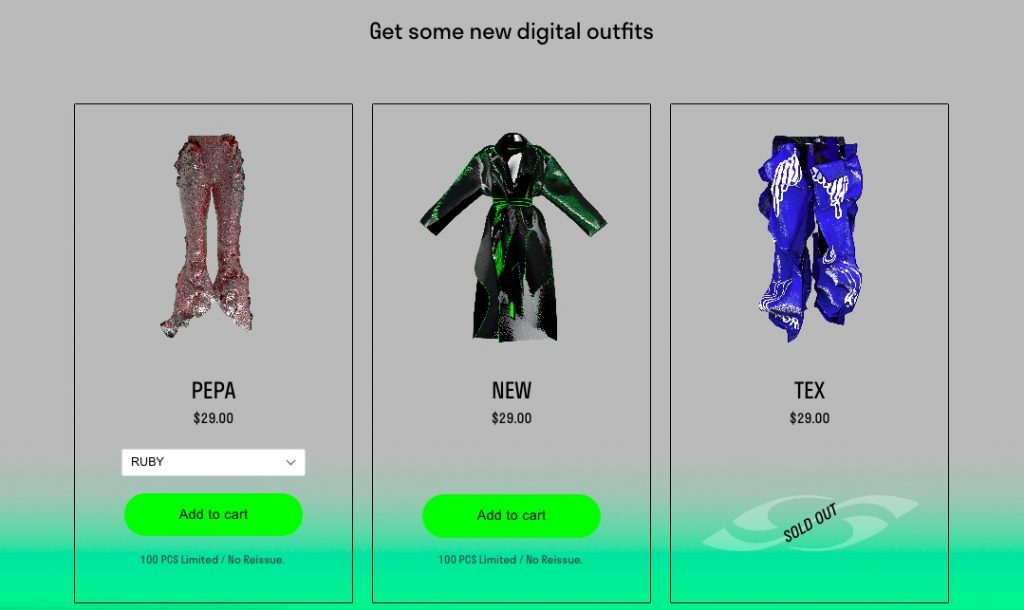 Two creatives from Zagreb, Croatia may have the answer. I say "may" because they may never materialize—as in the solution is not tangible. 
Gala Marija Vrbanic and Filip Vajda used to run a full-fledged fashion label before they founded Tribute, a "cyber fashion" line. Now, what exactly does this term mean? 
Actually, if you ask them, they will offer more or less the same answer, but with each iteration a clearer picture reveals itself. "Contactless outfit" is the phrase they usually use to describe their creations, which are made of pixels instead of threads—a digital equivalent of Roland Barthes' image-clothing. Tribute pieces are made strictly for the cyber world, as in your feed, the cloud, but never the real world.
To understand this concept, take a look at their Instagram feed. I first got a glimpse of their creations through Italian-Japanese creative director Nicola Formichetti, who in May posted a mirror selfie while wearing what looked like a wearable version of Jeff Koons' inflatable works. Metallic gleam accentuated by exaggerated volumes is Tribute's signature look. It is the same qualities that give away that these "clothes" are, in fact, just digital renderings.
https://www.instagram.com/p/CAhxRURj6y4/
Take, for example, this wildly inflated bowed metallic number. No garment could defy gravity that way even with industrial fans underneath (give it a few years). Not even Demna Gvasalia's crumpled puffy lamé Spring/Summer 2020 frock could do that.
But that is the magic of cyber clothing—it can "materialize" what is physically impossible to reproduce in real life and Tribute is taking advantage of that to bring out-of-worldly looks worthy of a (virtual) Met exhibition.
"We add new things that are impossible in the real world, like new materials—things that just couldn't function in the real world due to the laws of physics," Vrbanic told Vogue in an interview.
How do they make it work?
Instead of exploited tailors from third-world countries, Tribute has people with backgrounds in CGI 3D modeling, UX design and coding, on top of fashion.
https://www.instagram.com/p/B_nQy_GDpKS/
From their website, a prospective client can choose from a dozen of items: a Matrix-like robe (a personal favorite), a pair of glittering disco-ready flare pants, said sculptural bowed gown to a limited-edition $699 lace illusion shirt in toxic green.
According to its creators, after customers pick the clothes they want akin to a real-life shopping situation, then "they have to upload an image of themselves on which they want the cyber garment to be fitted. Afterwards, we pull everything through the 3D software and then the customers receive CGI images of themselves wearing the desired cyber garment."
But even if you can afford Tribute's $29 virtual clothes (on average), only a limited number of "clones" are made—a hundred per design to be exact, with the exception of the aforementioned lace illusion top, which is limited to three copies—yes, Supreme's James Jebbia's drop mentality governs even cyber clothes.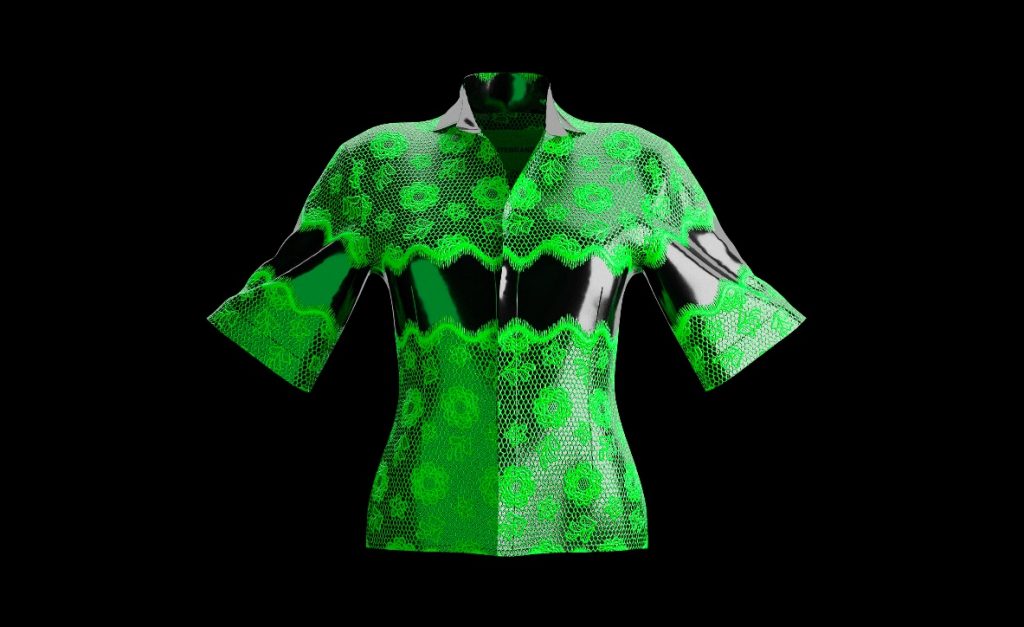 Fret not, Tribute also caters to haute couture clientele who are used to having clothes especially made for them. You can order a custom design through its TB Taylor Made Cyber Services—for a price, of course.
Wolves in cyber clothing?
Before you call Vrbanic and Vajda despicable characters worthy of being likened to the swindlers who fooled the emperor with nothing but invisible threads, you have to know the possibilities their creations pose for a truly cleaner and inclusive fashion system.
"By influencing the users to transfer their identity to virtual area, we want to create a platform that will change their behavior to act sustainably, leading to a decrease in demand, consequently production and usage of physical clothes," its brand ethos reads on its website.
The Bala dress. Photo courtesy of Tribute

"It is all about acknowledging its zero-waste and contactless character."
Apart from opting out of creating concrete objects out of materials like cotton (the manufacture of which is a huge contributor to our carbon footprint) and with the unethical labor, Tribute also slips free of the fashion industry's oppressive and exclusivist notions of size and gender. That's big for an industry that is only beginning to come to terms with problems of its own making.
The only dilemma now is how to make people want to spend money they could easily spend on clothes they can physically try on and keep, unlike these pixelated garments. What about the Carrie Bradshaws of the world who would rather have their money right where they could see it—hanging in their closets?
After all, shopping for clothes operates on the tangible and immediate fulfillment of a desire to belong, to own something, to be associated with an idea, etc.—the same selling proposition of social media. So maybe these creatives weren't so crazy to think contactless clothes as the future? One could still get you compliments from people albeit online.
But its founders are banking on people fulfilling a more moral and selfless obligation—to the planet. Asked by Paper Magazine what it would take for people to embrace digital fashion, the team behind Tribute said, "It is all about acknowledging its zero-waste and contactless character.
"This is the only fully sustainable approach to fashion, and not to even talk about the possibilities digital clothing could have compared to regular clothing. The impossible is becoming possible and the virtual space is our main resource of getting and creating new content and knowledge. We think this an evolutional process, and it's just a matter of time."
Maybe the emperor's swindlers were right after all: It is only the enlightened that could see (past) non-existent clothes.
Photos for header image courtesy of Tribute and Paper Magazine
Get more stories like this by subscribing to our weekly newsletter here.
Read more:
How to sustainably care for your clothes
Just like recycling, some men think renting clothes is "not masculine"
Our clothes may be polluting the oceans. Just check its label
4 shops where you can buy upcycled clothes
Writer: CHRISTIAN SAN JOSE
ART JOEY LIZA SIMBULAN