In 1925, Hungarian architect and furniture designer Marcel Breuer, then an apprentice at the furniture-making workshop of the German art school Bauhaus at Dessau designed a revolutionary chair called Model No. B3. 
This design was distinct for its use of seamless tubular steel inspired by the frame of a bicycle. It was later named and globally recognized today as the Wassily chair after Breuer's Bauhaus colleague painter Wassily Kandinsky. Contrary to its name, it was not made specifically for Kandinsky. But nonetheless, the painter took a liking to it and eventually had Breuer make duplicates for his personal quarters.
https://www.instagram.com/p/B7J2mZ2pLo5/
Thonet, the German-Austrian furniture maker, was its exclusive manufacturer from the late 1920s up to World War II when the original silhouette used a particular kind of fabric pulled by strings.
Today's versions are made with cowhide leather and are being reproduced by Knoll who owns the trademark name rights to the chair. A single unit can be bought for $2,893 (roughly P140,000) on its website and comes in a polished chrome finish, seven leather swatches plus canvas and even a gold frame.
Early pre-war models fetch even higher prices—if kept in pristine condition. Otherwise, there is always the option to have it refurbished like this Filipino lawyer who owns two of this iconic Wassily chair and enlisted the help of plastic upcycling group JunkNot Eco Creatives.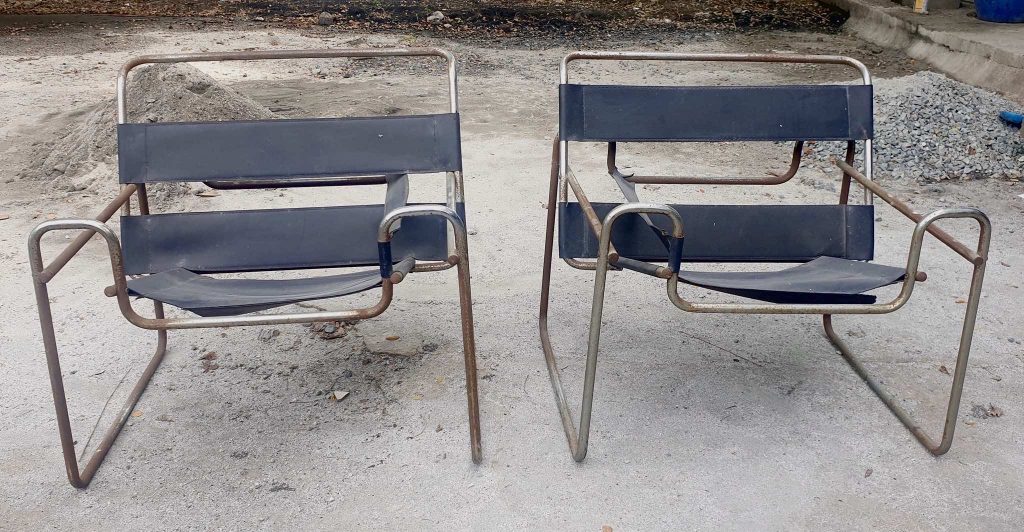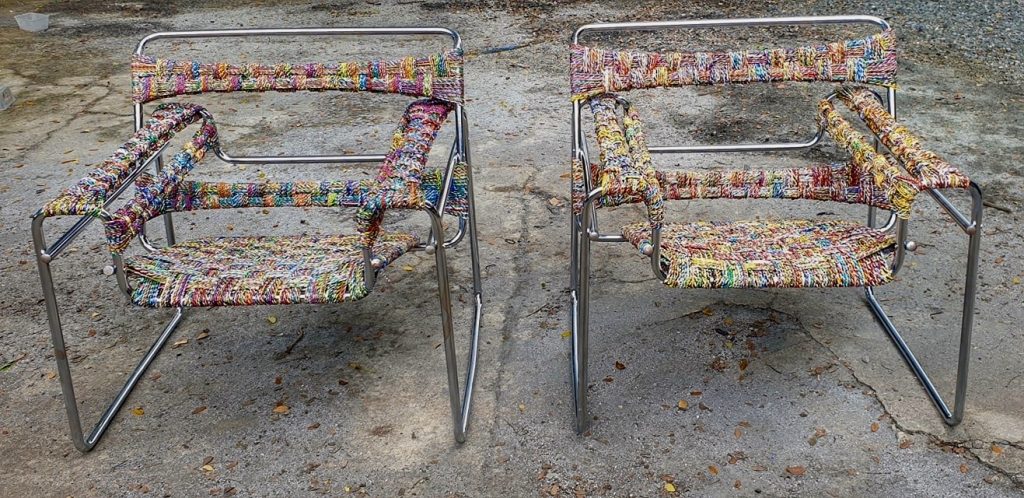 JunkNot Eco Creatives specializes in the use of recycled plastic in designs ranging from furniture, home decor to fashion accessories. Last year, they joined the Manila Fame with their Coral Collection, a line of furniture with forms and lines that calls to mind and raises awareness of the condition of these marine creatures.
Although this project to refurbish vintage chairs was a commission, JunkNot still keeps a social responsibility aspect in mind. To replace the leather components of the seat, they sourced eight kilograms of plastic from the displaced residents because of the Taal explosion earlier this year. As early as 2014, JunkNot has been partnering with a community in Batangas, whose female members segregate, clean and turn plastic into ropes, which are woven around wood and metal frames for their various furniture projects.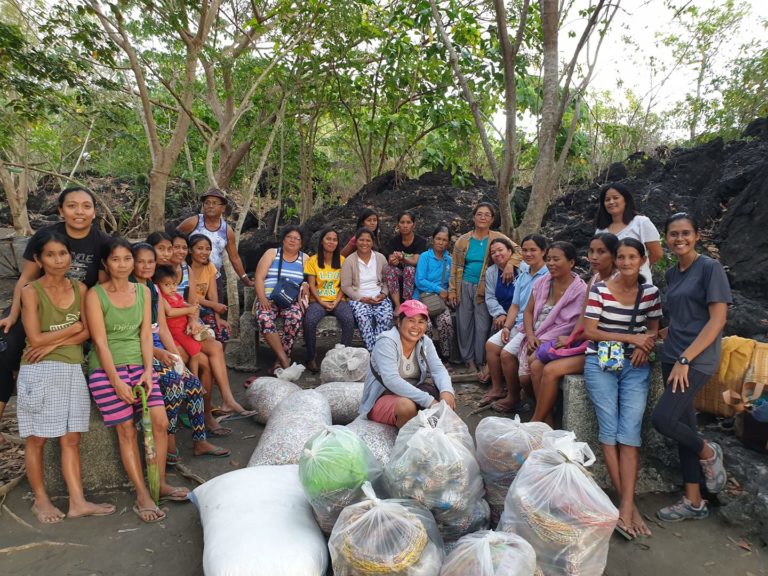 It took them three days to weave these materials together to make a sturdy sling that will support the weight of the person who sits on the chair.
They also re-chromed the steel frame, which has been weathered and discolored. That process lasted for a week.
https://www.instagram.com/p/CAUjaDmHfjW/
Like many of JunkNot's creations, this one bears a distinct look of multicolor strands woven together that only by closer inspection that one realizes is made of plastic, the same one that takes hundreds of years to decompose.
The story of a vintage chair combined with this eco-initiative and its social responsibility aspects makes this Wassily chair a one-of-a-kind creation.
Photos courtesy of JunkNot Eco Creatives
Get more stories like this by subscribing to our weekly newsletter here.
Read more:
LOOK: The medals and trophies for UAAP Season 82 are handcrafted from recycled materials
LOOK: Campaign materials upcycled into bags, school supplies
Where do all these plastic really go after you discard them?
Writer: CHRISTIAN SAN JOSE