Fruitcake has been one of the most popular traditional dishes served on holiday tables around the world, and the Philippines is no exception. Aside from the usual suspects like fruit salad, spaghetti, cured ham and queso de bola, there's bound to be a loaf of fruitcake on festive tables or inside the fridge. 
Believe it or not, fruitcakes actually date back to the Middle Ages. Dried fruits slowly made their way to Europe and due to their availability, people started baking them into bread. How fruitcake became a global Christmas tradition, though? Nobody quite knows.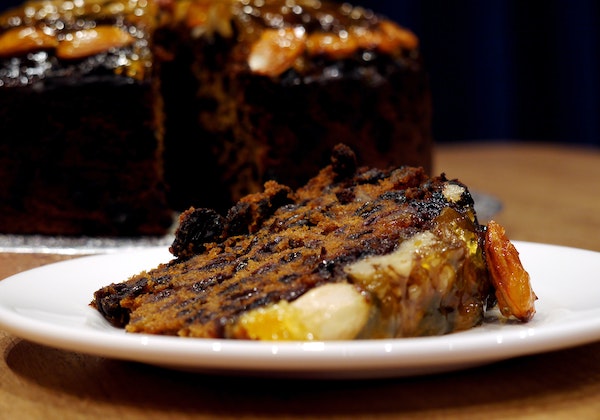 Based on personal experience, fruitcake was one of the most steadfast holiday treats in my house. It endured so well that we'd find fruitcakes from years ago in our fridge when we cleaned it out every few months (we honestly think they respawned in there). 
If you find yourself with a surplus of fruitcake this year, here are a few things you can do with it so it doesn't have to pine away in your fridge (or end up in a landfill somewhere) for Christmases to come: 
Cake pops
Cake pops are generally easy to make and customize according to your taste. This video can give you some ideas on how to transform your fruitcake into a totally new Christmas-themed dessert. 
Toast substitute
While fruitcake is best enjoyed moist, popping it in a toaster can bring out a whole other side to the pastry you didn't know existed. Instead of having some pandesal or plain white bread for breakfast, you can use fruitcake as a toast substitute, too. The edges get a little crispy while the inside stays warm and moist—best enjoyed with your favorite cup of coffee or some tsokolate eh if you're really feeling festive. 
Fruitcake french toast
French toast is another staple dish that you can turn your fruitcake into. This breakfast staple is easy to make and even easier to eat. Basics with Babish's video gives you the general direction you can go into, but make sure you substitute the bread with your fruitcake ('cause you know, that's the point). 
Crumb topping
If you're a baker or if you just want to explore new recipes, using crumbled up fruitcake as a crumb topping is another idea worth pursuing. All you have to do is break it down into smaller pieces and bake it at 170 degrees Celsius for eight to 10 minutes. These go well on muffins, brownies, sheet cakes and even your morning yogurt. 
Fruitcake pudding
This fruitcake pudding is the richer, older cousin of the French toast. The Barefoot Contessa's recipe for bread pudding can be easily adapted to suit the Christmas staple. This decadent recipe uses upgraded versions of pantry staples. But if you don't have them—as Ina Garten always says—store-bought is fine.
Get more stories like this by subscribing to our weekly newsletter here.
Read more:
The Christmas food trend forecast
How much is enough? The Nolisoli guide to digital aguinaldo
Nolisoli Gift Guide: Food that made lockdown a bit more bearable
Writer: ANDREIANA YUVALLOS
PHOTOGRAPHY LEVENSPIEL SANGALANG