On the first floor of Agimat's bahay na bato in Poblacion, Makati is housed Ugat, a yet-to-open concept from the same makers of mixed drinks made from a powerful brew of rare local ingredients. Unlike Agimat, Ugat is an old world meets new world concept-slash-R&D facility for new products. It's newer and has a more industrial feel, and takes the concept of Agimat into the 21st century with a little help from science and technology. 
[READ:
Agimat makes drinks with ingredients from your lola's pantry
]
With Agimat's expansion to the entire first floor of the building, the space is now known as Agimat at Ugat. And just like Agimat, there's an interesting story on how Ugat came to be. 
"The old man and the camachile tree"
Like most leisure-oriented businesses, Agimat almost became a victim of the pandemic.
In the thick of quarantine, there was hardly any revenue coming in but rent still had to be paid. One of Agimat's founders and resident mixologist, Kalel Demetrio, almost let go of his brainchild before his alcohol distillery business picked up. He was able to keep the bar and even set his sights on bigger things: putting down roots—quite literally.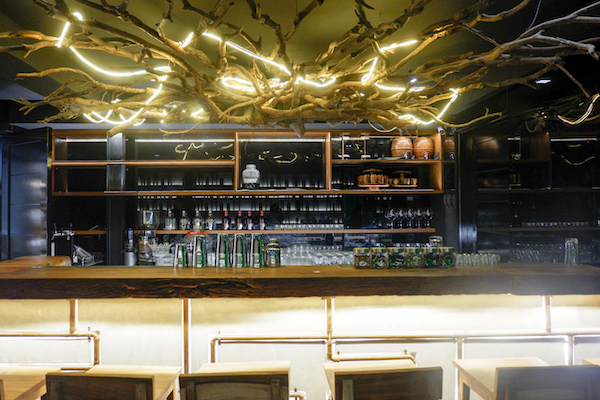 Explaining Ugat's origin, Demetrio recalled how, on one of his travels, he noticed a tree stump surrounded by a tangle of seemingly dead roots by the side of the road. Upon closer inspection, he saw that there were tender sprouts growing among the roots. He asked a "poetic old man" leaning against the side of the fallen tree, "Buhay pa ba 'yan? Anong puno 'yong tumutubo sa gilid?" The old man replied "Yeah, that camachile tree has been around since way back—kahit sa panahon ng lolo ko."
The man said the ancient tree had been cut down to make way for construction. The roots though, were still alive. The old man continued, "Basta yung ugat, kung matibay ang kapit sa lupa, mabubuhay at mabubuhay 'yan."
"Basta may ugat tayo, we will find a way to survive," Demetrio added. 
Gifts from the earth with an industrialized touch
Apart from that encounter with an old man and the camachile tree, Demetrio also mentioned that Ugat was inspired by nature itself. "Normally, roots suck up all the liquid and nutrients from the ground to give life to the tree. (Similarly, Ugat) is going to be the liquid factory of our company," he said.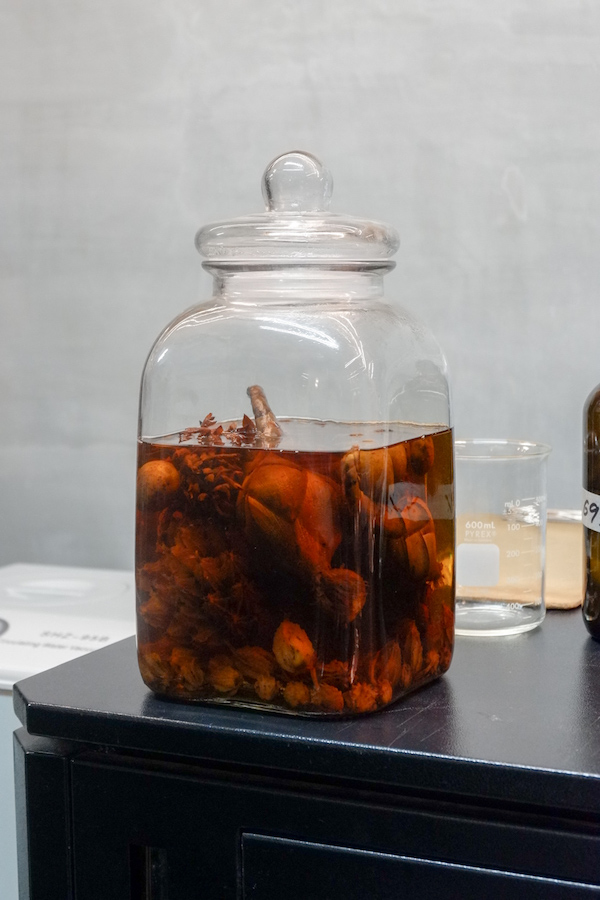 Aside from being a bar, Ugat will also serve as a playground for Demetrio and his new partners to experiment with new flavors for future products. "Ugat will be all about coming up with good products by embracing technology and change," he explained.
A glimpse into the new world
Though Ugat is yet to open to the public, Demetrio offered a sneak peek of the space it's now housed in. The first thing that catches your eye as you walk in is a glowing green neon sign that reads "Malalim man ang sugat, hihilom sa pagsibol ng bagong ugat," a nod to Demetrio's anecdote.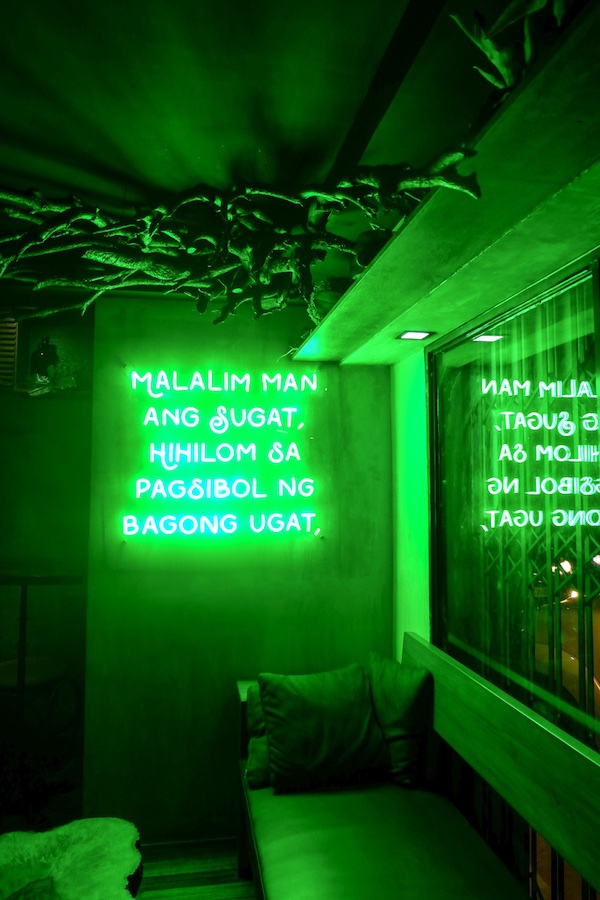 As expected, the bar immediately gives off a more industrial feel without sacrificing natural elements. The concrete walls and exposed pipe are mellowed out by the wood flooring and some plants. Ugat's main bar is made of repurposed wood, as well as some of the key pieces of furniture.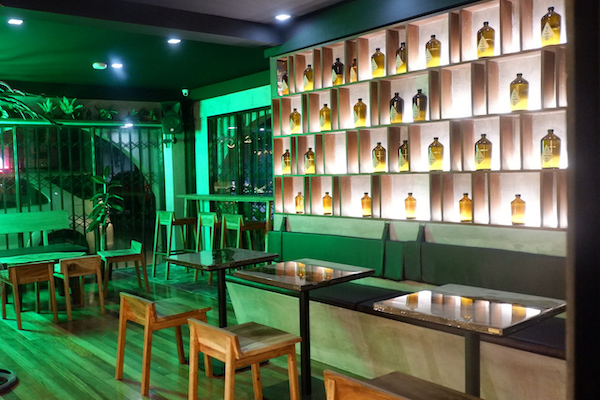 A tangle of roots with strips of light woven in between hangs above the bar—right under the space that Agimat's hulking tree occupies—and ties the concept together.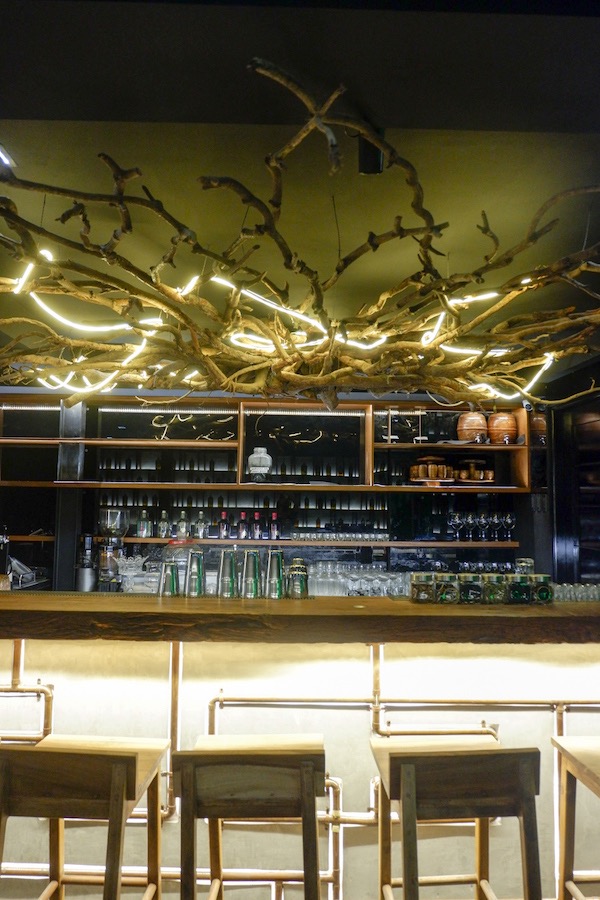 Opposite the bar is an entire wall dedicated to Ugat's library of flavors. There are bottled essences of ingredients that will go into the spirits and liquors the bar will be producing. Each bottle is marked with the essence's name, the percentage of concentration and place of origin.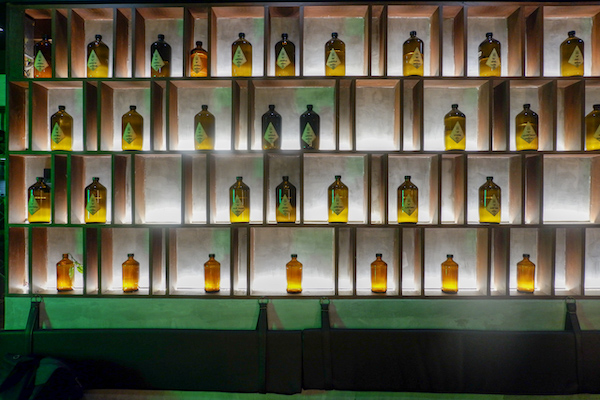 "About 70 percent of the ingredients come from the Philippines, but the remaining 30 come from other countries because you need those ingredients to make real gin," explained Demetrio.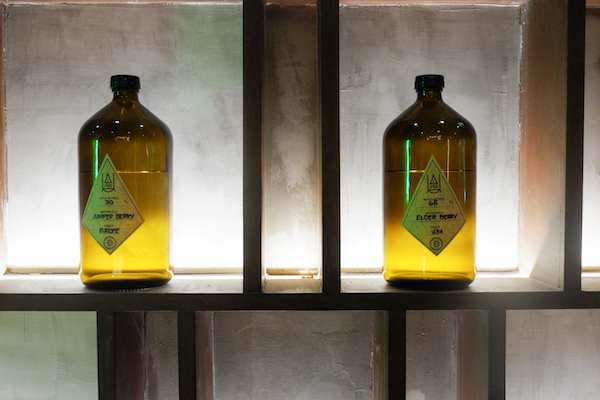 On the left side of the bar, a huge window gives visitors a glimpse into the heart of the operations: Ugat's distillery. The distillery looks like something out of a science fiction movie with a hulking distilling machine (aptly named Supremo) in copper finish taking up most of the room.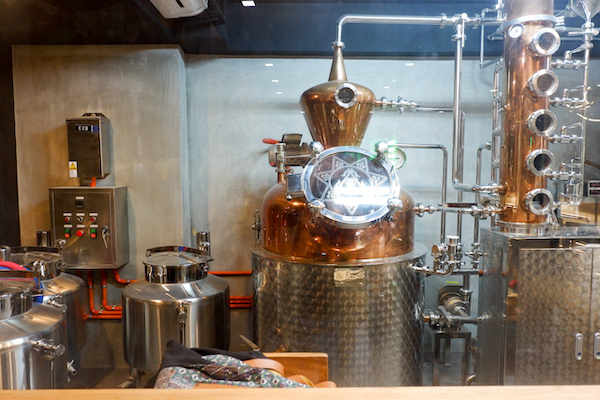 A series of shelves in a corner displays huge glass jars and amber bottles that contain the essence of fruits, herbs and other botanicals from Demetrio's travels—some of which are rare to the point that they're almost extinct.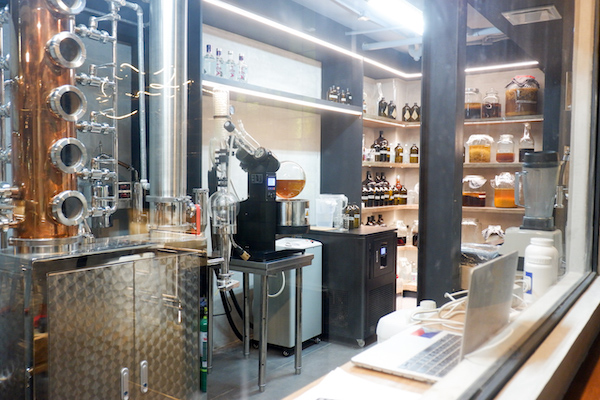 While most of Agimat at Ugat's future plans are still hush hush, it's obvious that big things are a-brewing. Demetrio and his business partner, Tyson, mentioned that they're aiming for national distribution of their soon-to-be-released Agimat Gin and other products.
Although most of Poblacion's lights are still out, there are promising prospects, with the team behind Agimat at Ugat making big moves. For now, all we can do is wait out the dark days and look forward to when we can all drink and dance again—no masks required.