Farmers are one of the hardest-hit by the economic toll of the pandemic. Last year on the on-set of the lockdown, we reported about tons of tomatoes going to waste in Ifugao because of travel restrictions.
A year later with quarantine still in place, it seems farmers are still taking a hit.
In Sto. Nino, Cagayan, farmer couple Jerry and Raquel Baltazar are in a dilemma; they are sitting on 80 tons of cabbage with no buyer in sight. Well, technically there are middlemen, except they are being forced to let go of their stock for way below market price, which will ultimately leave them next to none.
According to online civil group Rural Rising, which has been finding buyers for crops in danger of being thrown out since the start of the pandemic last year, the Balthazars had to plow 120 tons of cabbage in 2020 along with many other farmers in Cagayan.
P5/kg or let them rot
"Sasabihin namin sa kanila (middlemen) sa P20 sana pero hindi naman nila kukunin. Sasabihin pa nila sa mga kasamahan nila na limang piso ang presyo dito. Bakit sila ganun?" Jerry told Ace Estrada, Rural Rising's founder. Cabbage is currently priced at P50-P90/kg, according to the latest Department of Agriculture price bulletin.
By Estrada's estimate, if the couple were to take up the middlemen on their really low offer, that'll mean losing half a month's worth of labor and expense to grow these cabbages (pegged at P10/kilo) not involving the expenses it would incur to have them harvested (P4/kilo). "At this point, Jerry and Raquel have two options: take the offer and 'make' one peso on this year's cabbages or leave the cursed things where they are. In the field. To rot. Again," Estrada said.
To remedy this, Rural Rising decided to pull another one of their rescue buys, where they voluntarily buy crop surplus direct from farmers with the help of the members of their online community. So far, they have helped carrot, tomato and broccoli farmers from Northern Luzon.
[READ:
Throughout quarantine, LGUs have helped farmers by buying P1.58-B worth of produce
]
Last week, the group posted a call for buyers interested in procuring Balthazar's cabbages in bulk. For the price of P499/20kg, roughly P25/kg, Estrada was able to assemble a cohort of buyers for a total of two tons.
"We thought Jerry would be happy to hear that," said Estrada. "But instead, it sounded the opposite, he sounded panicked actually. 'Akala po talaga namin 8 tons ang kukunin niyo, sir,' Jerry was on speakerphone and I hear people talking in the background.
"I had no answer to that and said something lame about us going back. We probably won't, we've probably reached the absorptive capacity of the group for cabbages this week. And if we came back next week, the cabbages would be gone—either forced to sell at P5 or left to rot because there is no other choice."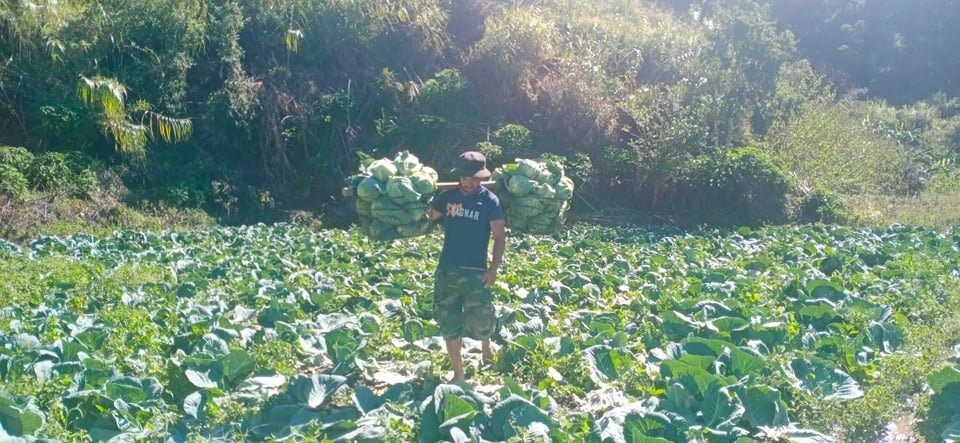 How to help
Taken aback by Balthazar's situation, Estrada took on a total of four tons, not knowing whether there are more interested buyers when they get back to Manila from Cagayan. Just his luck, this week also marked the start of another round of general community quarantine in the National Capital Region and neighboring provinces due to a surge in new COVID-19 cases over the last week.
Now, Estrada is looking for buyers to help him clear the two-ton deficit. Tomorrow, he and his team will go to Cagayan to pick up the cabbages to be dropped off in UP Village, Diliman, Quezon City on Wednesday, Mar. 24. He is appealing to those who might accommodate it in their budgets to purchase in bulk, preferably 100 kilos for P2,000 (P20/kg).
If you are interested in either buying 20kg for P499 or 100kg for P2,000, you may coordinate with Rural Rising on their Facebook page.
Step 1. Pay the amount above using any of the following payment methods: Metrobank (540-7-540-55533-4, Andrea Estrada), BPI (8126-1039-53, Andrea Estrada), BDO (010-3700-65484, Elevant EC Solutions), GCash (0917 565 5747) and PayPal ([email protected])
Step 2. Upload your Proof of Payment here
Step 3. Comment on this thread with your order number
Rural Rising is also asking everyone to share their posts to reach more interested buyers.