We all know that TikTok is a treasure trove for recipes, but my latest find was a soup recipe literally anyone can do. Especially for when the weather is looking wetter than ever.
Producer Seema Pankhania shared this 10-minute soup dumpling recipe and I was floored. The most special thing about this specific soup recipe is that it doesn't even need a stove. It just needs a bunch of ingredients you already have at home and some boiling water.
After seeing it I knew I had to try it myself. As luck would have it, I had most of the ingredients (bar the garlic chili oil). Missing the chili oil wasn't a problem though because it was the type of recipe you could just riff off of. I also substituted the chicken cube with a beef one because of my unfortunate chicken allergy (I know, terrible).
It took me a little over 10 minutes to make (because I had to take pictures and my disco playlist was on so there was some lip-syncing for my life involved), but the end result was completely worth it.
[READ:
Is this ridiculously easy to make baked feta pasta from TikTok your lunch?
]
I made mine with gochugaru and gochujang instead of chili oil, but you could probably omit these ingredients or substitute them with miso paste and still get a great result. I obviously added dumplings in my soup (boiled over a stove because I didn't have the patience to compute microwave cook time), but the soup can honestly stand on its own.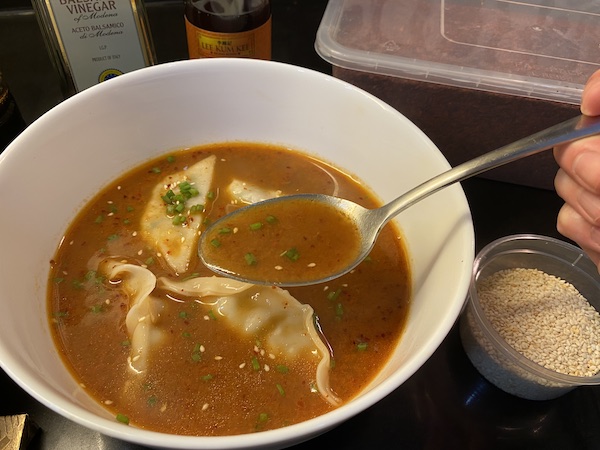 The dish I ended up with was spicy and savory, which is exactly what I was looking for. Mixing the seasoning together reminded me of instant ramen because of how similar the ingredients are, but it tasted homemade and not like something out of a packet. The broth was too rich at first, so I decided to add more boiling water until it wasn't too flavorful.
Depending on what you like in your soup, you can add literally anything you want. I added some crispy mushroom chips in between bites because I saw it in the corner of my eye and went, "That's a FANTASTIC idea." And it was, which is why photos of it don't exist.
As much as I'd love to give you an exact recipe, there really isn't one. Like most TikTok recipes, it depends on your personal taste. The recipe I've written down is more like a framework rather than an actual recipe, so do with it what you will.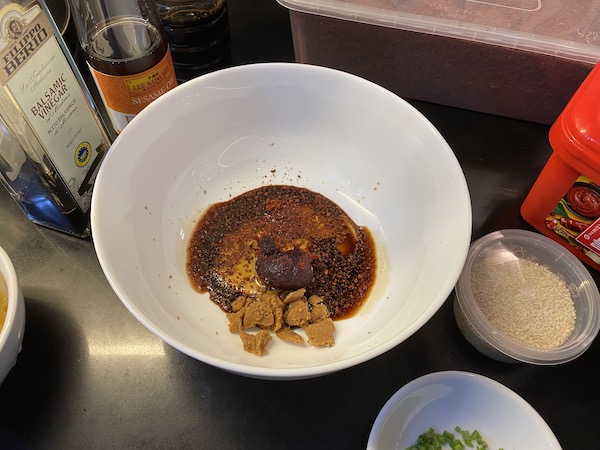 Now I'm wondering though, what quick and easy dishes can we make with instant sinigang or other Filipino soup powders? As it stands, the possibilities look intimidatingly endless. But for now, here's a soup recipe to keep you warm during the rainy months of the year.
TikTok 10-minute dumpling soup recipe
Ingredients
1 stock cube
500 mL or more of boiling water
1 tsp. soy sauce
1 tsp. balsamic vinegar
1 heaping tbsp. gochujang
½ tbsp. gochugaru or any spice powder
1 tsp. sesame oil
1 egg
5 dumplings (frozen or fresh)
Roasted sesame seeds (for garnishing)
Thinly sliced spring onions (for garnishing)
Procedure
Cook your dumplings according to instructions on the package and prepare your garnishes while boiling water in a kettle.
In a bowl, add your crushed stock cube, soy sauce, balsamic vinegar, gochujang, gochugaru, and sesame oil.
Add boiling water to the bowl and mix the ingredients thoroughly. Make sure the stock cube is completely dissolved and incorporated into the soup base.
Stir the egg into the soup base.
Add more water or seasoning to taste.
Add dumplings and top with roasted sesame seeds and spring onions.
Serve while hot and enjoy!