White Rabbit candy played an important part in everyone's childhood. The fan-favorite was one of the most beloved candies until it mysteriously disappeared from the shelves in the late '00s. The candy still exists in supermarkets today—albeit in a hard candy and far less satisfying form—but the genuine article can be hard to come by. 
If the last year has taught us anything, it's that human ingenuity can bring our childhood favorites back in a variety of new ways. Here are just a few reincarnations of the beloved White Rabbit. 
White Rabbit roll cake
Reviving the childhood candy in cake form can be a tall order, but Dough Bakery's White Rabbit roll (P450) has likely hacked it. The cake is made with a White Rabbit-flavored cream and custard center, rolled in a soft and fluffy angel cake, and topped with a crunchy crumble for some added texture.
There are only a limited number of cakes available, so it's best you hop to it. 
White Rabbit milk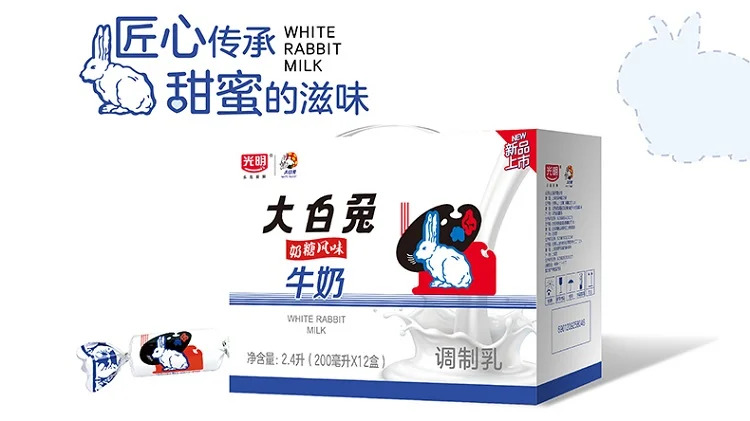 Flavored milk has been a longstanding tradition for the young and young at heart. For purveyors of Y2K flavors and childhood traditions, White Rabbit milk is a cold treat you can enjoy. The chewiness of the original candy is nowhere to be found in this milk drink, but the milk blend claims to taste just like the candy.
It's not available in supermarkets, but you can buy a small packet online for P60 to P70 depending on the reseller. 
White Rabbit soft serve
Local ice cream businesses have made a huge splash with crazy flavors, but Black Scoop's White Rabbit soft serve has a special place in all of our hearts. It's not always available (because of the seasonal nature of Black Scoop's menu), but when it is, you won't go wrong with ordering a cone or two. 
White Rabbit milk tea
Milk tea is another blank canvas for childhood favorites and other treats to come to life. Oh My Tea is a boba shop that specializes in Thai and Taiwanese blend milk teas, and its claim to fame is the White Rabbit milk tea (P120+).
Each serving comes with a free sinker of your choice and a piece of White Rabbit candy. The toffee-flavored drink can be adjusted for sweetness, which is a good option for people watching their sugar while still wanting a sweet treat.