When chef couple Tim Flores and Genie Kwon first opened Kasama, a bakery and modern Filipino restaurant in Chicago, it was in the middle of a pandemic. Nonetheless, they sold out on the very first day. Since then lines have piled up in their East Ukrainian Village location, and it's not hard to understand why.
Kwon is a Korean pastry chef who worked at Eleven Madison Park and Flour Bakery. Flores, of Filipino descent, worked alongside his wife at Mako, a Michelin-starred sushi restaurant in West Loop, Chicago. They pretty much had all the raw ingredients. It was just a matter of seamlessly blending their expertise: Kwon with her grand pastry creations and Flores with his modern spin on Filipino cooking.
[READ:
Filipino food is no longer "the next big thing"—New York City's pop-ups show us that they're there to stay
]
Today, Kasama is Chicago's only Filipino tasting menu restaurant. It is also one of two Filipino restaurants included in the New York Times's Restaurant List for 2021, with a glowing review by none other than former Bon Appétit star Priya Krishna. She was particularly impressed by Kasama's take on lumpia and adobo, which she called "unpretentious and soul-warming."
Another food publication, Eater, which has been covering Kasama even before it got national recognition, also sings praises of this modern Filipino gastropub. "Kasama's menu highlights Kwon's French pastry expertise, while Flores handles the savory side," its year-end review read.
There's even a 37-minute documentary about it entitled "No Place like Kasama," which follows the couple's journey to putting up the restaurant and its daily operations.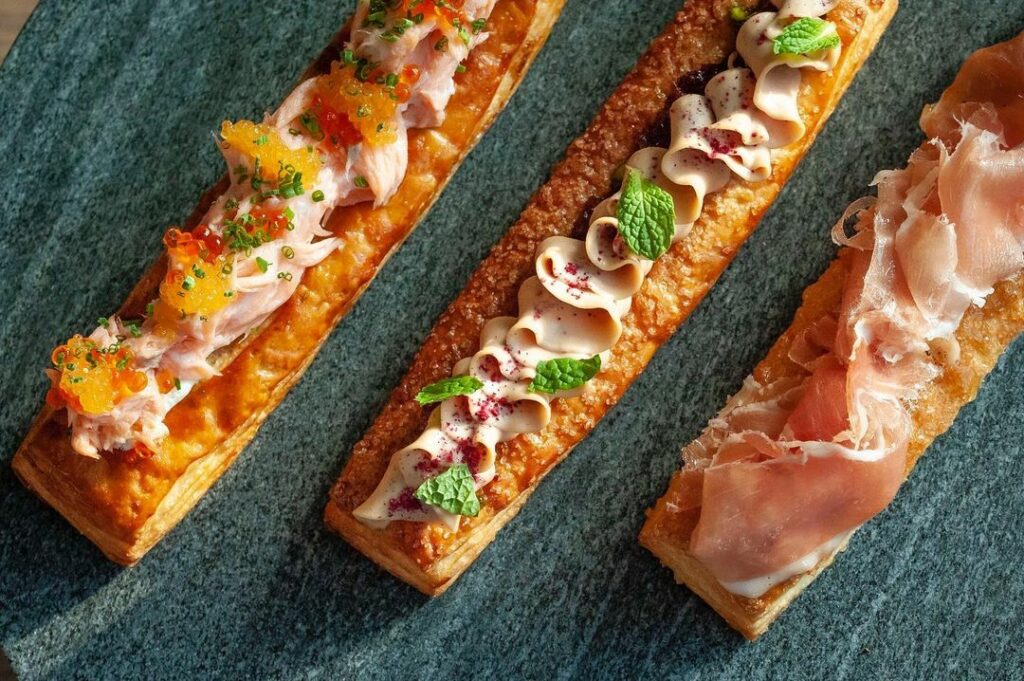 At their location, diners are immediately enticed by Kwon's creations. Bestsellers like its ham and cheese and salmon danishes, unconventionally shaped like elongated eclairs overflowing with premium ingredients, sell out in the morning. So don't be surprised if you find tips like "come early for pastries" in reviews.
[READ:
The queer Filipino-American chef keeping kamayan alive—and meat-free—in New York
]
As for the savory side, which Flores is assigned to, Kasama, of course, has lumpia. Its 13-course tasting menu ($185 or roughly P9,500 per person) has two versions: the classic fried Shanghai version and a fresh version wrapped in Vietnamese spring roll paper and served with an oyster.
Don't worry, while Kasama's menu is a study in finesse, Filipinos will surely still recognize its staples, if not by taste then by its Filipino names which Flores and Kwon decided to retain while adding premium ingredients. There's the kinilaw made with golden kaluga caviar, nilaga and bistek with A5 wagyu, siomai with foie, an adobo of mushrooms, pancit with scallop conserva, and halo-halo with Asian pear granita—topped with leche flan, of course.
While Kasama is pretty much versed in operating under the pandemic, they are not taking any chances. For the first week of January, considering the rise in new COVID-19 cases, they reverted back to a takeout and delivery menu.
But for future dining consideration, Kasama's space can seat 18 to 24 with a maximum party size of six.