Chicharon is a favorite snack in the Philippines. Whether dipped in your favorite suka concoction, sprinkled as toppings for palabok, or mixed in your Friday-staple ginisang munggo, no one can refuse this crackling treat. As you've heard from your grandma, this irresistible snack is also the root of all health threats.
Deep fried in oil until crispy, chicharon is full of saturated and trans fat. This leads to the increase of bad cholesterol, which results in various cardiovascular diseases, diabetes, obesity, and other disorders.
We've heard all of those bad effects to our health, but totally eliminating this guilty pleasure is difficult for some people. If you're having a hard time eliminating chicharon from your pantry, replace it with these equally delicious but healthier snacks:
Beancurd chicharon, Hillside Café and Juice Bar
57 Mo. Ignacia Ave., Diliman, Quezon City
374-1117
Hillside Café and Juice Bar is popular for its cold-pressed juices and an array of healthy dishes. Their vegan, plant-based version of chicharon is made from beancurd or tofu. Unlike the regular animal-based chicharon, beancurd is known for its high protein content along with calcium, magnesium, vitamin B1, zinc, and other nutrients.
According to a study, beancurd is also found to lower bad cholesterols For women transitioning to the menopausal stage, beancurd can also help boost estrogen with its isoflavone content.
Mushroom chicharon

One day, our group publisher Bea Ledesma brought this chicharon to the office and it was finished in no time. This chicharon is still somewhat crispy but has a tendency to be chewy. And even in its chewy state, it was so good. You can dip probably it in vinegar, but it's already great on its own.
Mushroom chicharon is usually made of oyster mushroom. This particular type of mushroom is good for decreasing bad cholesterol and controlling overall cholesterol levels. Aside from that, researchers are also looking at the possible antitumor effects of its polysaccharide content.
Mushroom chicharon is already available commercially, but nothing beats a homemade version. If you want to make it healthier, use an air-fryer with avocado oil.
Seaweed chicharon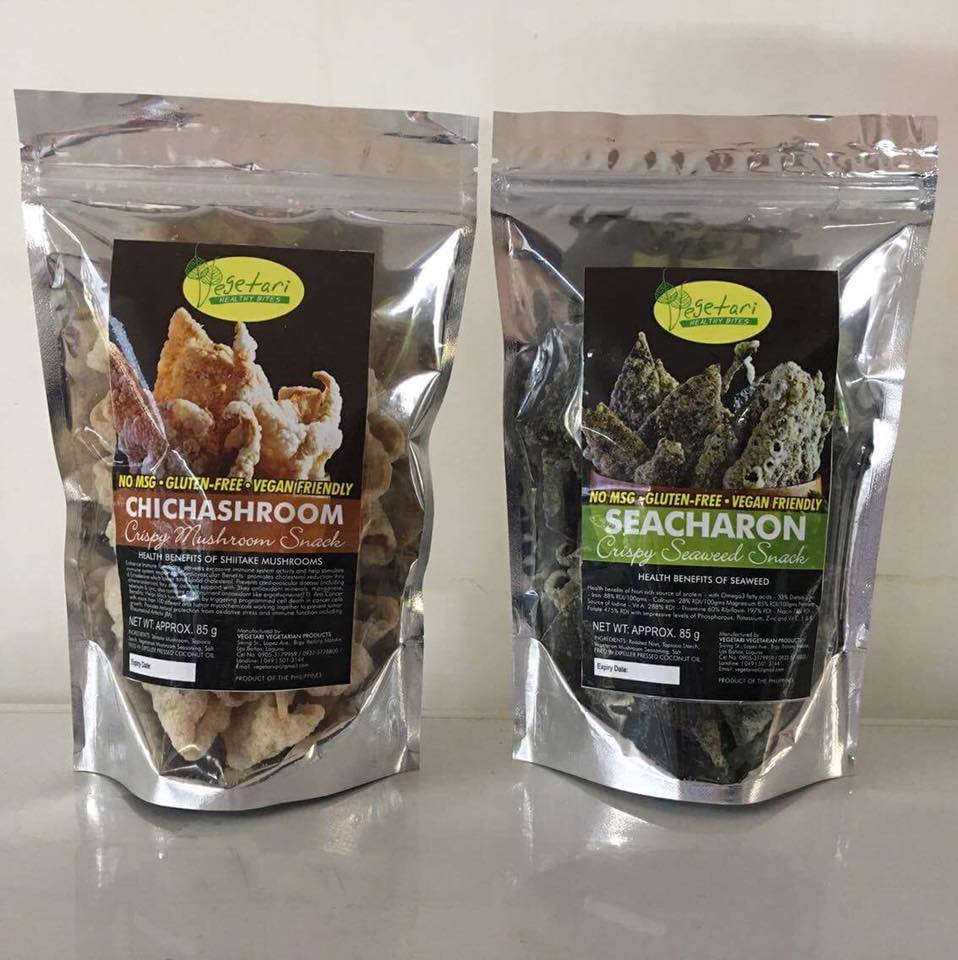 Dubbed as Seacharon, Vegatari uses seaweed for their chicharon. This particular chicharon has the distinct taste of seaweed without being too overwhelming.
We only remember seaweed when we eat at a Japanese restaurant, but seaweed is a superfood. It is rich in vitamins A and C, and calcium, making it a good snack for those with osteoarthritis. Apart from those, seaweed is rich in iodine. Iodine maintains the health of the thyroid gland, which is responsible for hormone production. Iodine deficiency can lead to fatigue, high cholesterol, and other serious conditions.
Eating the real pork rind chicharon is not bad, but it poses some health risks when eaten in large quantities. Now, the secret in eating any fried food is to eat it in moderation. The other key to healthier fried food is using an air-fryer with healthier oil, like avocado oil.
Read more:
Plant-based food swaps for the aspiring vegan
Fluffy bread with no carbs? It's possible
The whys and hows of adding zucchini to your diet
No unli rice? Here's how to cope
Writer: OLIVER EMOCLING