The only acceptable mugs you can give this Christmas
Plus other handmade tableware to go with it
Dec 17, 2018
Mugs have long joined the category of the most staple gifts given in Filipino Christmas parties. It's so staple that, back in high school, specifically blurting out "anything but mug" became a running joke every time we compose our Christmas wish lists. But that was before, when I haven't been exposed to the sustainability and resourcefulness of handmade mugs.
Like most artisanal homeware, handmade mugs rarely get the spotlight in the local market for household items. We have a lot of artistic manufacturers in the Philippine trade industry, but the handmade homeware business is still downstream in both sales and employment.
This year's BMI Research forecast on the Filipinos' furniture spending echoes the lack of optimism, with most Filipinos aiming to spend more on furniture from international retailers. It said while the Philippines is seen as "one of Asia's most attractive markets for homeware," there will be less spending for locally-produced household items compared to those from large and international distributors by the end of 2022.
Since it's the season of giving, we can give local craftsmen a boost by choosing their timeless, unique, and practical creations as holiday gifts. Handmade mugs and other tableware by artisans are now readily available in homestyle stores. Check out this list:
Pottery and Ceramics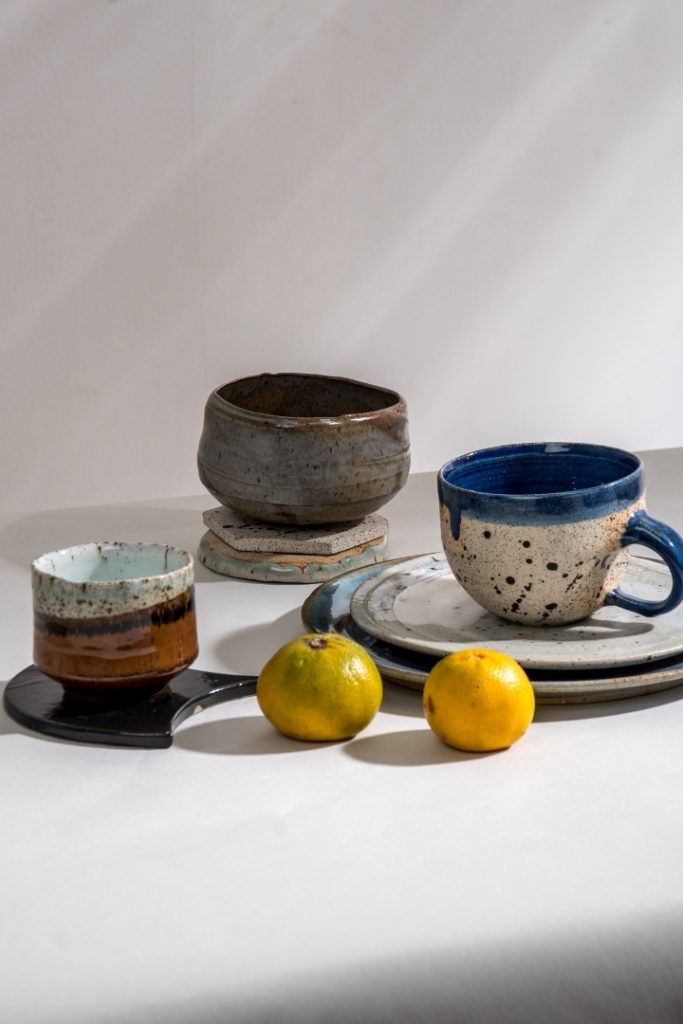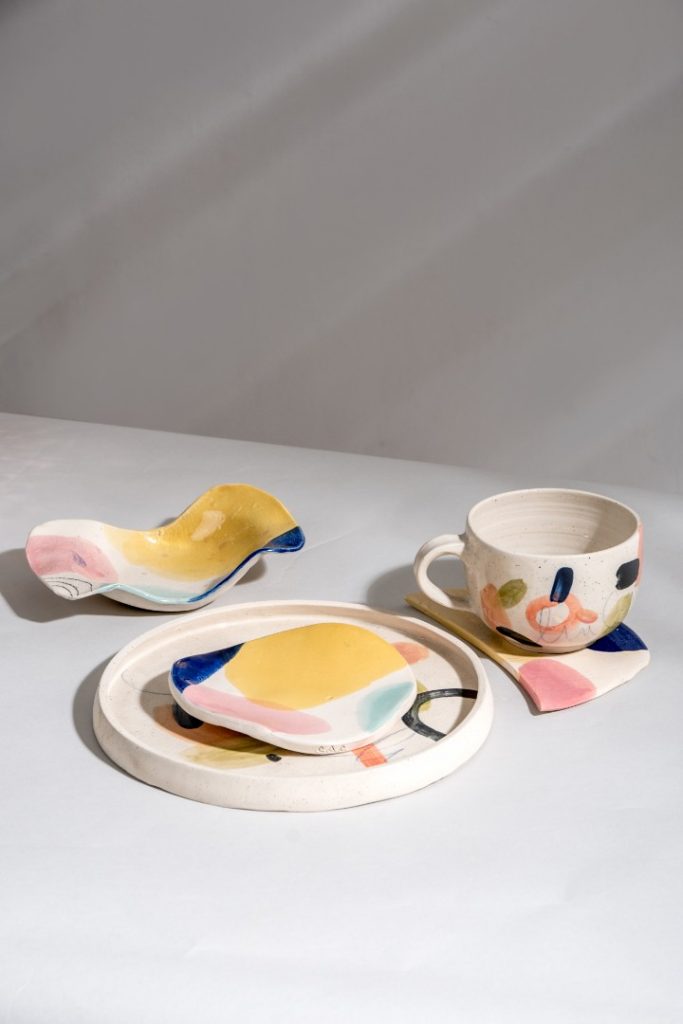 Made using an age-old technique, pottery or ceramic tableware are ageless gifts. History says these items figure highly in the gift-giving culture for their functionality, uniqueness, form, and style which differs from one potter to the next.
There are plates bursting with light colors like Mark Platon's set from The Urban Potter or Iori Espiritu's and Hey Kessy's eye-catching saucers.
Dark-hued plate sets with matching bowls like blue-pigmented ones by Joey de Castro or the pitch black creations by Guava Sketches' Nicholas Wahe provide a more formal tone.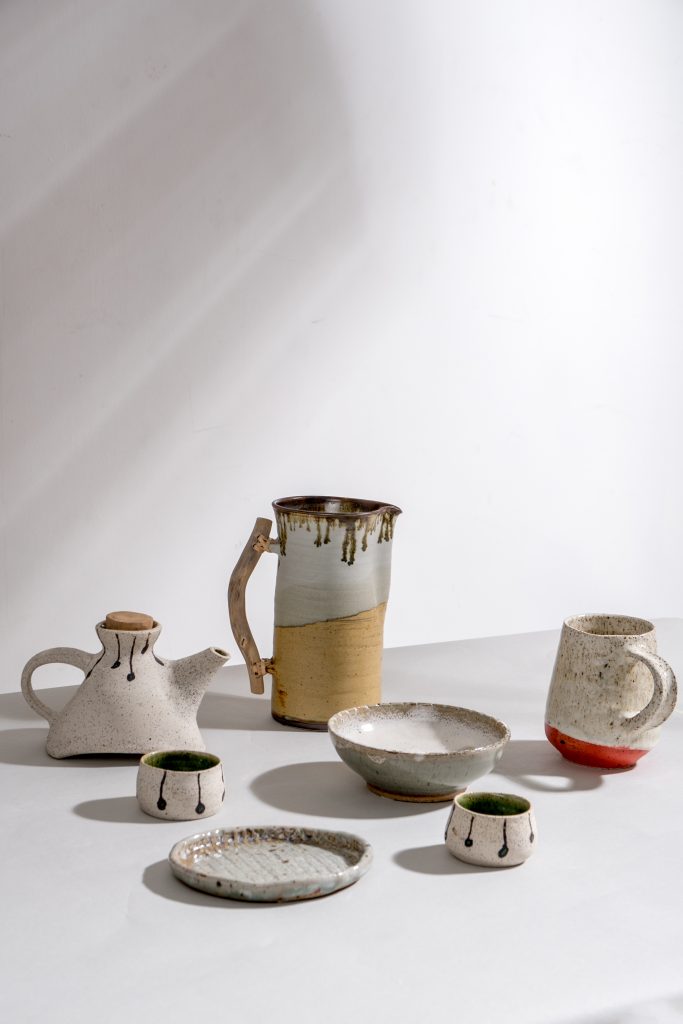 Give the Christmas table a more quaint mood with Mia Casal's vintage-looking teapot set from Artesania (Read: When a furniture store is also a coffee shop). Pair this with stoneware treasures from Tahanan Pottery like a pitcher with a twig for a handle by Ugu Bigyan or a light, wood-fired coffee mug by Jon Pettyjohn and watch the guests handle their curiosity.
Most of these sets of tableware are made of fine stoneware clay, which is a thick and opaque material usually finished with glossy, satin, or matte textures.
Copper
This drinkware set from Shop À la Fourchette was hammered into shape by Indian artisans with the use of pure copper and brass. Like pottery, the practice of making and cutting copper items roots from ancient times, when Ayurveda or the world's oldest holistic healers used copper pitchers to transform water into "tamara jal," a positively charged drink after at least eight hours of storage. The liquid flushes out body toxins, breaks down body fat, and stimulates the brain. Drinking the copper-charged water also has anti-bacterial, anti-inflammatory, and anti-aging effects.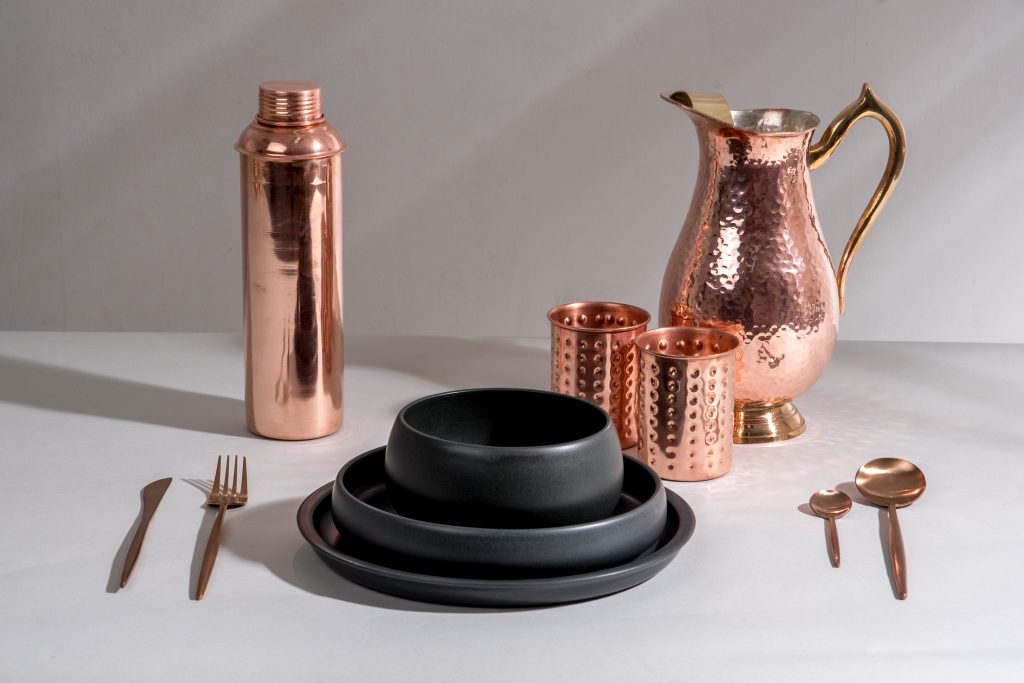 Cutlery
The design of silverware is usually outshined on the dinner table by big decorative plates and elegant placemats. But unknown to many, the aesthetic value of cutlery, particularly its style, material, and weight, actually adds to diners' enjoyment of the served food, according to an Oxford study by environmental psychology researchers in 2015.
Although cutlery, like mugs, isn't usually the kind of gift often given (and asked for) on Christmas, it's highly recommendable. Designs of spoons, forks, and knives nowadays go far from the usual silver sets. There are sleek, stylish, and not to mention, durable and stylish options from local shops like the rose gold-colored set from Dos Casas PH which would be unique and practical holiday presents.
This story originally appeared in Southern Living Host Issue
Read more:
Joey de Castro proves there is a future for Filipino pottery
Pottery teaches us the art of letting go
Surprise: This plate collection is made entirely of plastic
TAGS: ceramics christmas gifts Dos Casas PH drinkware gift ideas Guava Sketches Hey Kessy JOEY DE CASTRO Jon Pettyjohn mia casal Nicholas Wahe Shop A la Fourchette tableware Tahanan Pottery The Urban Potter Ugu Bigyan