Come aboard Buccaneers, a rum bar that looks like a ship stuck in Poblacion
More than just getting you drunk, this rum bar wants to educate you about this tropical spirit
info
Buccaneers Bar

Rum Bar

6 p.m. til late, Monday to Saturday

₱

P250 to P500 for cocktails
Poblacion drinking and dining scene is competitive AF. If we are to plot out all the concepts that have come and go in the recent years (wait, that would be a good story) that would be in a form of a graph that charts many failures and successes. In fact, a little bird once told us, that scouting a location alone in this side of Makati takes a painstakingly long time and huge amounts of money.
(READ: Why Poblacion's gentrification is problematic)
So what do you do to thrive in such an environment? Part of the scouting process actually is wooing the landowners with a concept. Imagine you own a piece of a prime spot in Poblacion, say a corner lot with a huge potential for sales, and two pirates come up to you with a plan to put up a bar that looks like a ship. Would you take it?
The proprietors of the plot of land in the corner Don Pedro St. and Kalayaan Ave. were crazy enough to say yes, which brings us to Buccaneers, a bar that resembles the interiors of a pirate ship, complete with a live yellow blue macaw flying around the room.
But that's not the only charm of this bar owned by French mixologist Ulysse Jouanneaud, who's behind some of the city's respectable bars like The Backroom in Shangri-La Fort. The other factor that ultimately swept the investors off their feet is the fact that Buccaneers is specifically a rum bar.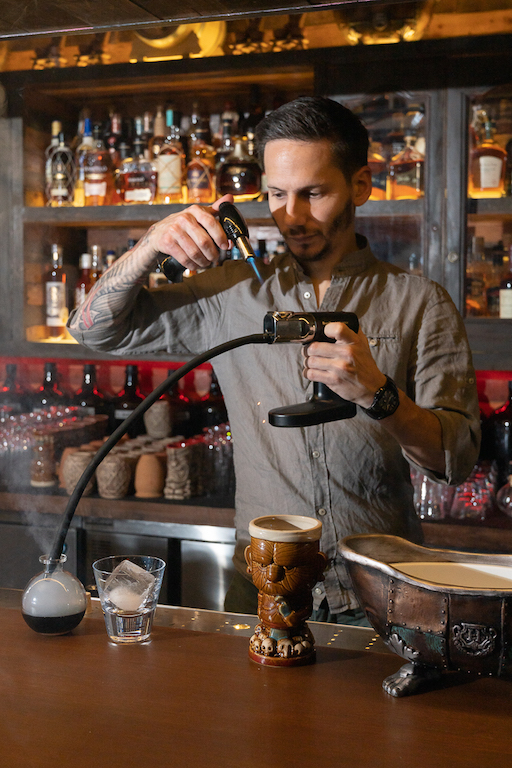 "We wanted to be unique, to do something different and educate people about rum," Jouanneaud said. As a mixologist and a fan of spirits in general, he saw that there is this mentality among many Filipinos that rum is inferior compared to whisky, "although it's technically light whisky."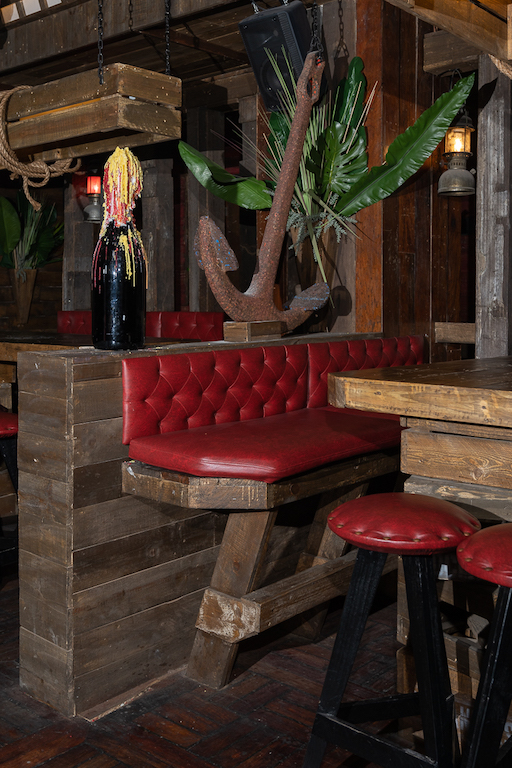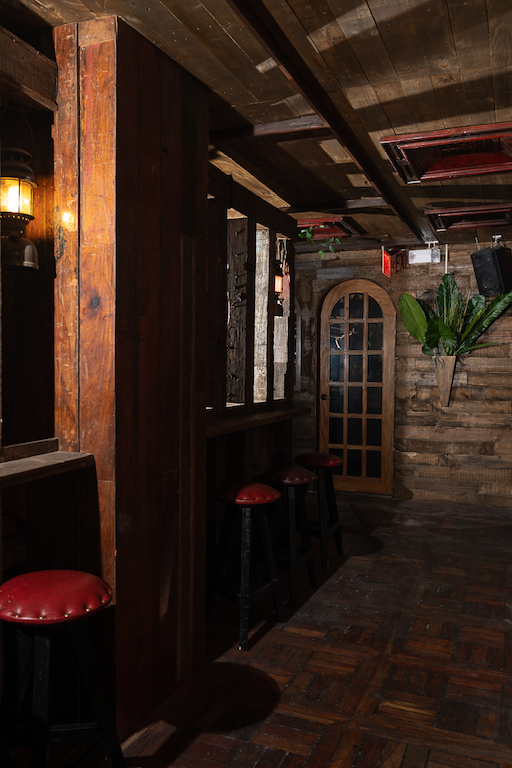 The difference between the two, he explained, is the way there are aged. Whisky is aged in cooler climates, while rum is aged in tropical countries giving it a different complexity.
"Rum is usually brewed on tropical islands, like the Philippines, although there are not so many rums here. In France, you'll be surprised—next to wine, rum is the best-selling spirit."
As of the last count, Buccaneers has 184 bottles of assorted spirits on the menu. 40 percent of which are available in the local market, the rest Jouanneaud said were procured from various countries on their trips with his partners.
And what is a ship without treasures? While most of their rum bottles are stored behind the bar in the middle shelf, they also have a dedicated cabinet for the rest, especially the rare ones. They have bottles from distilleries all over the world that have discontinued production, like an 18-year-old Jamaican rum. There are only 400 bottles of which sold when it came out, and it can only be bought in their office located in Cognac.
When asked why they sell it despite the bottles' rarity, Jouanneaud said they are not in the business of keeping these good rums to themselves. "Once it's out then it's out. We're here to keep the bottles only. For us, we're here to share, to educate. We want people to know what rum is."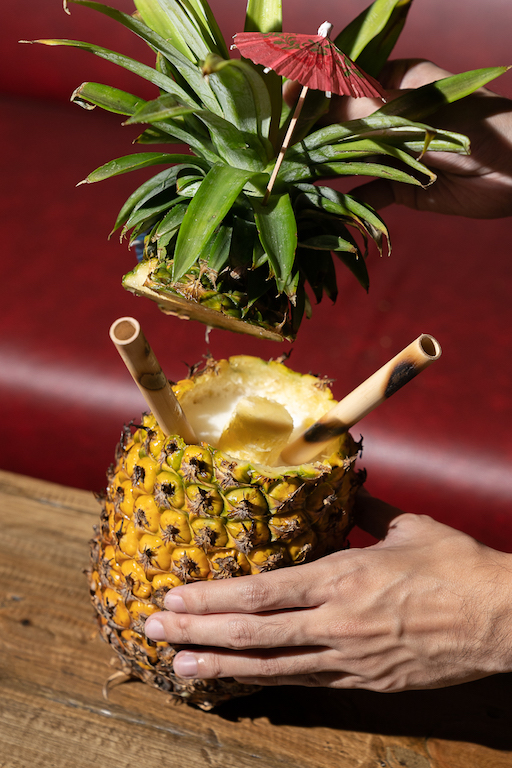 Part of their mission to familiarize and reorient people about rum is by incorporating this alcoholic beverage to cocktails, which is the life of the Poblacion night scene if you ask me.
There's the classic piña colada served in a carved-out pineapple, for starters. It's a familiar mix of rum, coconut, pineapple, and "drops of sexiness" thus the name sexy colada. Their best-seller is a fruity concoction of pale ale syrup, lemon, pineapple, peach, and rosemary jam, with rum, of course. It's served with a flaming lemon rind for added effect and aroma.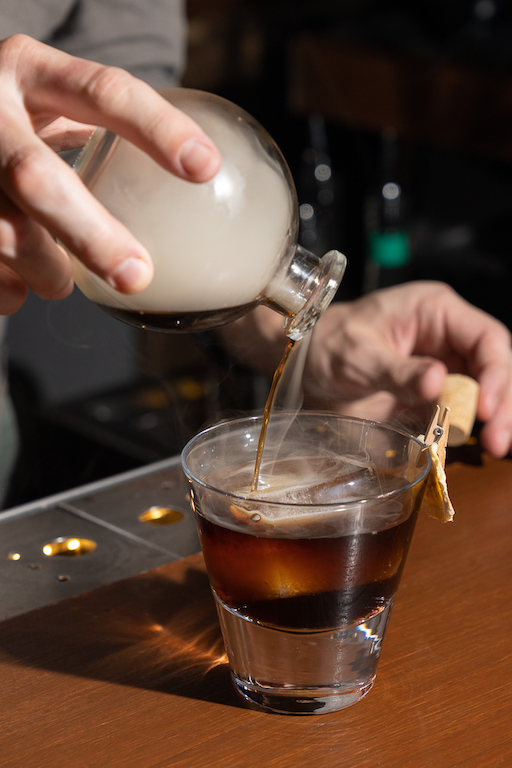 And then the French mixologist starting pumping hickory smoke into this round bottle for a drink called the Captain Old Fashioned. It's a pretty strong mixture of Diplomatico Reserva Exclusiva rum, and coffee, tempered with banana and chocolate.
Many of the drinks they have on the menu, as with any sensible bar, are for solo drinkers (unless you decide to buy an entire bottle and share it with your friends). If you want to share, there's the pica pica bar chow, a recent addition to their offerings. There are chicken nuggets, calamari, and cheese wontons—basically oily food to coat your stomach with to reduce your chances of getting drunk.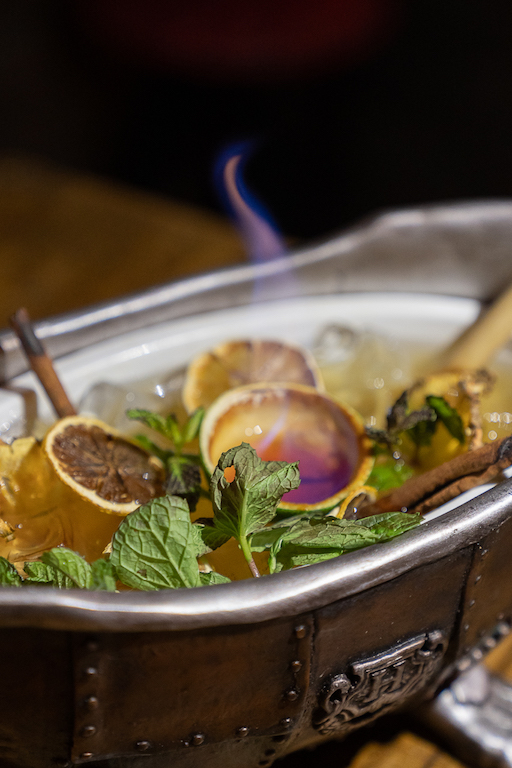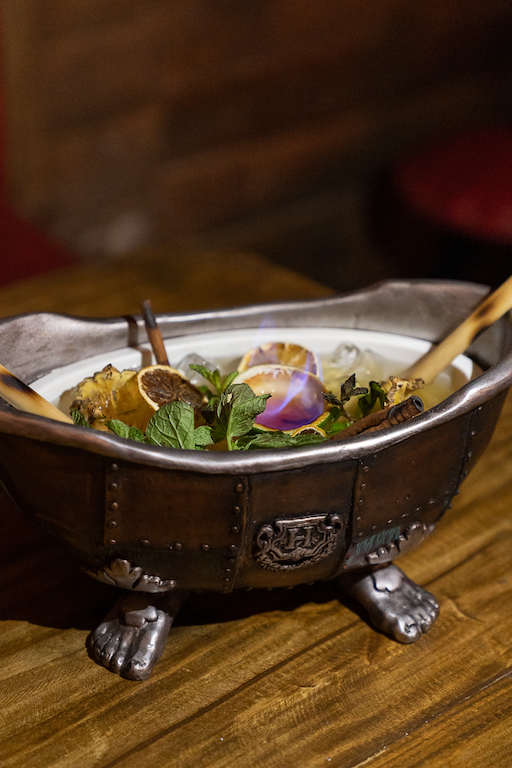 But then there's also their big cocktail that's good enough for a party of four called The Treasure. It looks like a miniature bathtub, where an oval bowl is served and smoked with cinnamon powder for aroma. It's a Sailor Jerry Spiced Rum-based mix with pandan, pineapple, overproof rum, anise, and passionfruit. You can also opt for a two-person tub for P800.
Buccaneers transports you to a pirate setting, drunk or not. But with these rum cocktails lined up, you might as well drink up.
Get more stories like this by subscribing to our weekly newsletter here.
Read more:
Eat chocolate bagoong and other cacao-infused dishes at this Poblacion bar crawl
Poblacion's newest resident Yoi crosses from fusion dining to hip-hop sake bar
Agimat makes drinks with ingredients from your lola's pantry
TAGS: buccaneers Poblacion Rum rum bar
WHY GO?
If you and your friends are inseparable and share the same taste in cocktails, go for the Treasure. But if you suck at splitting the bill in equal amounts, go solo. They have it, too.
MENU