Wok2Go is giving Pasay a taste of their "healthy fast food" with an expanded menu
Part of the proceeds of the restaurant's two branches goes to the Philippine School for the Deaf and the Philippine National School for the Blind
info
Wok2Go

Stir-fry wok

10 a.m. to 10 p.m. Monday to Saturday

0927-5200209

₱

P150-250
Double Dragon, an infrastructure a stone's throw away from Mall of Asia, is a fairly new entrant onto the mall scene. Still, it's been able to bag the support of local diners, especially with the addition of Margarita Fores' Islas Pinas food hall.
One of the new tenants of the building is the second branch of Wok2Go, a self-proclaimed "healthy fast food restaurant" by Kim Garcia and Angie Mead King that serves customizable wok mixes. "We can sum up the Wok2Go concept in three words: fresh, fast, and fun," said Garcia. That might seem like an oxymoron at first, but it makes sense when you consider that, since all the dishes made at the restaurant are cooked by wok, they're pretty easy to prepare and just as easy to make healthy. After all, stir fry is known as the healthy alternative to the traditional fry. And because of the menu's healthy and customizable nature, it's inclusive to all diets, "whether you're vegetarian or vegan or even if you're on keto," notes Garcia.
For the new Double Dragon branch, Garcia and King have expanded on the concept of Wok2Go. While its first branch in BGC's Uptown Mall is more of a take-out joint ("Our Uptown Mall outlet is just a counter with very few seats," says Garcia), this one is more focused on giving its customers a full dining experience.
This means that the space is bigger (the set-up "can accommodate 50 guests") and the menu has also grown, with the Pasay branch having a lengthier menu than the one in BGC. This branch is not "limited to wok mixes," says Garcia.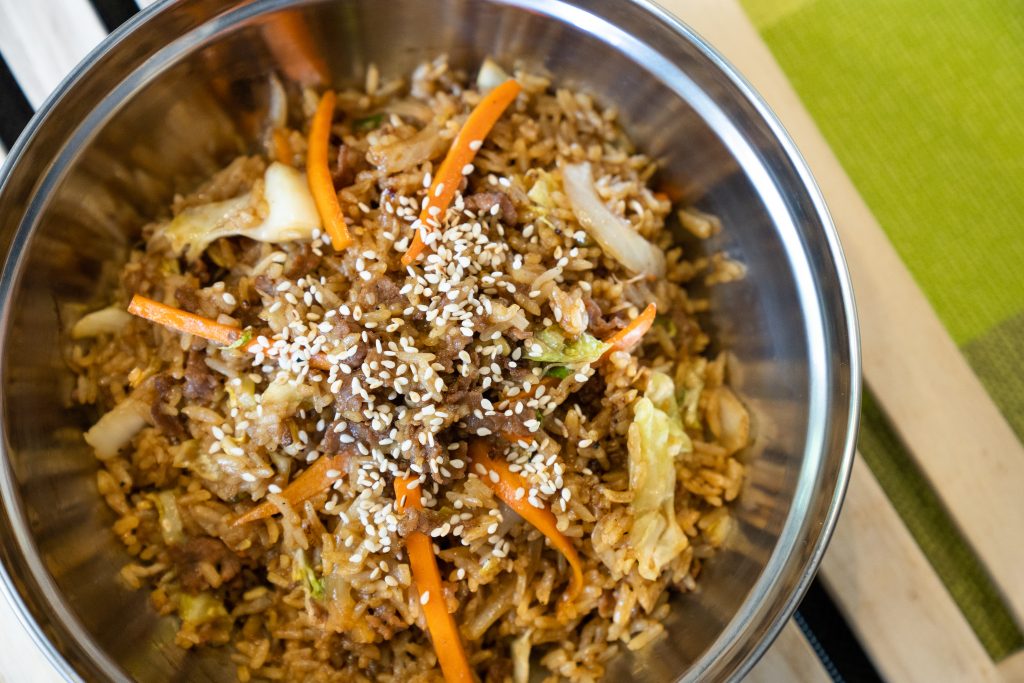 We tried out their Signature Dishes line, which is exclusive to the new branch. "These are our own version of familiar dishes using our signature sauces," says Garcia. The line comes with eight flavors: pork sinigang, pork binagoongan, chicken adobo, pork gochujang, soy honey garlic chicken, chicken teriyaki, pepper beef broccoli, and chicken curry. They come in an ala carte form, but you can also get these as a wok mix where they're either mixed with white rice or rice noodles. It's great, because now if you don't know what kind of wok to get (you can still order their customizable wok bowls), you can just order these wok dishes instead.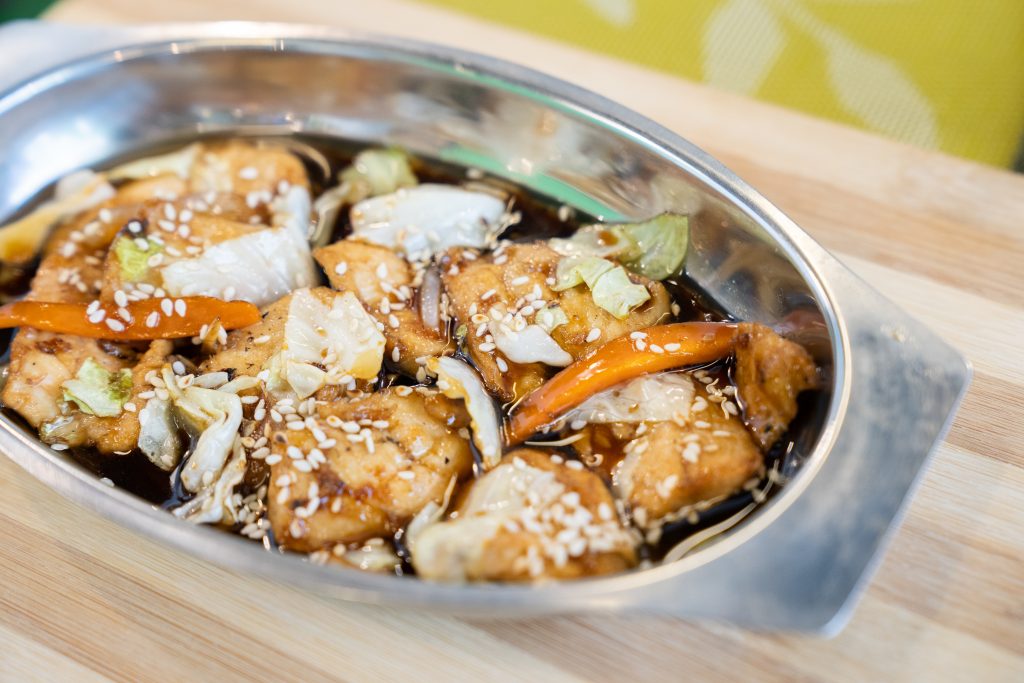 The chicken teriyaki mix is a clear winner: It's sweet yet tangy, and the meat and vegetables are all delicately seasoned. If you're open for a bit more experimentation, get the pork sinigang signature dish to go with it. The tanginess of the teriyaki rice complements the sourness of the sinigang, somehow without overpowering each other.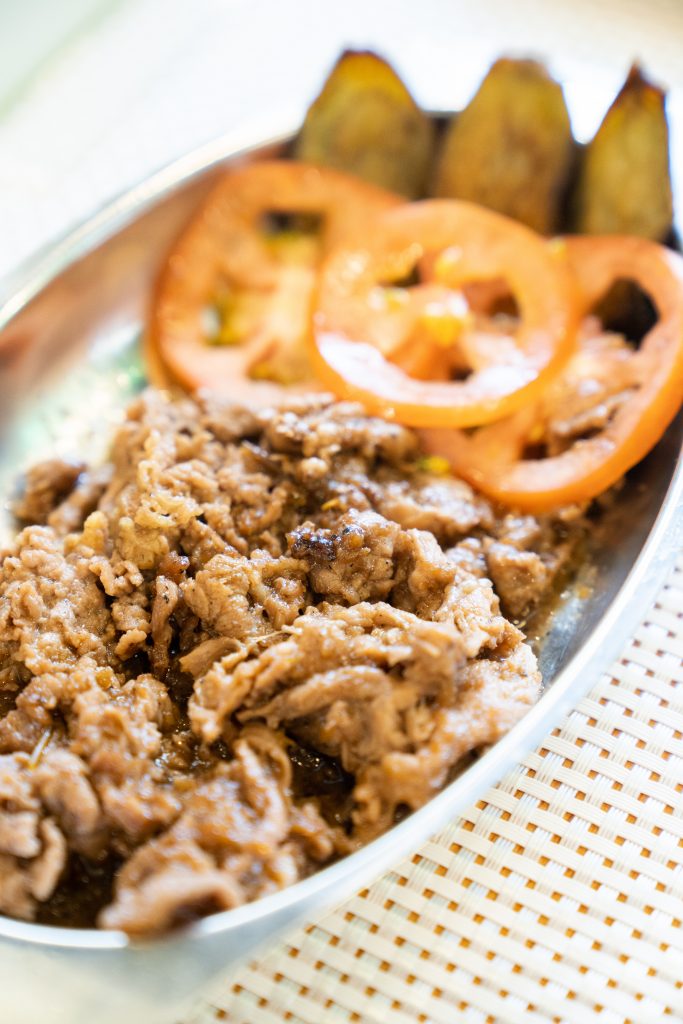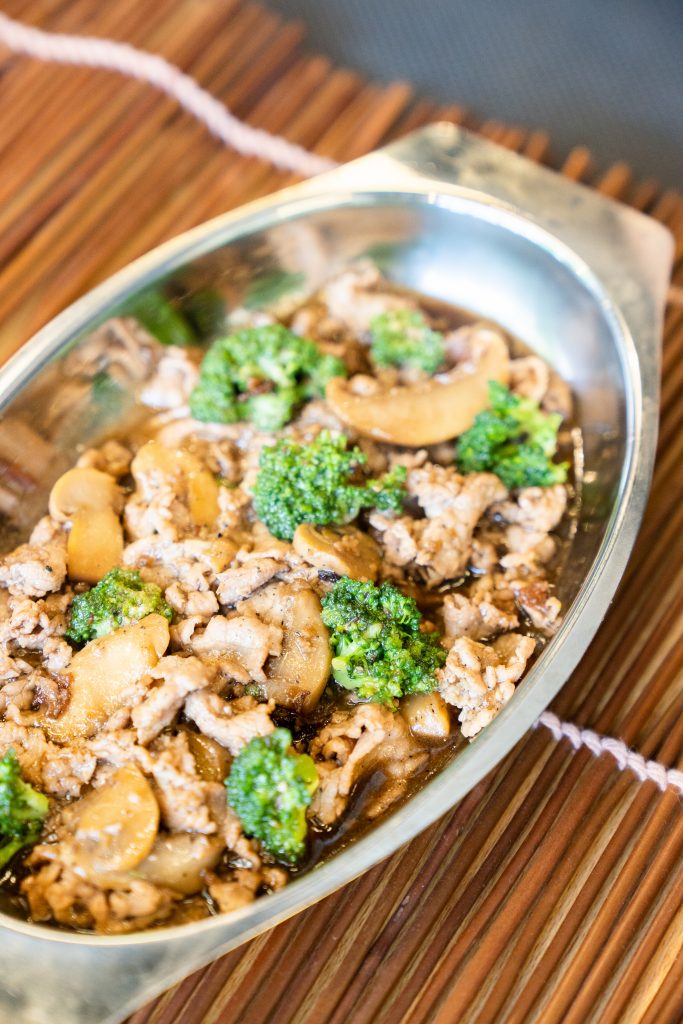 The pepper beef broccoli was also a nice surprise, considering how simple it is. The soupy broth had a nice little peppery kick, and the mushroom and broccoli seeped in that broth pretty well. Here's an advice to everyone else cooking with the green vegetable: Broccoli shouldn't be boring!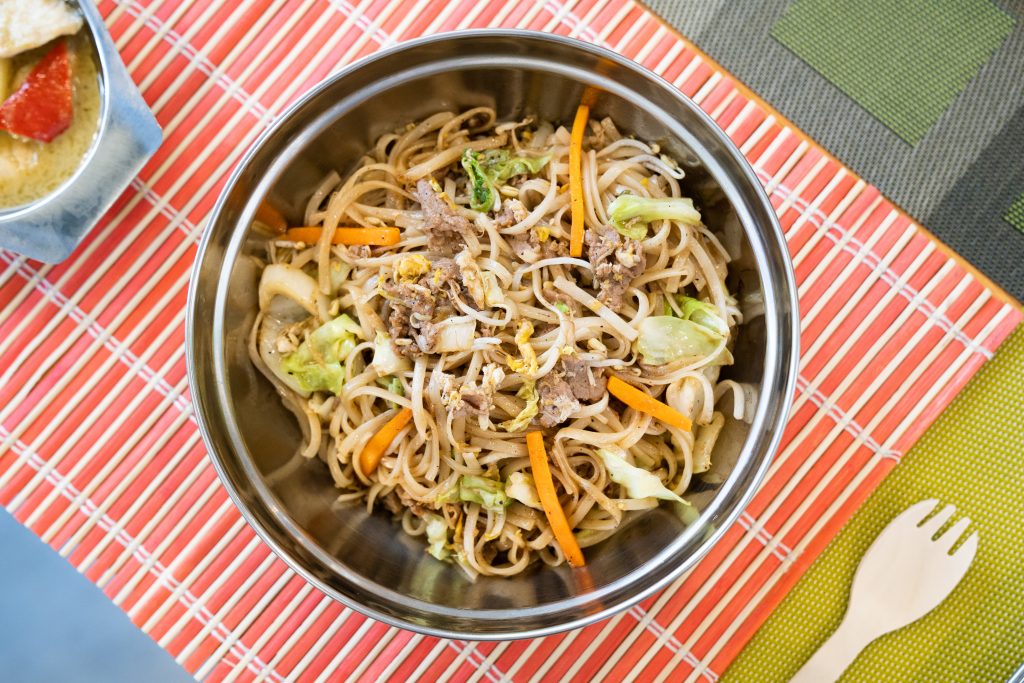 In rice noodle form, the pepper beef broccoli wok mix still performed really well. The rice noodles were appropriately soft and sopped in all the sauce.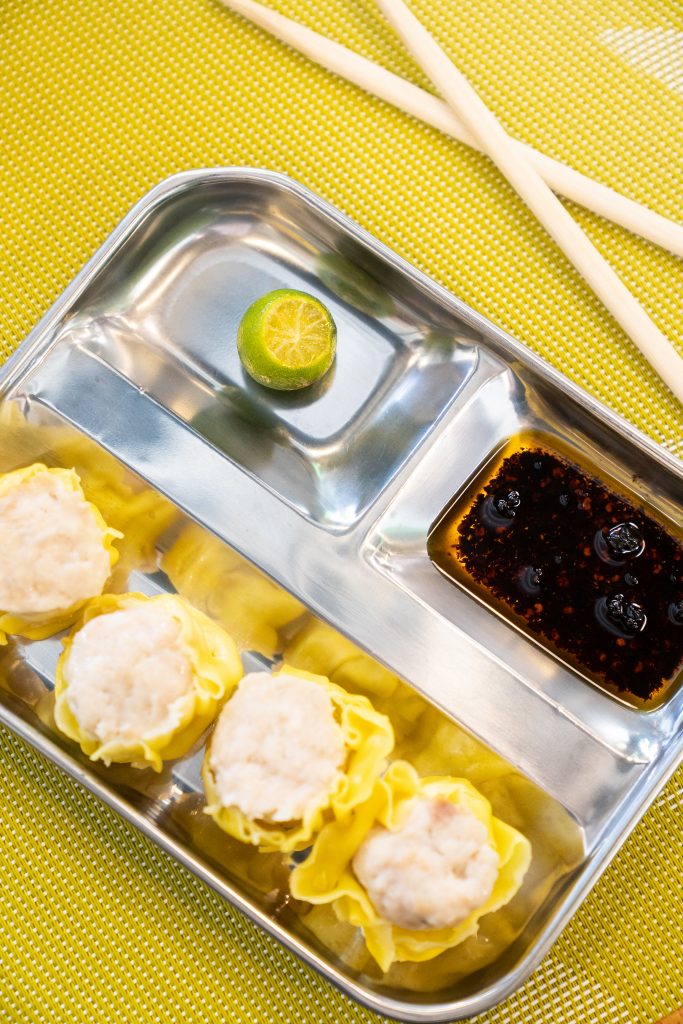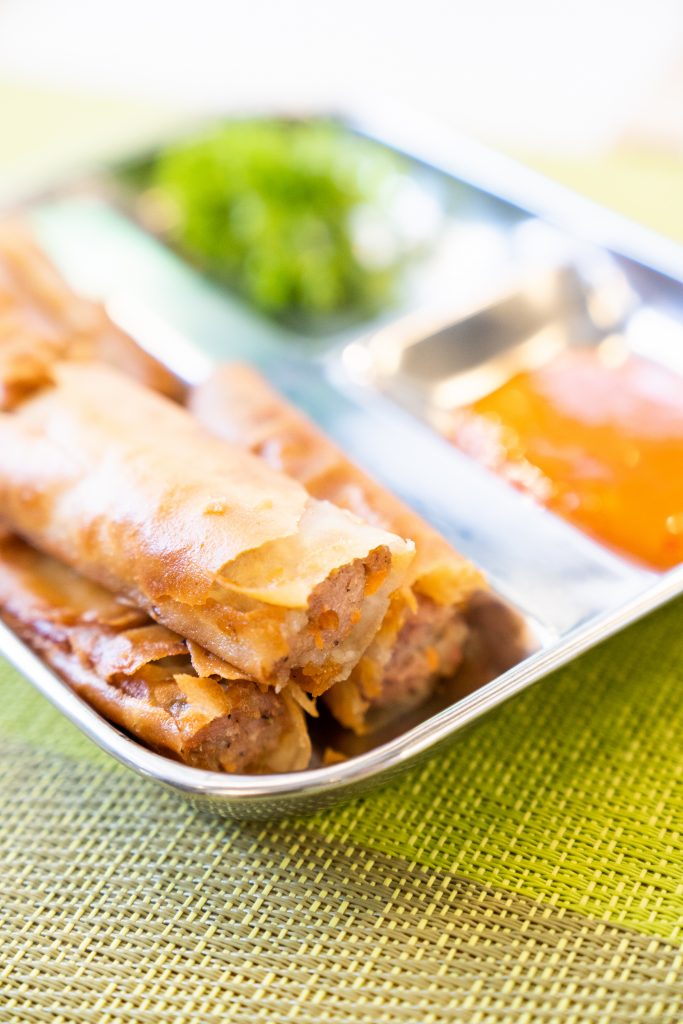 Apart from the Signature Dishes line, the Pasay branch also serves dim sum side orders! It honestly just makes a lot of sense, since siomai and lumpiang shanghai just naturally go well with stir fry dishes. They also serve halo-halo as a side dish, by the way, if you want a nice cold dessert to end your meal with.
When Nolisoli.ph visited the Pasay branch, we found out that Wok2Go has its own app. Available on the App Store and Google Play, it's meant to make it easier for customers to have their orders delivered to them.
Another thing we found out: the restaurant donates P10 for every wok they sell to two institutions: the Philippine School for the Deaf and the Philippine National School for the Blind. "This is a lifetime commitment," Garcia shared, "Through our donations, we were able to help rehabilitate classrooms and send some kids to a Braille reading contest in Thailand and they brought home the top prize for three categories." It's things like that that reminds them that "what we we're doing is worthwhile," he adds, noting that it "pushes [them] to improve the business more" because that allows them to give back even more to these schools.
Get more stories like this by subscribing to our newsletter here.
Read more:
This QC Chinese spot has heavy, customizable, and budget-friendly rice bowls
Hey, vegans and lactose-intolerants: FRNK Milk Bar in Glorietta has non-dairy milk tea
New vegan spot in Makati doubles as a mini zero-waste grocery store
Read more by Zofiya Acosta:
Khao Khai Thai doesn't believe in westernized Thai food
Miko Calo's first restaurant is an Art Deco-inspired modern French concept
This year's Cinemalaya will be screened across the country for the first time
TAGS: angie mead king double dragon kim garcia nolisoli.ph wok2go
WHY GO?
The chicken teriyaki wok mix is a good choice. It's sweet and tangy, and the teriyaki soup is mixed pretty well into the white rice.
MENU