Poblacion has always been a home to a number of local and foreign concepts. We've seen restaurants dedicated to offering different interpretations of Filipino cuisine, and other food spots dedicated to Caribbean, French, Japanese, and other cuisines from around the globe.
One of the newer food spots to open its doors in the lively neighborhood, however, is offering a combination of these two concepts through its cocktails and meals—inviting everyone to enjoy their interpretation of Spanish cuisine.
With its brightly-colored walls and playful artwork, Hola Bombòn is a space where people can relax, enjoy a few drinks, and feast on a combination of flavors from Europe and around the country. "It's not your traditional Spanish restaurant where we used to eat with our parents on Sunday, which is very formal," says Marie Garcia, partner-in-charge for kitchen operations.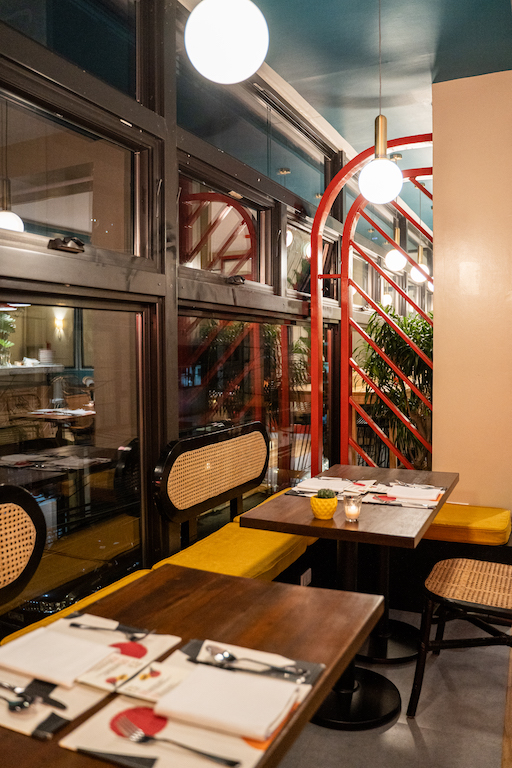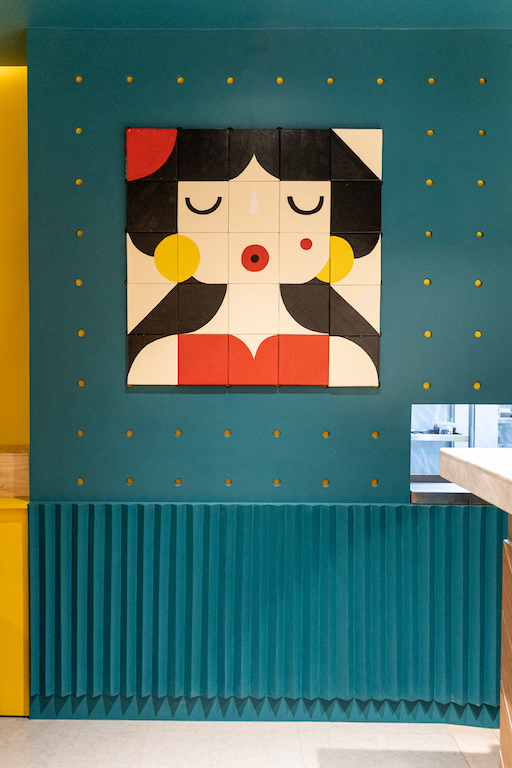 Hola Bombòn's menu draws inspiration from important sights and figures in Spanish culture. Their drinks, for example, are made with a balance of Spanish and European wines such as txakoli, sangria, and vermouth, which is a favorite in Spain. 
One of their vermouth-based drinks is the Lope de Vega, named after one of the key figures in the Spanish Golden Age of Baroque literature. This drink mixes a blanco vermouth base with rosemary infused gin, fresh pomelo juice, grapefruit bitters, and tonic water.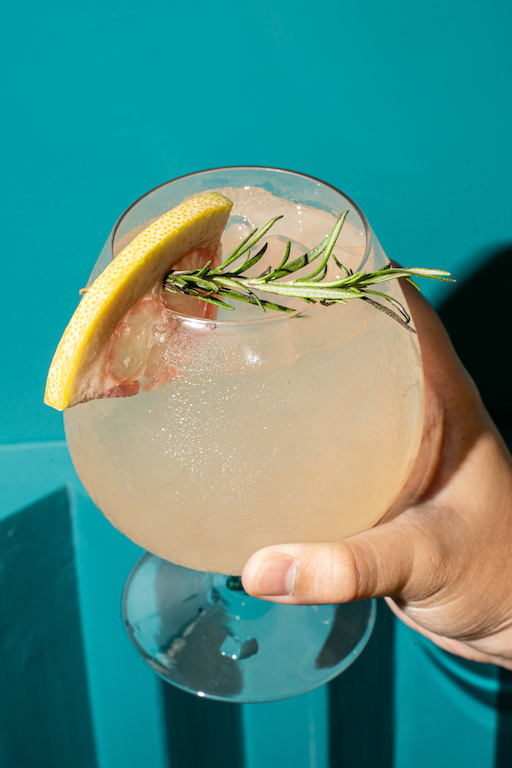 Drawing inspiration from the beaches of Barcelona is the Tenerife Sea, which is made with reposado tequila, rum, vodka, honey syrup, cointreau, lemon, lime, and sugar. What makes this drink stand out from the rest is the clarified milk punch: made when hot milk is poured into a mix, and the curds that form are filtered out in order to make it a smoother cocktail.
Hola Bombòn's selection of cocktails do more than just introduce diners to a Spanish drinking experience, they innovate their drinks, too. The Jungle Gym, for one, involves campari that is dehydrated and turned into powder, which diners can pour in after their drink is served.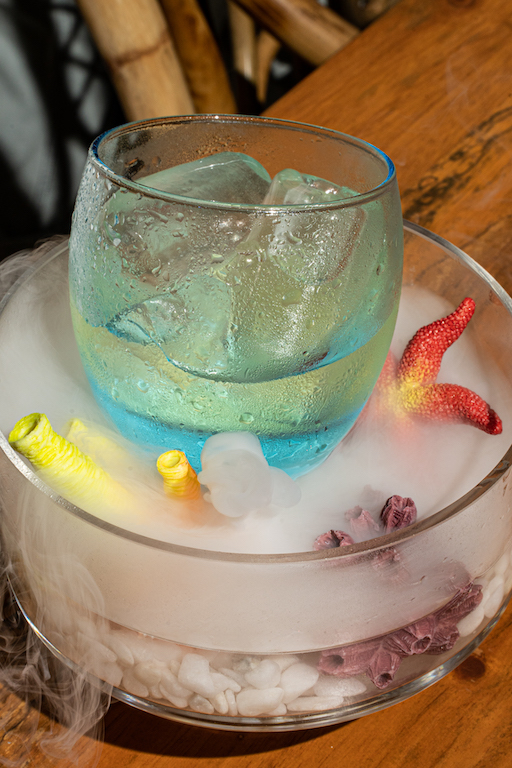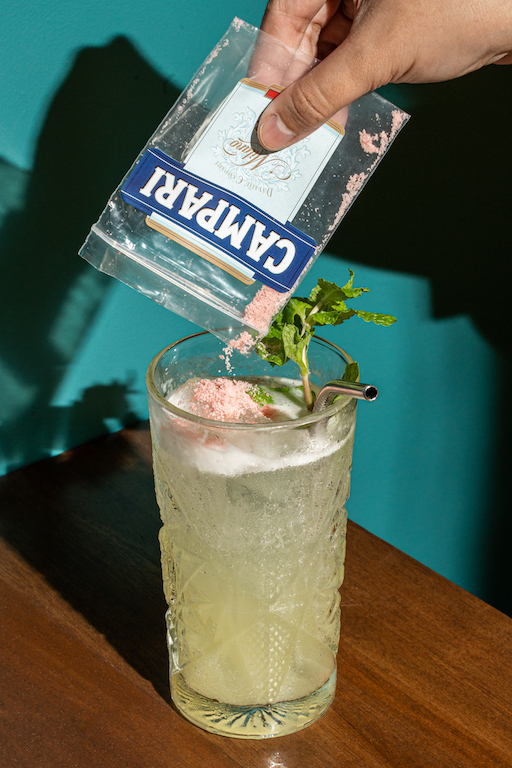 The idea to open a pintxos bar concept was inspired by Garcia's experience in Spain, where she had her culinary training. "I was just blown away [by] the whole concept of pintxos by the bar. You walk in, you have two pintxos, and then you go to the next bar and then you have two pintxos with a glass of wine," Garcia shares.
Their pintxos, as well as their dinner menu, was created with a focus on traditional Spanish food culture and the sea. Their dishes make heavy use of fish and seafood, which are sourced from Spain and from local suppliers; and tomato, which is a popular vegetable in the country and in Spain.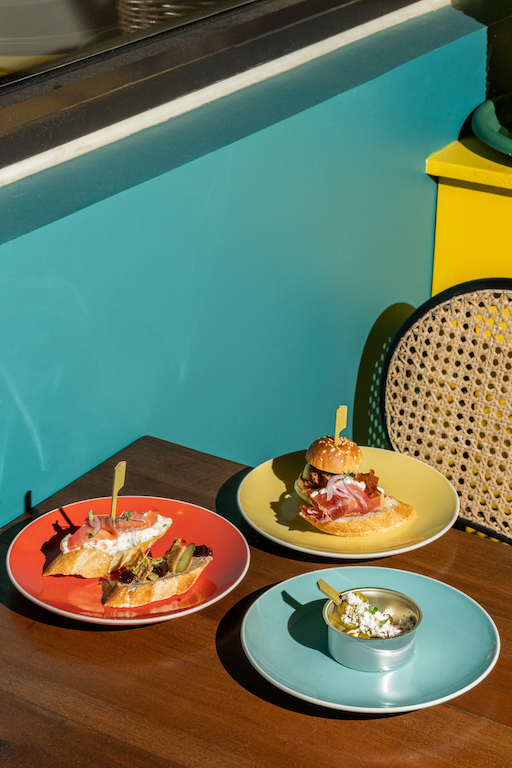 Their menu is also comprised of their interpretations of Spanish staples like the gambas, where the shrimp is spiced with piquillo and padron peppers. Their pollo en pepitoria is a creamy chicken dish paired with almonds and black rice.
Hola Bombòn also has the socarrat negro, which is a rolled up crispy paella negra, topped with aioli. The crisp outer layer of the paella, paired with the aioli, give the otherwise creamy texture of the dish a little kick.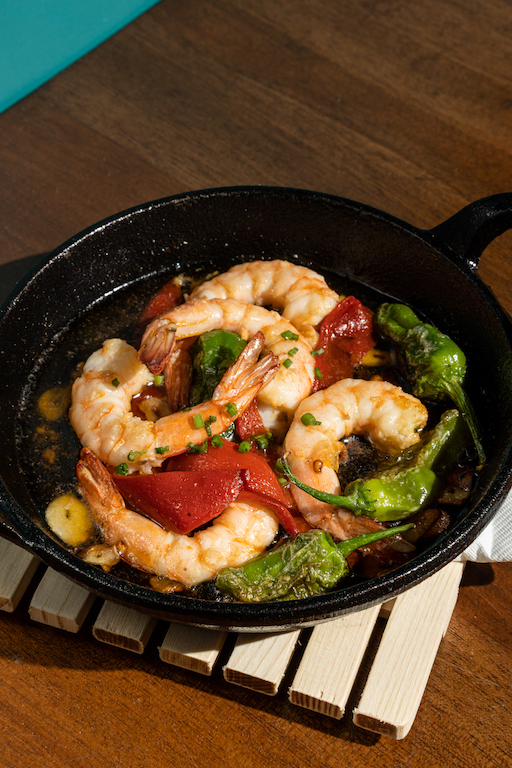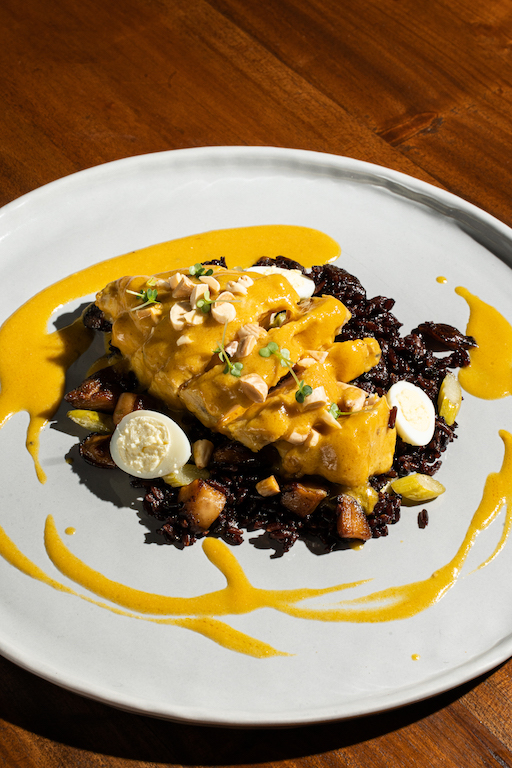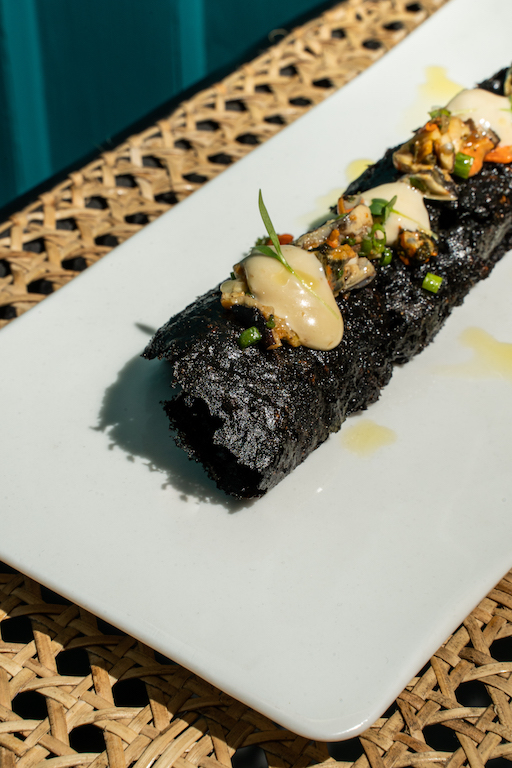 Despite its heavy Spanish influences, Hola Bombòn makes an effort to combine their selection of dishes with flavors from around the country. A good number of their dishes incorporate local ingredients such as bagoong, sausages, green mango into staples of Spanish cuisine.
A dish that combines Spanish cuisine and local ingredients is the taco de pescado, a hot pintxos made with tanigue kinilaw, mango, and bagoong served in a hard shell taco. Their version of foie gras incorporates mango jam and pickled green mangoes, both of which are sourced locally.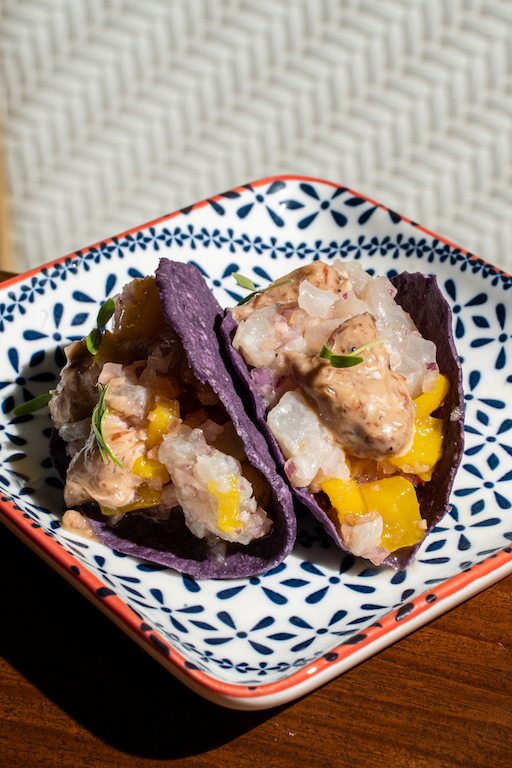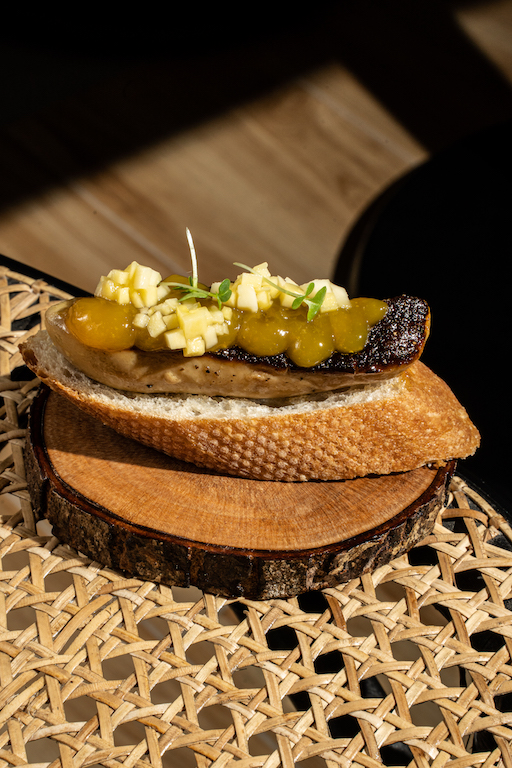 To cap off your meal, Hola Bombòn offers a selection of desserts. Aside from the traditional churros, they also offer the tarta de santiago, which combines the nutty flavor of hazelnut ice cream with the earthy taste of squash, and a slight crunch from the chicharon.
Writer: ANGELA PATRICIA SUACILLO
PHOTOGRAPHY SAMANTHA ONG