Last week, we hiked up the Masungi Georeserve to do what its volunteers call "tree nurturing." No, we are not planting new trees, as enjoyable and guilt-relieving that is. Is there any other nature-related activity more co-opted by corporate entities than tree planting? 
[READ:
Masungi Georeserve may bag another int'l tourism award this year
]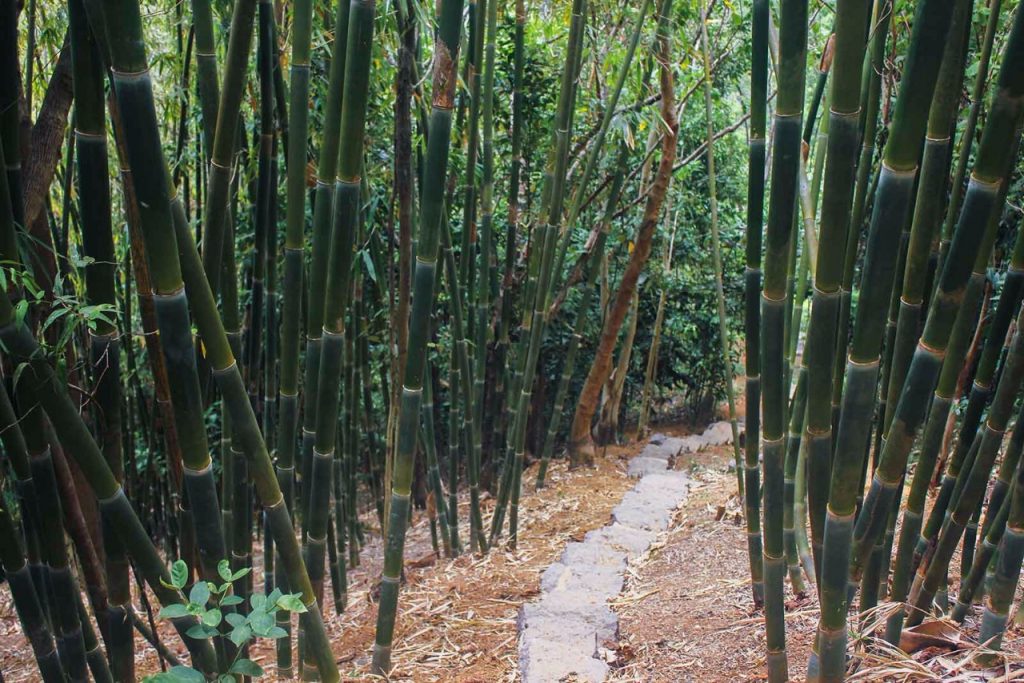 After all, it seems like an easy fix: plant a tree in hopes that it grows to replace the ones we've inevitably cut down—we may have not done it ourselves, but we benefit from the act of logging when we buy furniture made from hardwood without knowing its provenance, when we patronize a multinational home brand posing to be environmentally-conscious (this is another story altogether).
But anyway, Masungi Georeserve, as a pioneering venture that responsibly combines tourism and livelihood programs with their ecological mandate to protect and care for the last remaining patch of greenery in Rizal, is encouraging its partner-visitors to do tree nurturing activities. Why?
After having replanted most of the previously heavily deforested areas with native species such as narra, as part of their wider initiative to soon repopulate the forest with wildlife, Masungi's challenge now is to keep those seedlings alive long enough for them to grow into robust foliage that can shield the bare soil from extreme heat. Keeping the land under the shade of narra will foster the growth of other species such as fruit-bearing ones that will attract birds who feed on them to take shelter in the area.
What is tree nurturing?
Unfortunately, the sturdy narra can only be self-sustaining after three years left in the wild. In the period before that, they require intensive care, which is the primary mission of tree nurturing. Because of the lack of big trees in the area, the land is often exposed making it extremely dry and hard for new seedlings to grow up. 
When left on their own, chances of these delicate new plants are slim because they fight for nutrients and moisture from the soil with other weeds and plants nearby. All these reasons account for the importance of tree nurturing in reforestation efforts because otherwise, these seedlings would just die. 
UP Mountaineers, a group of advocates of the forest and native flora, estimates that tree planting is only 10 percent of reforestation and 90 percent of it relies on nurturing.

[READ: You're required to plant one tree each year]
Teva, the sandals brand who's marking its comeback in Manila, recently partnered with Masungi for a whole day of hiking and nurturing at the newly opened Discovery Trail in Baras, Rizal. The Nurture-a-Grove Project enables nature-loving individuals to take part in Masungi Georeserve's reforestation efforts through hands-on activities such as weeding and mulching.
How do you nurture a tree?
Masungi park rangers assist partner-visitors in every trip, teaching them how to properly care for the trees, and showing them the parts they replanted so far with native species. That day when we hiked up, was no different.
Equipped with gloves and a trowel each of us was assigned a narra tree. The first step is to spot which ones need immediate care. A recently nurtured three could last three months without further nurturing and it's pretty easy to spot which ones are still good: just look for the bunch of stacked cut weeds on the base of the plant. If it's all dried up or there is none at all, you've got your tree.
First, clear up at least two handspan (dangkal or dipa) radius of the tree, meaning, remove all visible weeds that can rob our tree of nutrients and moisture. And oh, try as much as possible to remove its roots so it doesn't grow back. Set these cut weeds aside as you will need them later.
Once the surrounding is rid of weeds, take your trowel and dig a shallow bed around the tree—careful not to go all the way and risk cutting its roots though. 
Loosen up the bits of soil to make it easier for the plant's roots to penetrate as well as for water to seep into. 
Lastly, take the weeds you've cut and stack them neatly on top of the soil bed. This protective barrier will shield the soil from heat and retain the moisture from within.
With that, you're done. If you could still power through after a series of steps and after pulling out stubborn weeds, then, by all means, take on another tree.
At the end of the journey, Masungi awards you with a certificate for caring for one of the narra trees. This paper reminds you, that in year's time, because of your care, the can flourish and grow into a robust tree that can provide shade for fruit-bearing trees.
Get more stories like this by subscribing to our weekly newsletter here.
Read more:
LOOK: 5 endangered trees in the Philippines
Native trees find a home within the city
Masungi Georeserve proves conservation and land development can jibe
Writer: CHRISTIAN SAN JOSE