For plant parents, art that doubles as faux plant companions for your 'children'
Artist Marionne Contreras' life-like textile "plants" are perfect for plantitos and plantitas who are also into collecting art
Sep 9, 2020
It's a good time to be a plant parent. With the quarantine keeping us voluntarily inside our homes, there is no excuse now not to become a full-fledged plantito or plantita—or at least, do the minimum task of watering these plant babies.
[READ: Being plantitos and plantitas is actually good for our mental health]
But like many individuals in quarantine, we know for sure that these people trying to get their green thumbs on are people of many interests. They could be home cooks and work-from-home professionals with a bunch of other hobbies on the side—like maybe art collecting?
There's a certain kind of joy when your many interests collide. So imagine our glee—as "budding" plant parents when we saw these very realistic series of artworks by artist Marionne Contreras.
Very life-like textile plants with leaves propped up as if in search of a light source are pinned to the ground by heavy concrete pots. It's an interesting mix of medium, from the delicate weaving of yarn to mimic the cross-section of a leaf to the hard cold yet somewhat eye-catching painted cement bottom.
Contreras started making these "plants" in 2018 for her Plant Series that first debuted in a solo show at the Cultural Center of the Philippines in the same year called "A Collection Of Bruises, Curses, Baby Teeth."
Her first plant, aptly nicknamed "Plant No. 1" takes from a philodendron with elongated leaves, except of course, it is made with yarn, galvanized iron wire and concrete. Describing her first foray into this on-going series, she says, "It took a lot of studies and experiments to come up with the process that works for the outcome I have mentally pictured. It was more difficult than I thought, but it went well."
At present, she has over 70 plants in the series. Most of which can be seen on her Instagram page @yunghalaman. Since her first plant, Contreras' body of work has evolved into different plant species of different forms, sizes and colors. They've also been part of various exhibitions, the latest of which is at Aphro at Karrivin Plaza in a group show called "Objects of Desire."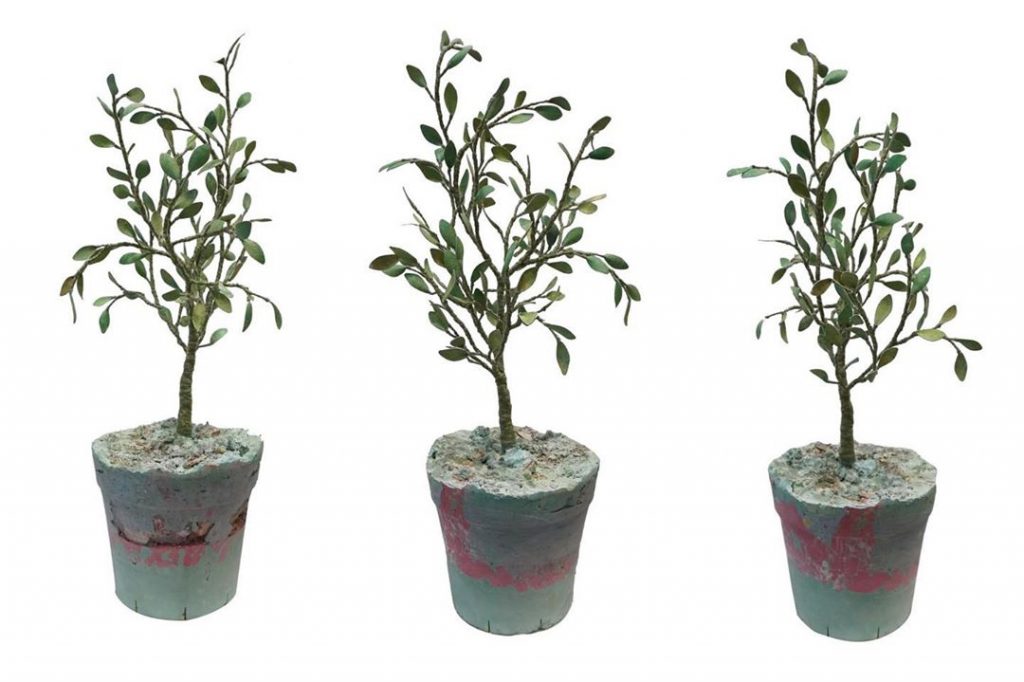 Alongside works from visual artists like Leeroy New, Krista Nogueras, Lilianna Manahan and Olivia d'Aboville, Contreras' Plants 60 to 71 are up for sale. 
So whether you are a plant parent/art collector or an art collector/frustrated plant parent, Contreras' plants will surely have a place in your life as part of a collection and maybe even a worthy companion to your plant babies.
"Objects of Desire" exhibit at Aphro is open for viewing at Karrivin Plaza from Aug. 26 to Sept. 29. View the catalog here.
Header photo courtesy of Marionne Contretras
Get more stories like this by subscribing to our weekly newsletter here.
Read more:
No soil or water needed: Macrame leaves inspired by houseplants for people without green thumbs
Pet parent or a plant parent? These pots will let you be both
5 IG shops for first-time plant parents on a budget
TAGS: aphro art art collecting Marionne Contreras plant parent plantita plantito Plants visual arts