For herd immunity, the magic number is 70. According to the Johns Hopkins Bloomberg School of Public Health, at least 70 percent of the population needs to be vaccinated against COVID-19 to achieve herd immunity.
In case you didn't know, herd immunity or population immunity is when a population becomes protected from an infectious disease "through vaccination or immunity developed through previous infection."
If you're curious to see how the country is currently faring, timetoherd.com has collected vaccination data from all over the world and turned it into an interactive site that breaks down the time it'll take for us to reach herd immunity status.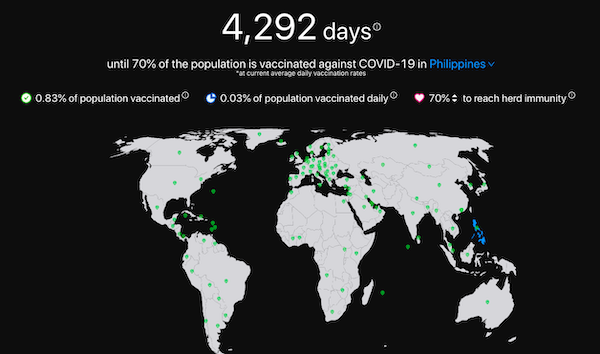 It takes into account current vaccination rates and the size of the population to calculate the estimated number of days until we can hopefully return to the old normal.
As of today, it's going to take 4,292 days (about 11 years) until the country vaccinates enough people for most of us to go mask-free. It also says that only 0.83 percent of the entire population has been vaccinated so far, with 0.03 percent of us being vaccinated daily.
While these numbers look devastatingly dismal, it's not all bad news.
The numbers on that site can change for the better if our rate of daily vaccinations go up. But then again, that's kind of a shot at the moon as of the moment.
While our government is busy trying to declare that we're actually doing great (global rank-wise) in the fight against COVID-19, the country has hit the million case mark and were still averaging thousands of new cases daily. We should also expect more deaths due to vaccine scarcity, according to the President himself. 
As popular wisdom goes, "You shouldn't compare yourself to others when measuring progress." With that being said, we're hoping the government stops thinking about world rankings and starts focusing on what's actually important instead (aside from vaccination, of course).  You know, like paying our frontliners fairly and making sure people have enough to eat.