It was only in recent years when EcoBricks has reached our shores. But it has slowly gained traction among Filipinos, due in part to the alarming rates of plastic consumption and the far-reaching effects of negligent plastic disposal.
From starting in Guatemala, it has already influenced many people all over the world to collect plastic packaging and other non-biodegradable materials and stuff them into PET bottles. This can be used in a plethora of ways, even as a substitute to many materials, especially in building.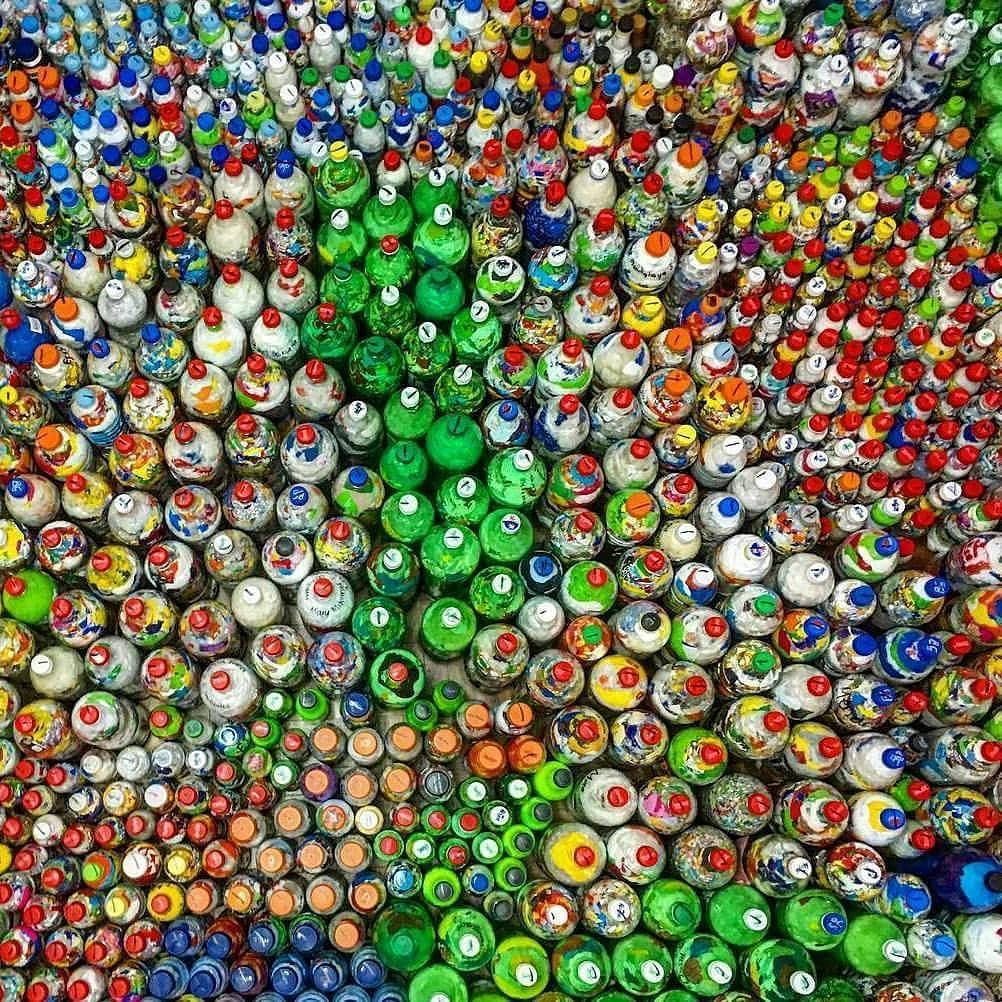 And while in the country the practice of making EcoBricks is exclusively associated to drop off centers and supporting causes related to reducing plastic waste, very few know that they could actually repurpose these plastic-filled bottles to build their own infrastructures, both for home and public space, and even to make your own furniture!
With a little help from EcoBrick's user-friendly manuals, which consists of easy to follow instructions on how to build walls, benches, stools, and tables, anyone can easily turn their EcoBricks into something functional.
Walls and Infrastructures
In the Philippines, one of the leading institutions to advocate for EcoBricks is The Plastic Solution. They have built many infrastructures to date using donations from EcoBrick makers, as well as influence many others to make their own masterpieces out of plastic bottles, which they can feature on their page.
On of their continuing projects is in partnership with The Circle Hotel in La Union where they built walls and even bathroom stalls out of EcoBricks.
EcoBricks make for a perfect construction material since it is "highly insulating, robust, [and] affordable."
In the EcoBrick.org website, you can also access a guide on how to make structures by stacking the bottles horizontally and layering them with adobe clay or cob, which is actually inspired by an ancient Spanish and Igorot way of building.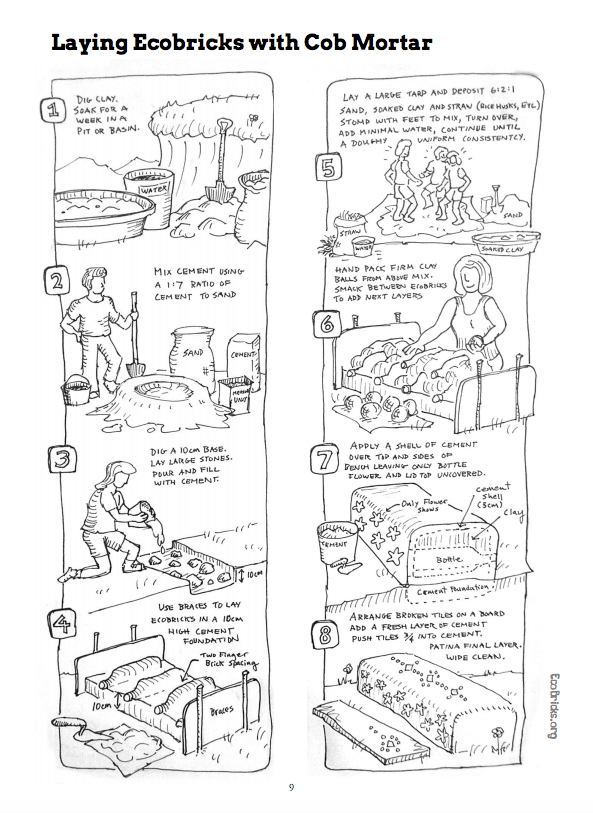 Schools, public parks, and houses have been built out of EcoBricks even in the country, and are said to be as resilient as their concrete counterparts.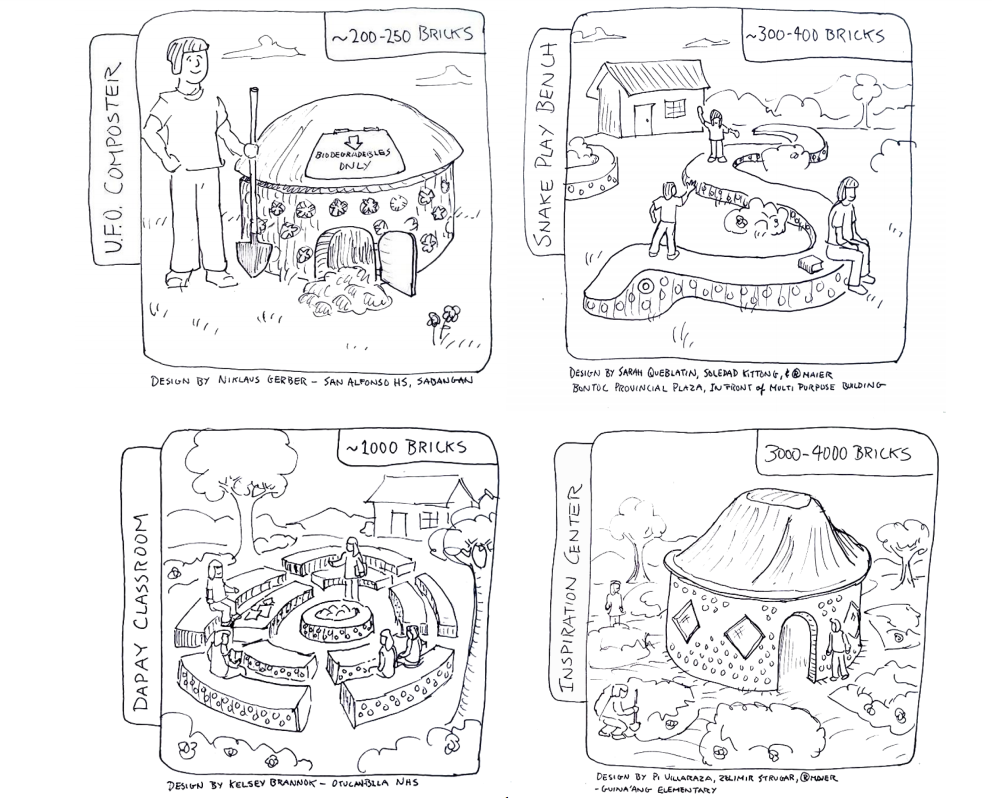 Furniture
Since most PET bottles can stand upright owing to their shape, they can be constructed pretty much like LEGO pieces. And the easiest thing you could do just by placing them together, without the need for any other material is making modular furniture.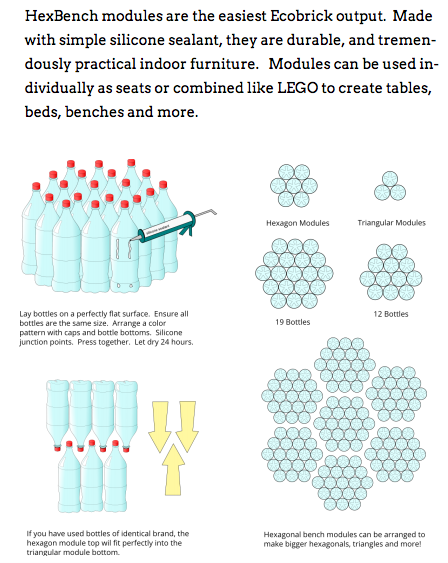 All you have to do is secure each side of contact with silicone sealant to instantly piece together your furniture.
The same configuration can be used to make center tables, with bundled bottles as serving as a central support, where a round piece of glass can sit atop.
EcoBricks Philippines is advocating DIY projects so people who make these bottles can make and benefit from it themselves, instead of relying solely on drop off centers to make good use of their bricks.
From its humble beginnings as a way to get people to be conscious about their plastic waste and just how much of it they make in a given time, EcoBricks has evolved to a more holistic approach towards a waste-free environment.
Now, you don't only get to free beaches, your house and the environment of plastics, you can also make something functional out of them.
Along with a few reminders, such as filling your bottles all the way and compress everything, and making sure you only fill it with non-biodegradable materials, you can build your own infrastructures and furniture with the help of these guides.
If you have any ideas, on how to repurpose your EcoBricks, kindly share it with us!
Photos courtesy of The Plastic Solution and EcoBricks Philippines
Read more:
This company is taking ecobricks to the next level
Are you stuffing your ecobricks right?
The environmentalist's dream supermarket now exists
Read more by Christian San Jose
DENR's own canteen is guilty of using plastic
LOOK: Tangled plastic bag causes MRT 3 train interruption
This designer just gave us an idea how to reuse those 6-pack rings
Writer: CHRISTIAN SAN JOSE