Bad weather forecast? Here are basic disaster survival tips to help you prepare
Stay vigilant, everyone
Sep 14, 2018
A supertyphoon is expected to hit the northern Philippines this weekend, which puts at risk some 10 million Filipinos living in its path. Considered as the most powerful typhoon this year, Typhoon Ompong (International name: Mangkhut) has already triggered local governments to initiate mass evacuations. Emergency workers have alarmed disaster-prone areas about the dangerous velocity of the coming heavy rains and strong winds that could bring floods and landslides.
Everyone should stay vigilant. It's best to keep ourselves and our loved ones prepared for emergency situations like blackouts, evacuations, or getting stranded. To guide you in preparing for the coming storm, here are some basic disaster survival tips that we should always be mindful of:
Be updated
Make sure that you're informed on the current weather status and forecast from the experts. Read, watch, or listen to the news and keep your phone notifications on.  Keep posted on the announcements from your local government units regarding evacuations or rescue operations.
Stay connected with your loved ones
While you keep yourself updated with the news, make sure that you're also aware of the whereabouts and status of your loved-ones, especially those living in disaster-prone areas.
Charge your mobile phones, power banks, and flash lights
Just charge everything you think you'll be needing. If you have one of those battery-operated fans and emergency lights, prepare those, too. You don't know when they will be useful, but it's important that they're just there, ready to be used. Plus, how else will you be able to keep track of the news and your loved ones?
Ready your emergency kits
We have already listed before some things that should be a part of our emergency kits (Read: What should be in your flood survival kit). This include water, food, medicine, and even whistles. Make sure that you also have these ready in your carry-on bag.
Jot down emergency hotlines
In case you still haven't got a hold of the hotlines, we listed it down for you: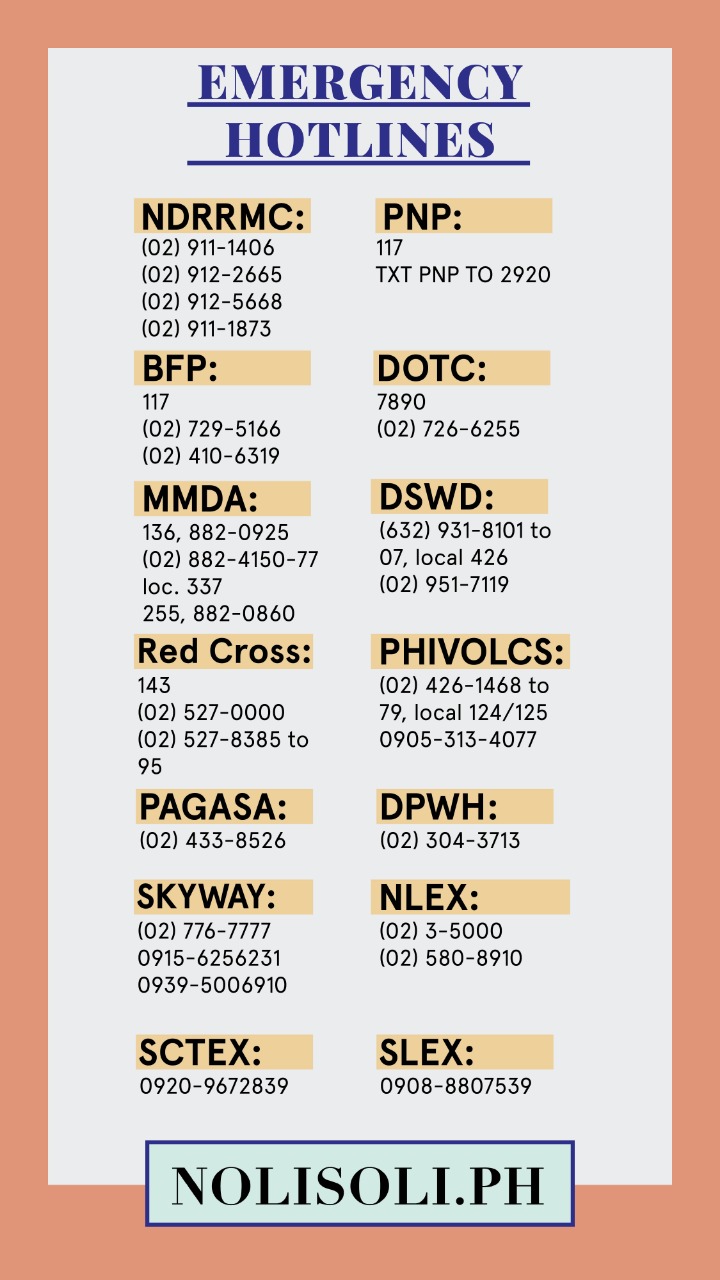 Save it on your phone, print it out, share it. You'll never know when it'll come in handy.
Header image courtesy of Inquirer
Get more stories like this by subscribing to our weekly newsletter here.
Read more:
This is how Filipinos dealt with flood in the early 1900s
Rather than rely on Pinoy resiliency, the government should focus on flood control
The cause of flood is not poor drainage system, it's poor discipline
Read more by Amierielle Anne Bulan:
Everything wrong with that "Oplan Dog-hang" campaign
MIBF finds: Treat yourself to these self-improvement books by local authors
If you really love books, follow this book fair etiquette
TAGS: Disaster emergency kit nolisoliph storm supertyphoon survival tips typhoon