This label turns fabric scraps from their gender-neutral, utilitarian clothes into accessories
ec's bucket hats and necklaces that double as pants chain are made using the trimmings from their button- and pocket-filled designs
Aug 31, 2019
Here's a trend that every fashion label should be adapting: sustainability. And while in the last few years, the term itself has been a point of contention and the selling-proposition of million-dollar marketing campaigns mounted by fast-fashion chains (the irony!), still, there are honest brands that are really doing it the greener way. And the best thing is, some of them are homegrown brands.
Last year, we met Toqa founders Isabel Sicat and Aiala Baldovino, who are doing really creative things with deadstock fabrics. These include iridescent coordinated tops and bottoms, patchwork bucket bags, and even face masks made out of the same material.
Then there's streetwear brand Proudrace by Rik Rasos and Patrick Bondoc, which launched a blockbuster zero-waste line during the last Manila Fame. A few of the collection's key pieces are sweaters made from excess fabric from previous collections and asymmetrical tops whipped out of deadstock leather from now-obsolete factories.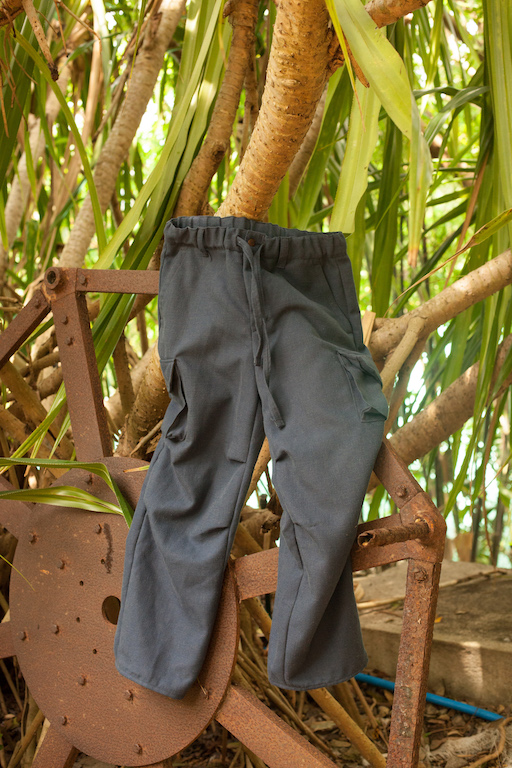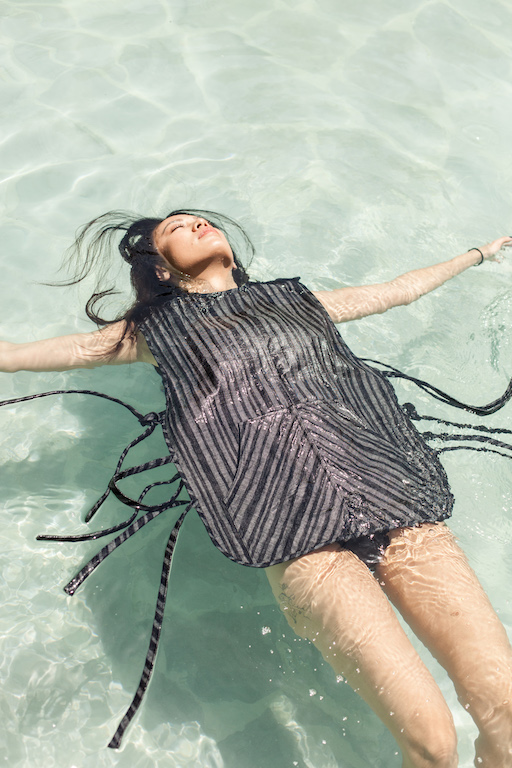 The newest local brand to take on a greener approach to design is the creative duo of Carlos del Prado and Stacy Rodriguez behind ec, a line of gender-neutral and utilitarian silhouettes.
ec is not one to shy away from buttons and pockets that are evident in the navy cargo pants (which started it all) and the Craig Green-esque bib made out of striped denim material, which is reversible with varying pocket layout on each side and three tie closure for easy adjustment.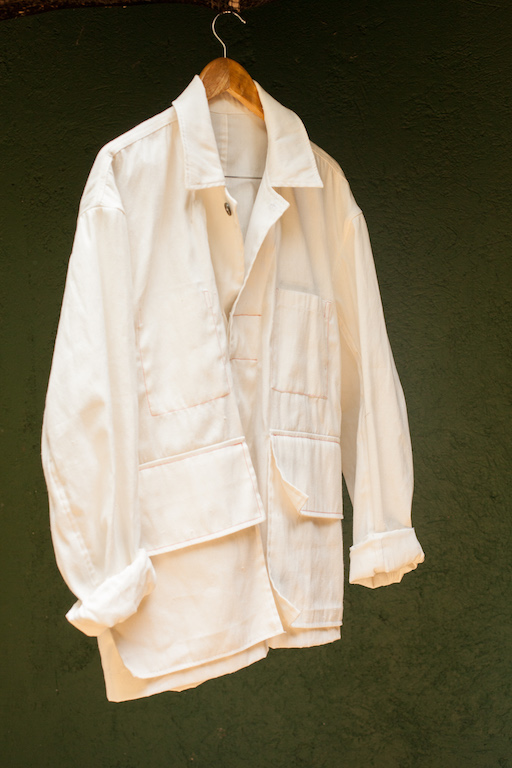 The four-pocket travel jacket, on the other hand, is an oversized silhouette constructed with ivory cotton twill with orange contrast stitching. It's intentionally oversized but has a three-button adjuster at the back to adapt to different body types and styling preferences.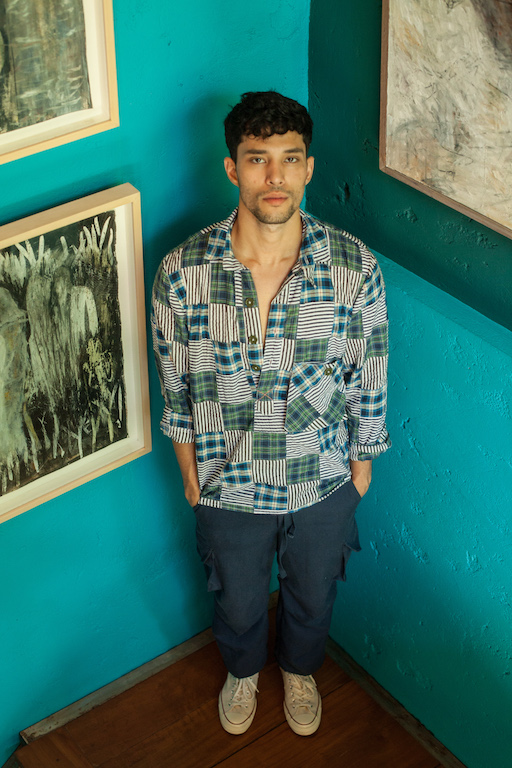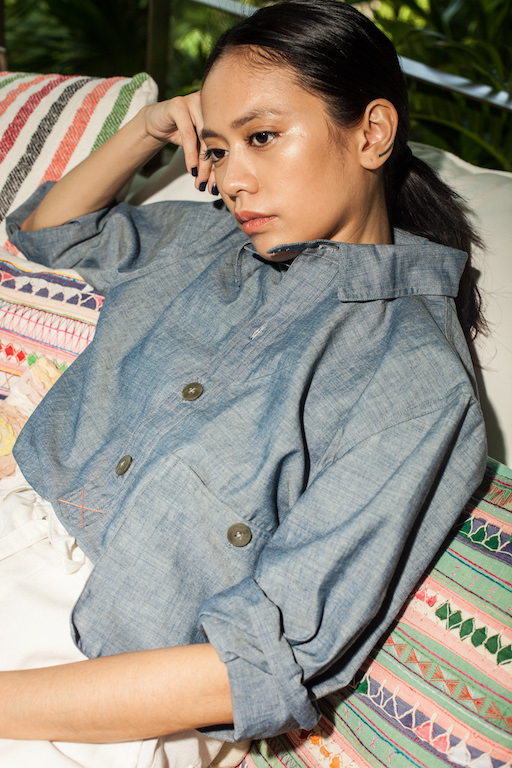 Just by looking at these pieces—including the accessories born out of the duo's desire to maximize even the smallest trimming by transforming them into chains and bucket hats—one will notice how sturdy its fabric is usually fashioned out of cotton twill, denim, and chambray.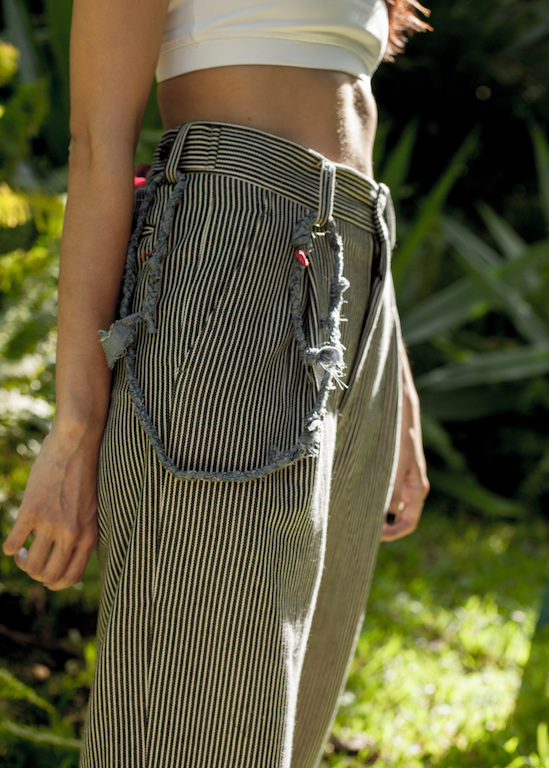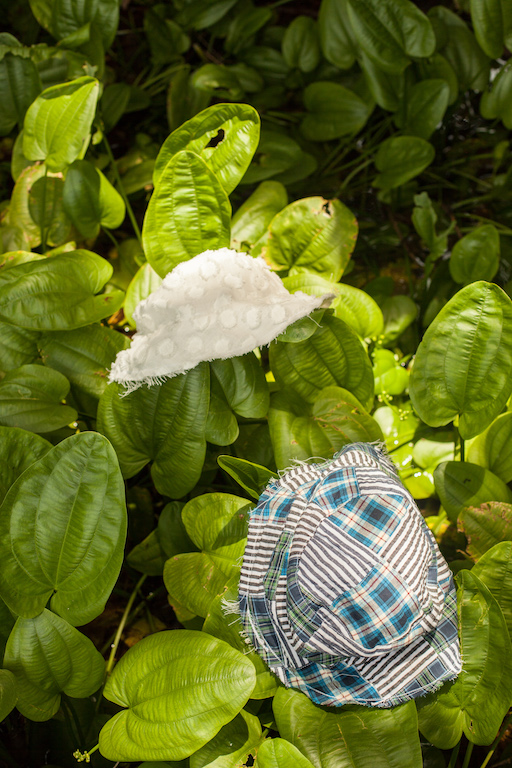 Patchwork also governs Rodriguez and del Prado's works, a proof of just how creative they are with (re)using this medium. You will see it in their patchwork top with matching hat.
We spoke to the creative team behind ec about their business model, how they're adapting a slower fashion cycle, and where they plan to make these pieces available.
Hi Stacy and Carlos! Congratulations on your launch this weekend. First of, how did the idea come to you to start ec? And why the name?
ec came out of a continuing conversation we were both having about clothes. Coming up with a name was simple enough as using the first letters of our names. And it sounds "easy," which is how we wanted the clothes to be. The result is a simple but considered set of unisex garments made to be worn regardless of the season.
Can you describe ECs production model or production line?
Apart from taking our time in developing each style, we also wanted to be more mindful about our manufacturing. We didn't want to make clothes people weren't going to wear. We noticed that fashion has reached a point wherein big brands are mindlessly producing things in ridiculous quantities. And following the doctrine of slow fashion, we both agree that people should be willing to wait for things that matter. This is why we decided to make our releases in small quantities but open for pre-ordering. That way, every piece is guaranteed a good home.
Where do you derive the fabric scraps you use?
In an effort to reduce waste in our production line, we try to utilize all the fabric that comes in and out of our production. Most of our cuttings go to making accessories or reused in some other way. For instance, instead of using twine or ribbons for our hangtags we use pieces of scraps that otherwise would've been thrown away.
Apart from doing that, do you also plan to execute any other efforts towards sustainability?
We're really aiming for seasonless clothes and releases. That's a major component of the brand. We'd much rather build around the idea of a modular wardrobe. We'd like to continue to make clothes you'll keep in your closet forever and wear often.
How can one purchase your clothes?
For now, we are doing a series of pop-ups because we wanted to keep our first interactions with our customers personal and interactive. We are, however, starting to look into an online platform for the brand. So selling online isn't out of the question at all.
You may get in touch with Rodriguez and del Prado for inquiries through ec's Instagram page.
Photos by Mac Villaluna
Get more stories like this by subscribing to our weekly newsletter here.
Read more:
Tela's retail line is made from Bayo's excess fabric
Farm to fashion: How regenerative agriculture makes fashion sustainable
This daily wear line makes clothes straight from organic and compostable fabric
TAGS: Carlos del Prado EC Mnl Stacy Rodriguez sustainable fashion zero-waste