As the backbone of society by giving birth to literally everyone on the planet, giving moms their own holiday is a great way to celebrate them. While it's not the same for everyone, motherhood is a choice—and a laudable one at that. Raising children is no joke, and moms deserve all the credit due to them. With Mother's Day fast approaching, making plans for the special day is probably one of everyone's top priorities.
Aside from gifts and trinkets, food is a central part of a wonderful Mother's Day celebration. If you're not so keen on doing the cooking and the dishwashing after the meal, here are a few places you can call to get your Mother's Day menu ready. 
Mains
Bizu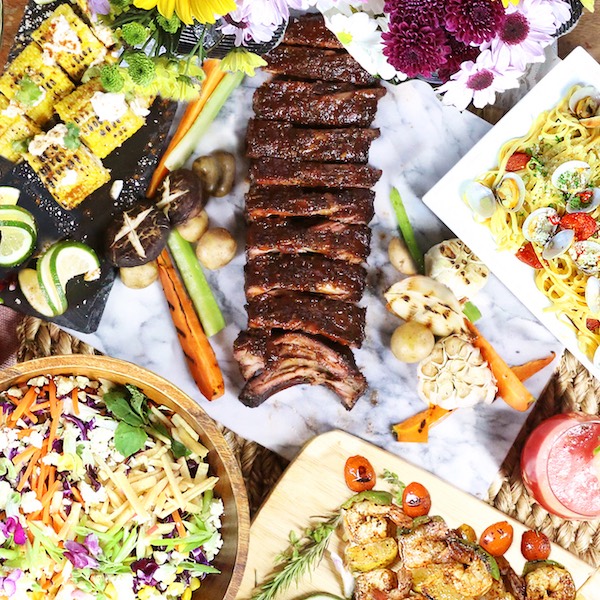 While Bizu is known for its classic pastries and cakes, the restaurant has also launched a family and summer barbecue set (P4,595+)—right in time for Mother's Day. You can have all of your favorite Bizu meals, like their 10-hour roast beef and baked salmon Rockefeller as the main course for your Mother's Day meal.
Classic Chef
Big families can be blessings, but it can be a challenge to feed a lot of people. Classic Chef's Mother's Day set menus (P5,000+) are good for up to 12 and come in a variety of different cuisines. Depending on what your mom (and the rest of the family) likes, you can choose between continental, Filipino, Japanese or Chinese food for the special day. 
The Chow Men
If your mom likes Chinese cooking and seafood, The Chow Men's set menu (P6,160) might just tick all of her boxes. For Mother's Day, the online restaurant is cooking up some of their classic dishes like crab fried rice, hot prawn salad and a premium crab tray. The set is good for four to five (depending on how hungry everyone is) and comes with a free Mother's Day cake. 
Lazy Oeuf by Metronome
While big celebrations are fun, a meal for a party of two could be just as enjoyable. Lazy Oeuf by Metronome has curated a Mother's Day set (P1,900) with a few of their special dishes. The special set consists of chorizo and pipperade pasta, salmon rillette and cream cheese croissants and brownie moelleux with salted caramel and pecans. If you're feeling a little fancy, you can opt to add a bottle of red or white wine. Perfect for brunch, if you ask us. 
Samyan
We always get our moms cakes for Mother's Day, instead of something sweet, how about a savory one? Samyan's Mother's Day offering is a seven-inch savory cake made with Thai fried chicken on top of a jasmine rice and green papaya salad base. The Gai Tod cake (P890) is also served with green chili sauce to top everything off. Make sure to call ahead, though. Samyan is only making eight cakes per day, and you won't want to miss out on this one. 
Shake Shack
If you're thinking of hosting a more casual gathering this Mother's Day, Shake Shack also has you covered. For a minimum order of P2,500 Shake Shack is throwing in a free bottle of white wine. Ordering at least two days ahead of time will also get you free delivery. Just call your nearest Shake Shack branch from 11:00 a.m. to 1:00 p.m. or 4:00 p.m. and 6:00 p.m. and the restaurant will send your order free of charge.
Desserts
Bizu
For dessert, Bizu has launched three cakes for the season, which are the Charlotte (P1,795), a fresh and fruity layered cake, the Marion (P1,995), a chocolate and strawberry cake and their classic strawberry shortcake (P1,725+). 
Fédici
While we all love sending and receiving flowers (especially moms), but floral arrangements don't really do anything aside from sit there and look pretty. Fedici's chocolate caramel cheesecake has a crown of flowers and cake, so you can enjoy it with your eyes and your stomach. Each six-inch cake is P1,950 and would look amazing in the middle of your dining table. 
Theo & Brom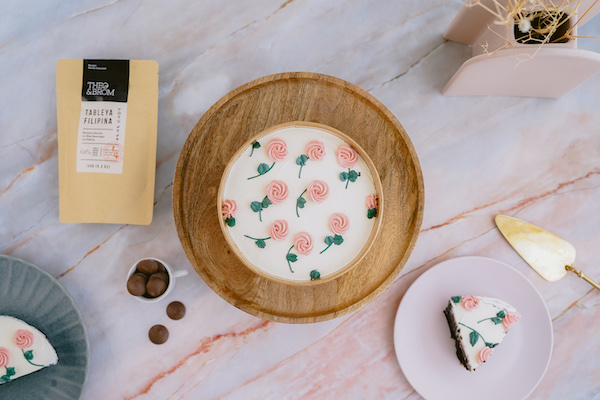 For moms who don't like cakes that are too sweet, Theo & Brom's tableya cakes are something we wholeheartedly recommend. For Mother's Day, the chocolatier is releasing a special edition tub cake decorated with dainty flowers. 
The buttercream frosted Gooey Ganache Magic Tableya Cake (yes, the name is quite a mouthful) is part of Theo & Brom's Mother's Day delight package (P2,999). It includes two tubs of the tableya cake, one package of their miniature tableya rounds, a jar of their tableya goo and a gift bag with a free tag. A single tub costs P1,299 and comes with a complimentary gift bag and tag. The pre-order period is only until May 6, so make sure to call as soon as you can.
Max's Corner Bakery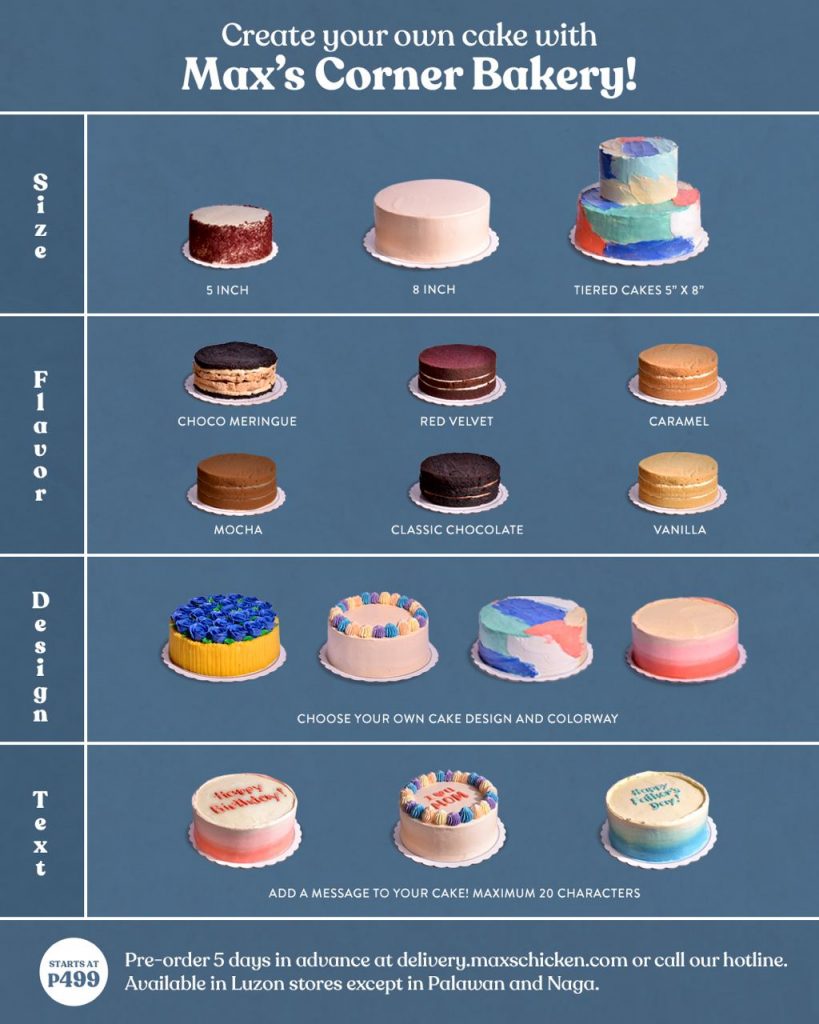 Max's has been around since our parents were just a twinkle in our grandparent's eyes. It's been a go-to place for most families and not even the pandemic put a stop to that. Max's Corner Bakery has recently launched its custom cake service right in time for Mother's Day. You can pick the size, flavor and design of the cake and add a message, too! The cakes start at P499, so it won't break the bank. If you want the cake to arrive in time for your celebrations, make sure to order ahead because each cake requires a five-day lead time.