I found out about Raeanne Young Sagan's elusive pies through another Instagram dessert shop, The Daily Knead. Way before everyone else was posting clips of their pie faces (of them eating a slice, not them being slapped with a pie), The Daily Knead's founder Francesca Herring got to try Sagan's calamansi caramel pie and chocolate pudding pie last March—on Pi Day at that!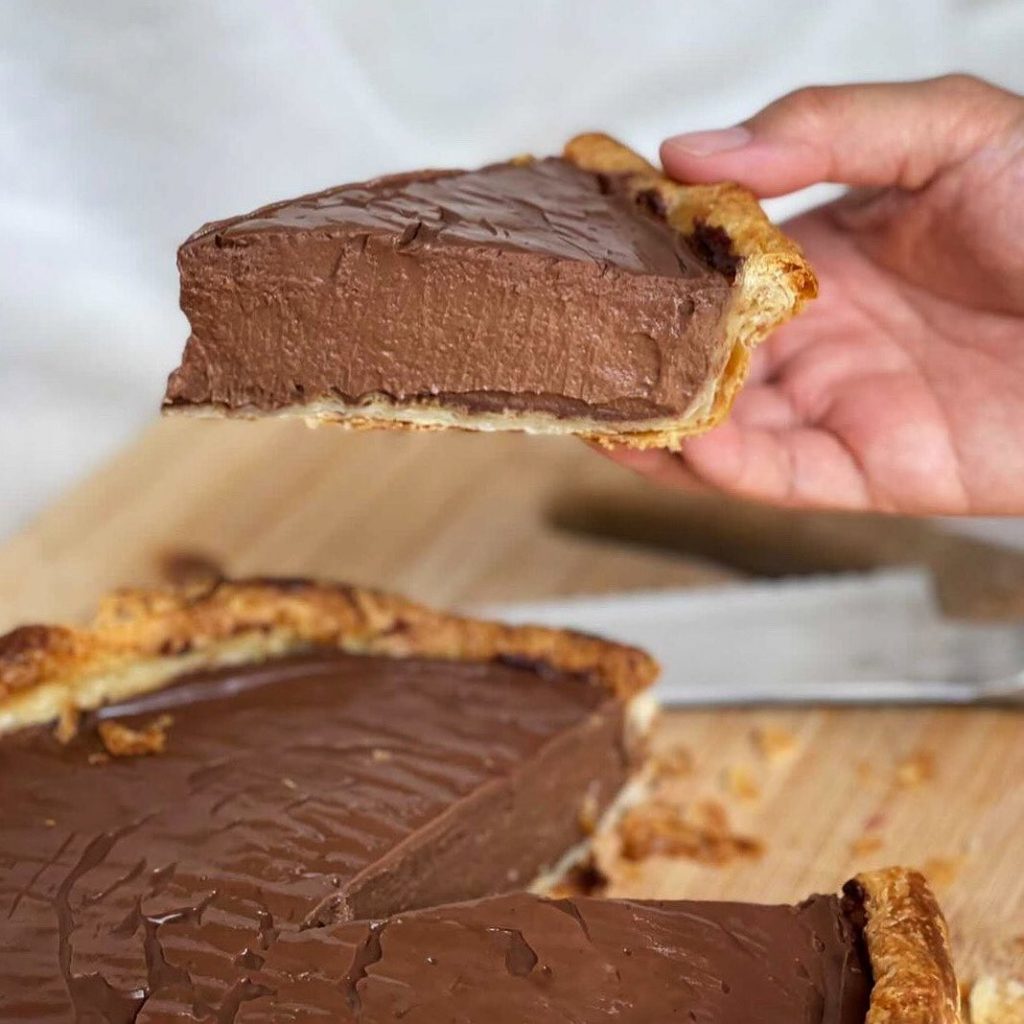 The crusts were golden, flaky, but not to the point of crumbling to touch. The filling, although thin for the calamansi caramel pie, looked every bit luscious. The chocolate pudding pie was altogether a different story. The filling was—in Gen Z speak—"thicc AF," overflowing even, the kind you'd want to charge face first to devour. Herring, the baker whom I entrusted to fulfill all my sweet carb needs, gave it a glowing endorsement: "This is the best pie I have EVER had!"
I was sold. The only problem at the time was that the pies were not for sale. At least not yet.
[T]o illustrate the demand for her pies, on their second drop on May 8, over 60 orders for avocado pie came through in the first four minutes, prompting Sagan to close the form immediately.
'Making the most of what you have'
Sagan's personal Instagram page is a pie trap. A mom of three, her pie experiments shared equal billing with her twins, who also appear in most of her baking videos as taste testers, a job that literally a thousand people would kill for, as Miranda Priestly in "The Devil Wears Prada" would say.
"[O]ne of the things I love most about pie-making [is] the creative freedom to make the most of what you have," Sagan said in a post. "I'm not making fusion though, people," she added as a sort of disclaimer. "I'm just working with what I've got." And work with what she had, she did.
In order of appearance on her feed, here are the pies she has baked so far: apple, ube, milk pudding with raspberry glaze, malted calamansi crunch, peanut butter cream, milk pudding with strawberry, peanut butter jelly, pumpkin spice, coffee caramel, granola and strawberry, roasted strawberry, calamansi caramel, chocolate pudding, maja blanca, mango cream, peanut butter banana cream, coffee caramel custard, blood orange, plum with crust trimming toppings, buttermilk with fresh pomelo and calamansi zest, avocado cream, coconut cream, melon, star apple, candied kumquats and strawberries, macapuno, and mango for our Instagram TV series Comfort Kitchen.
Having grown up in the U.S., pies were a culinary memento she held onto after moving back to the Philippines and spending some time in Brazil. "I started making pies when I left the U.S. in 2015 and got homesick for some American pumpkin pie at Thanksgiving. I spent a lot of time trying to recreate American pies in the tropics, the Philippines and Brazil, and I'm finally embracing my tropical pie queen identity," she shared on Instagram.
For a tropical pie queen though, she attributes the rise of her pie practice to her chocolate pudding pie, which also happened to be the flavor that launched her blockbuster business Hey Pie People on Instagram on Labor Day, May 1. Sagan's online bakery has one rule: one flavor a week and in limited quantities.
[READ:
You'll have to fight for a box of these elusive treats from local bakers
]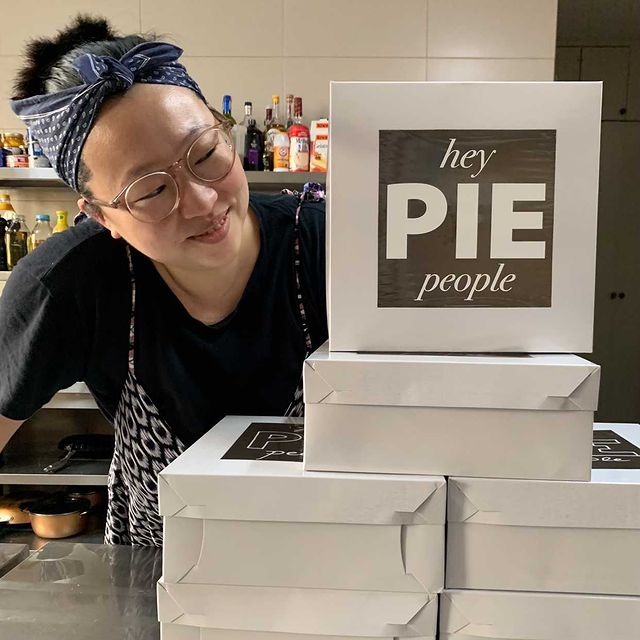 In a matter of minutes after opening an order form at 10 a.m., Sagan's pies (slots) sold out—to use a cliche—like hot cakes. Blame it on the hype, or even the notorious drop system that every online seller seems to have adopted since the pandemic. But for a newcomer to attract such attention—in a country whose idea of a pie is a fast food pastry pocket filled with sweet mush, or buko pie with a shortbread crust nonetheless—speaks a lot about Sagan's pies.
[READ:
Pies should be a bigger deal, and these home businesses can prove it
]
In the throes of defeat having failed to secure a slot for myself, I asked a few people I know who have tasted the pies if the hype is real. The consensus seems to be that it is. To quote one respondent from my very intimate "survey:" "This is the pie that shook me to my core."
For someone who only started making pies in the last six years, Sagan has captured the market of very picky Filipino dessert people. As of writing, Hey Pie People has over 1,400 followers. And to illustrate the demand for her pies, on their second drop on May 8, over 60 orders for avocado pie came through in the first four minutes, prompting Sagan to close the form immediately.
'Pie-aspora'
It doesn't hurt too that she has recipe developer and cookbook author Erin McDowell, who literally wrote "The Book on Pie," as a mentor.
Early in March, Sagan appeared on an Instagram Live with McDowell, who referred to her as a "very special Internet friend." There, they talked about their shared love of pie, pie making in the tropics (where it is supposedly hard to make dough because of the ultra-humid climate), and pie diaspora ("pie-aspora?" Sagan offered as an alternative).
The two also discussed what counts as "pie"—a lot by their estimation (galettes, pizzas, tarts). "I struggled to talk about this a little bit because of the same thing that you're saying," McDowell told Sagan. "I have a very loose definition of what pie is and that's because every culture has— if you break it down to a crust with a filling, then really anything's a pie."
Sagan, for her part, calls her creations American-style pie with its deep flaky crust. Her choice of fillings, however, are all her own, a mix of tropical fruits and flavors specific to the Philippines like calamansi, buko and ube. Her pies marry these two culinary cultures inherent within her. But even she still struggles with impostor syndrome as a pie maker.
"My really big need to make pies didn't start until we left [for the Philippines and eventually Brazil]," Sagan told McDowell. "We went to Brazil and all of a sudden somehow I got really homesick for American pies, which is so weird because I didn't necessarily grow up eating American pies. I didn't have a grandma like you did, who made me pies since I was a kid. I grew up eating pies at Marie Callender's and Applebee's."
As McDowell praised her inventive takes using whatever is available towards the end of the IG Live, Sagan humbly countered, "Oh my gosh! They're just your recipes substituted with something else."
"No, they're not because that's the thing, you substituted something. If you're making these changes, it is your recipe," McDowell said as if to affirm Sagan's genius.
Days later, she would expound on her pie upbringing and its impact on her baking practice through a recipe inspired by maja blanca, a Filipino dessert made of cream curd speckled with corn kernels.
"This pie tastes like the pie heritage I never had, like the recipe could've been passed down for generations," she said on Instagram of her maja blanca creation. "I'm so proud of myself for creating it because it feels like such an extension of myself. I'm creating the pie heritage I've always wanted."
For all the pie magic she has created and has yet to create, Sagan also deserves credit for imbuing her pie creations with an endearing humanity. It's the kind of effort to reclaim, rewrite and unapologetically own a slice of her identity as a woman of the diaspora that makes you want to root for her even more, makes you want to get a taste of what it's like.
Reader, I will have you know that as I write this, I am devising a game plan with friends to win one of those slots next Saturday regardless of whatever ingenious flavor Sagan might put out next.