Soy sauce, bibingka, and other unusual ice cream flavors will be your new favorite
Yes, it's weird, but you'll never go wrong with any of these
Sep 7, 2017
Ice cream is always a good idea. When you're happy, get a tub of ice cream and share it with your family or friends. When you're sad, down a pint or maybe a gallon of ice cream all by yourself. However, is it still a good idea when you try to do away with the familiar flavors? Fortunately, yes.
These are the ice cream makers who infuse some weird flavors into their ice cream without sacrificing our enjoyment.
Buccino's Ice Cream Xperiments (BICE)
09178922079 / [email protected]

I first encountered BICE during our regular Backyard Grill. As it had always been, their booth had the menu written with colored chalks. It seemed inviting until I read the flavors: soy sauce + kasoy, rose + olive oil, kare curry, among many others. However, BICE owner Buccino de Ocampo was kind enough to offer a free taste. Surprisingly, everything on the menu—no matter how weird it may seem—tasted good.
BICE combines flavors that may be unconventional yet familiar to anyone's palate. Plus, the flavors do not clash or overpower each other.
Try: In some peculiar way, any combination seems to work well for BICE. However, my personal favorite is the Kare Curry ice cream. It's an experiment between kare-kare's nutty sauce and aromatic curry. The ice cream is still creamy, but it has a somewhat rough texture from the peanuts. You can still distinguish the distinct flavor of each component, but they do blend well.
Merry Moo
2F SM Megamall
Merry Moo has its fair share of both unconventional and regular flavors. You can have something as familiar like chocolate or something strange like Earl Grey tea. The ice creamery guarantees the freshness of their products by making small batches. The milk they use is non-Ultra Heat Treated, keeping most of the fragile nutrient components of the milk intact. The milk they use is also from a dairy farm in Laguna.
Try: This is not an entirely weird flavor but try their Thai milk tea. I can finish a pint all on my own. The flavor of the milk tea isn't sacrificed even in ice cream form, but it's not also overwhelming. For lactating mothers, Merry Moo has special lactation ice creams.
Goto Monster
Primo Rivera St. cor. Vito Cruz ext., La Paz, Makati City

Goto Monster is known for their inventive goto, but they also have something cooler: their ice pops. These cold treats come in four different flavors. Their ice pops celebrate Filipino sweet treats: They combined everyone's favorite chocnut with banana and they made ginataang halo-halo  cool.

Try: Goto Monster's special bibingka ice pop cannot replace that warm rice cake outside the church you eat after simbang gabi. But this ice pop has a character of its own. Goto Monster's special bibingka ice pop has that shredded coconut texture, proving that it's made with real ingredients. When you reach the last bite, you'll be surprised with an actual salted egg yolk. It's not weird at all, promise.
Super Scoops
Super Food Grocer
Whoever said vegans can't eat ice cream is wrong. Super Scoops makes it possible for vegans to eat ice cream by replacing dairy with coconut. The consistency of the ice cream is pretty much similar to dairy ice creams, so non-vegans wouldn't even notice that it's made for vegans.
Try: There are other alcohol-infused ice creams, but try Super Scoops' red wine chocolate. It's the ideal ice cream for chocolate and wine lovers alike. They also have other more conventional flavors like matcha, strawberry, and chocolate.
Papa Diddi's
1-H Maginhawa, Diliman, Quezon City
The ice cream shop has been around since 2015. Out of this list, Papa Diddi's has the most unconventional flavors. The ice cream shop is a tribute to Papa Diddi, owner Paul Perez's father. Perez, who took a short course on ice cream making at the University of Pennsylvania, formulates the ice cream flavors himself. With locally sourced ingredients, Papa Diddi's makes small batches of ice cream flavors fresh every day.
Try: The ice cream flavors at Papa Diddi's vary from time to time, but everything is actually interesting. I would go back for the sweet basil-flavored ice cream. It has the pleasant aroma of the herb. The flavor isn't as overpowering, too. It's refreshing and does a good job in cleansing the palate.
Bohol Bee Farm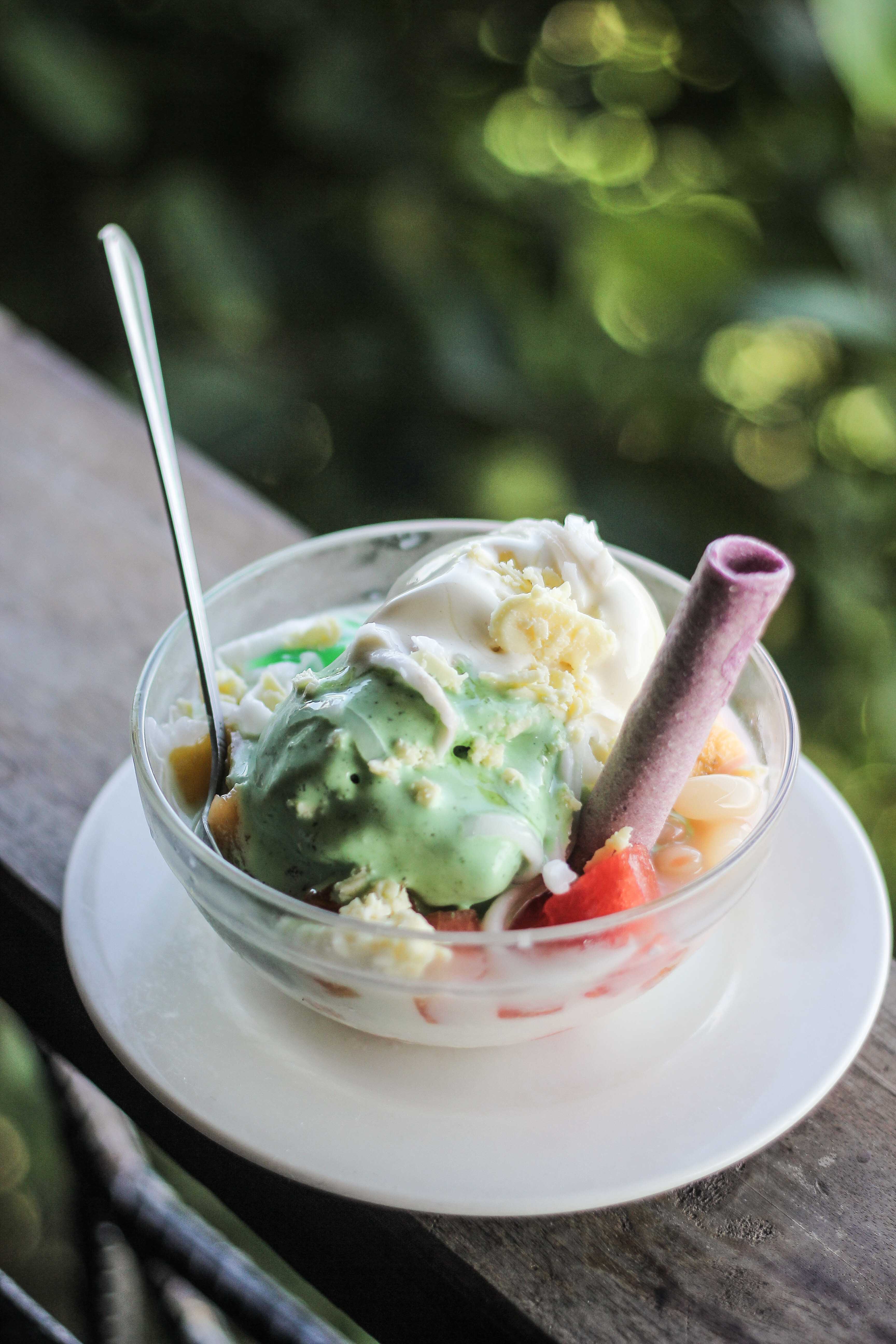 This eclectic venue is a must-visit when you visit Bohol. The Bohol Bee Farm offers organic food, honey products, and homemade ice cream. With a variety of flavors, Bohol Bee Farm makes their ice cream without any preservatives.
Try: Their spicy ginger sounds weird and it is indeed on the spicy side. the pungency is based on ginger, so it's not really going to put your tongue on fire. It may taste weird at first, but you'll actually grow to like it.
Header photo courtesy of Unsplash
Read more:
Is gelato better than ice cream?
Melt down with Elait's artisanal rolled ice cream
Boston's coolest ice cream hangout makes its way to Manila
Cool off with this coconut rum ice cream
TAGS: BICE Bohol Bee Farm Goto Monster ice cream Merry Moo nolisoli.ph Papa Diddi's Super Scoops