Binutong may sound unfamiliar to non-Bicolanos. But looking at it brings to mind many iterations of kakanin because it shares the same ingredients: a mixture of sticky rice and coconut milk and/or cream wrapped in banana leaf.
[READ:
5 iconic Bicolano dishes you gata try while chili-n' at home
]
But while most kakanins are eaten on their own, the joy of binutong is that you can treat it as regular steamed rice and eat it with a savory viand, or you can have it for dessert paired with fruits like mango.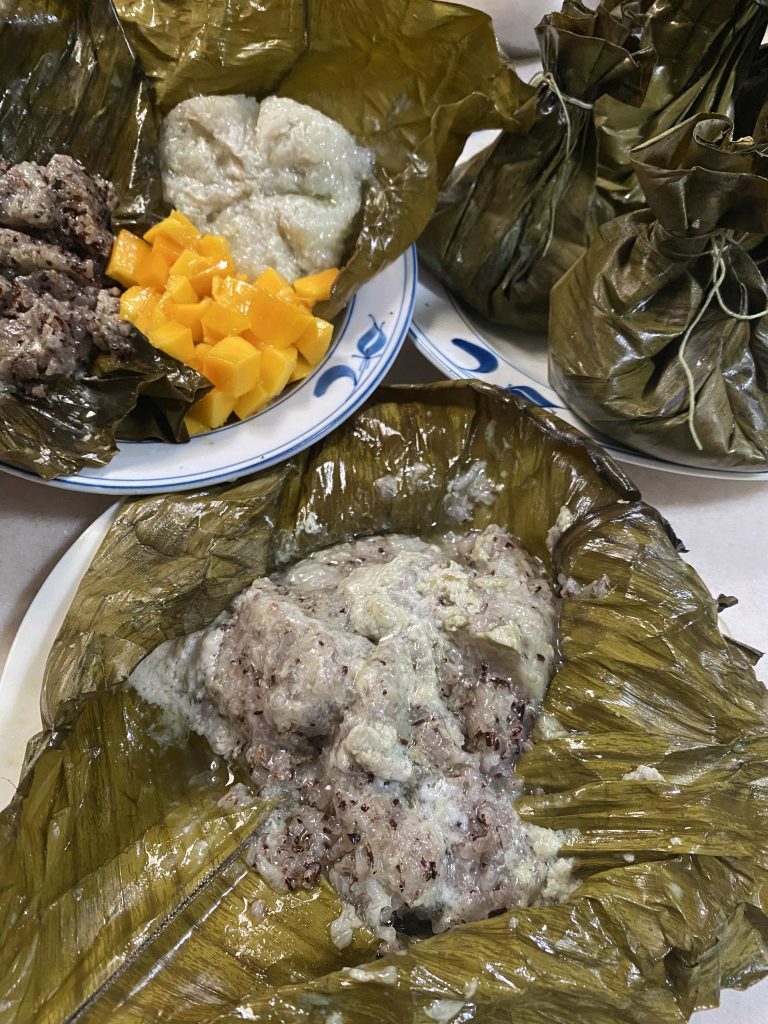 Photographer and garden-to-table home cook Aya Cabauatan shared her family's recipe for binutong in the latest episode of Comfort Kitchen. Her mother, who hails from Sorsogon, taught her this recipe. 
Instead of just using one kind of sticky rice mixed with coconut milk and cream (kakang gata or cream is the first press, while gata is the second press), Aya's family also uses pirurutong or black sticky rice as a fiber-rich option.
Here's how to make binutong:
Ingredients
Makes 8 pieces
4 cups glutinous rice (kaning malagkit)
8 cups coconut milk (second press)
2 cups coconut cream (first press)
2 tbsp salt
1 tbsp sugar
8 banana leaf ends
String for tying
Procedure
1. Wash the glutinous rice twice. Set aside.
2. In a separate bowl, add salt and sugar to coconut milk. Mix until dissolved.
3. Take the banana leaf and briefly pass it over a fire for 10 to 20 seconds to make it more pliable. Do not burn it.
4. Mold the banana leaf on a bowl following its curve. Put 1/2 cup of rice and pour 1 cup of the coconut milk mixture, and 1/4 cup of coconut cream. You can also mix 2 kinds of glutinous rice.
5. Gather the ends of the banana leaf and secure it with string.
6. Place all pouches in a pot and fill it 1/3 of the way up with water. Boil for 30-40 minutes until banana leaves are fully withered and their color has changed from green to brownish-green.
7. Allow to cool. Enjoy as is or eat with ulam or fruits.