I messed up a cookie recipe and accidentally made a "new" one
"In the kitchen baking, what a mess I'm making…"
Apr 5, 2019
Let me share a little something personal with you.
Everyone knows I love books—I mean, I am a self-proclaimed personification of the concept of tsundoku (someone who keeps buying books but doesn't read them, in Japanese)—and if I had all the time in the world and no internet, I would really love to just sit and read forever.
Anyway, what people don't know is that as a child, I also loved reading cookbooks. I have four really worn out copies of Pillsbury cookbooks that I used to leaf through over and over and over again. Despite that, I have actually never baked anything from those books, and I am far from being an amazing cook and baker. But recently, aka the past year or so, I've decided to put all that reading to use.
(Read: I tried making "boy bait" cake for Valentine's)
It has been more than a year since my successful(?) attempt at boy bait cake, so I thought to make my next baking project a little simple: cookies!
Now, because I have been spending the past few weekends watching "Gourmet Makes" on Bon Appetit's YouTube channel, I decided to check their site for a nice cookie recipe. There. Are. A. Lot. But I'm only a (lower than) amateur baker, and I can only do so much with my very much incomplete baking equipment, so… I chose the most basic-looking one (based on ingredients and procedure):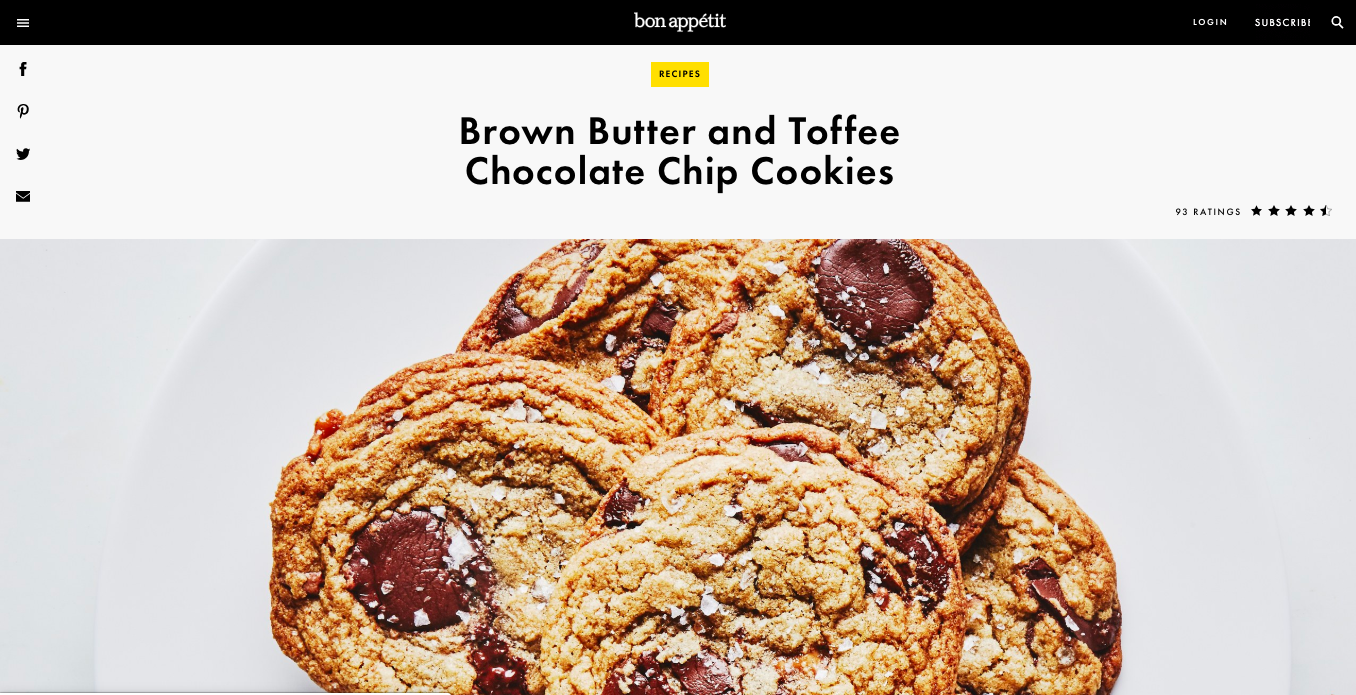 Sounds (and looks) amazing, right?
Except I couldn't find toffee bars. And chocolate disks. And flaky salt. And I didn't want to buy a whole box of kosher salt when all I needed was a teaspoon. So I figured, okay, I'll go without them. I'll substitute. It'll be fine.
Then I realized they called for large eggs, and I only had smallish eggs, and I thought, what if the lack of toffee bars will affect the overall quality of my cookie? So I searched for a different brown butter chocolate chip recipe.
Pretty much the same save for a few differences in measurements of ingredients, so I went on and gave it a whirl.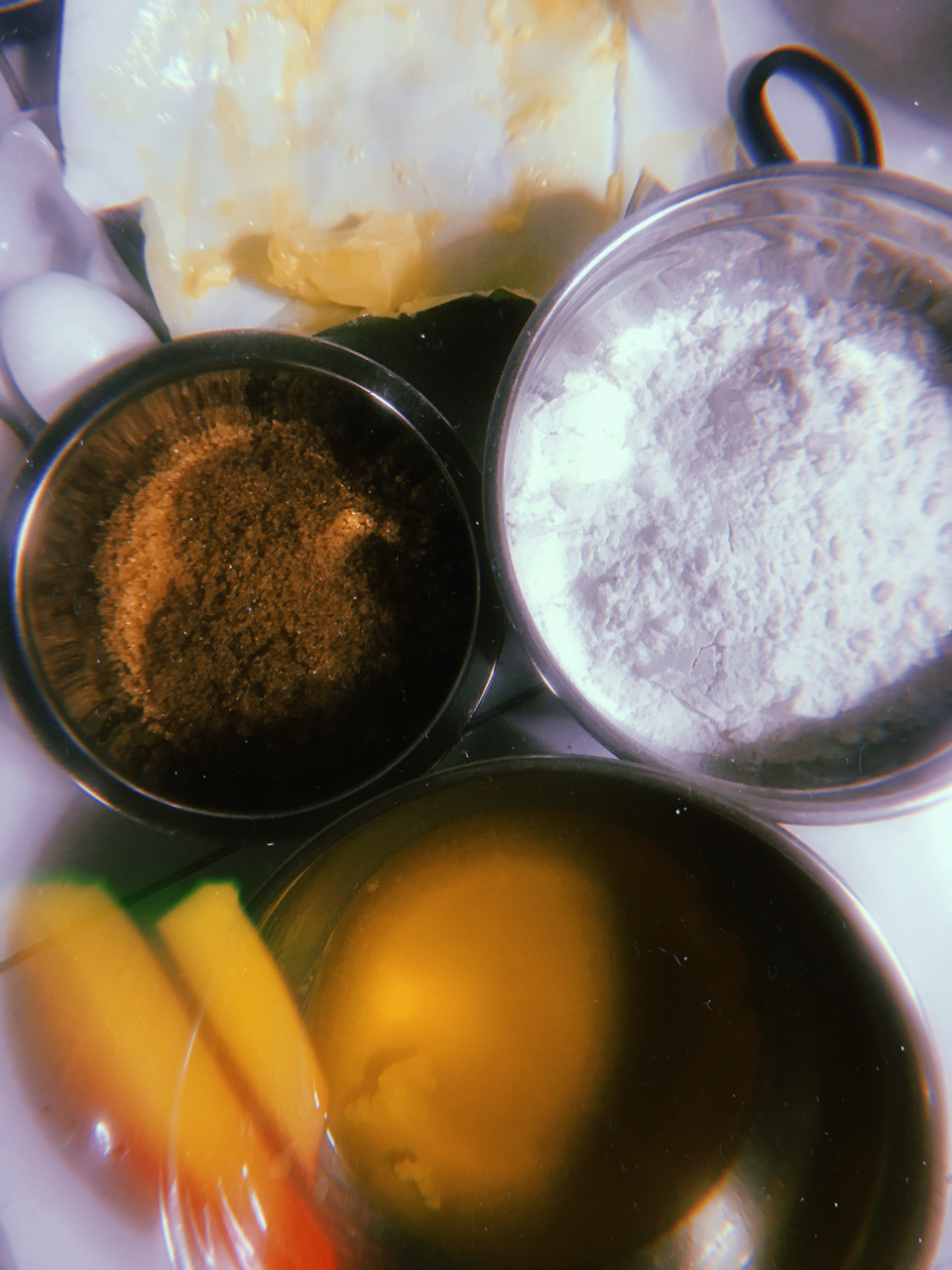 Halfway through, I realized I might have also used the wrong kind of chocolates because they all stuck together in clumps because of the heat (curse you, summer). But I soldiered on, even if by then I was fairly certain this would mean my cookies wouldn't look as aesthetically pleasing as I would like.
I finished baking and… yeah, they look ugly. Or at the very least, plain. And because they look so unassuming at first glance, I decided to call them surprise cookies.
Because they may look a little boring, but once you bite into it—surprise!—there's chocolate "filling"!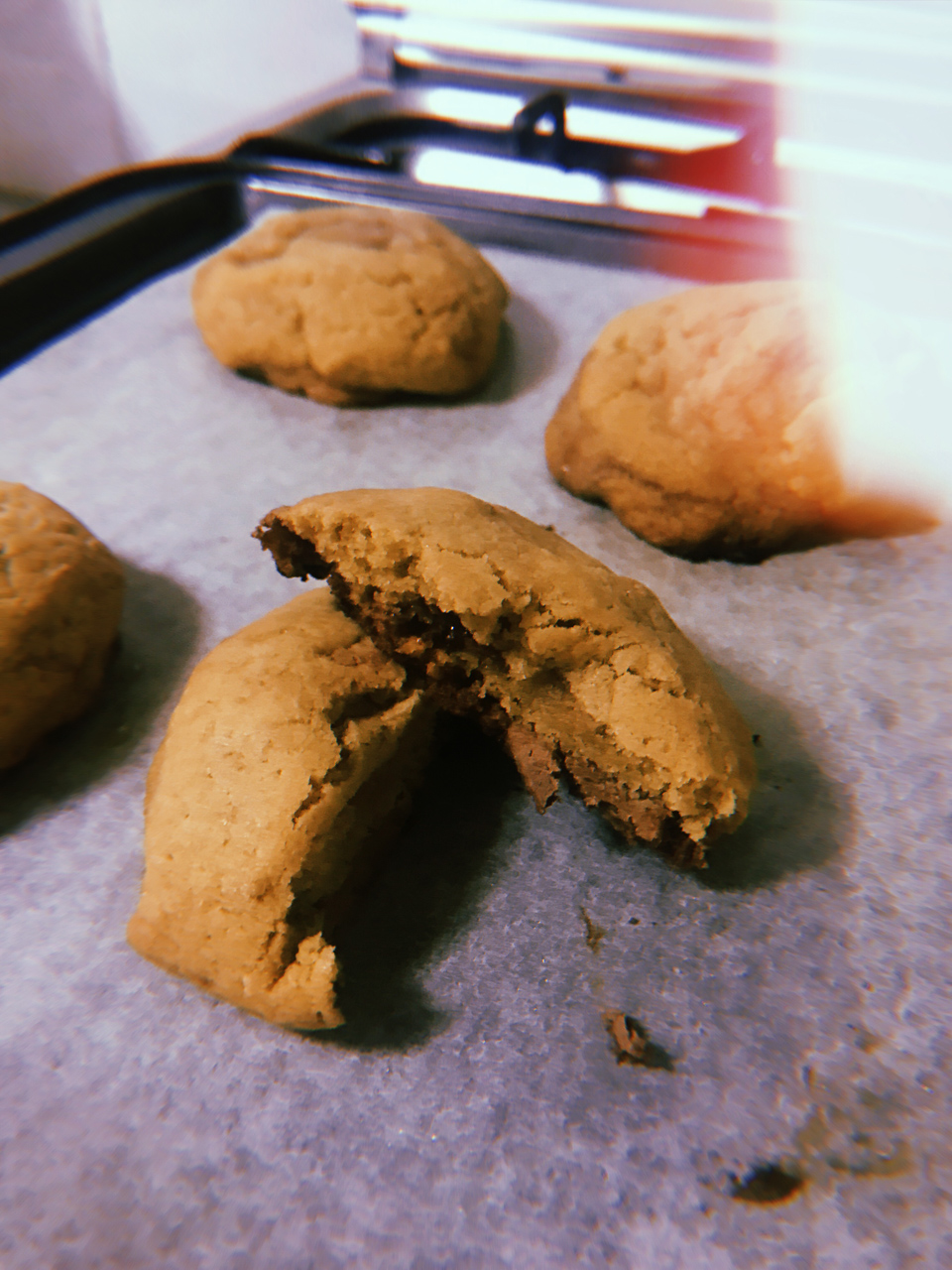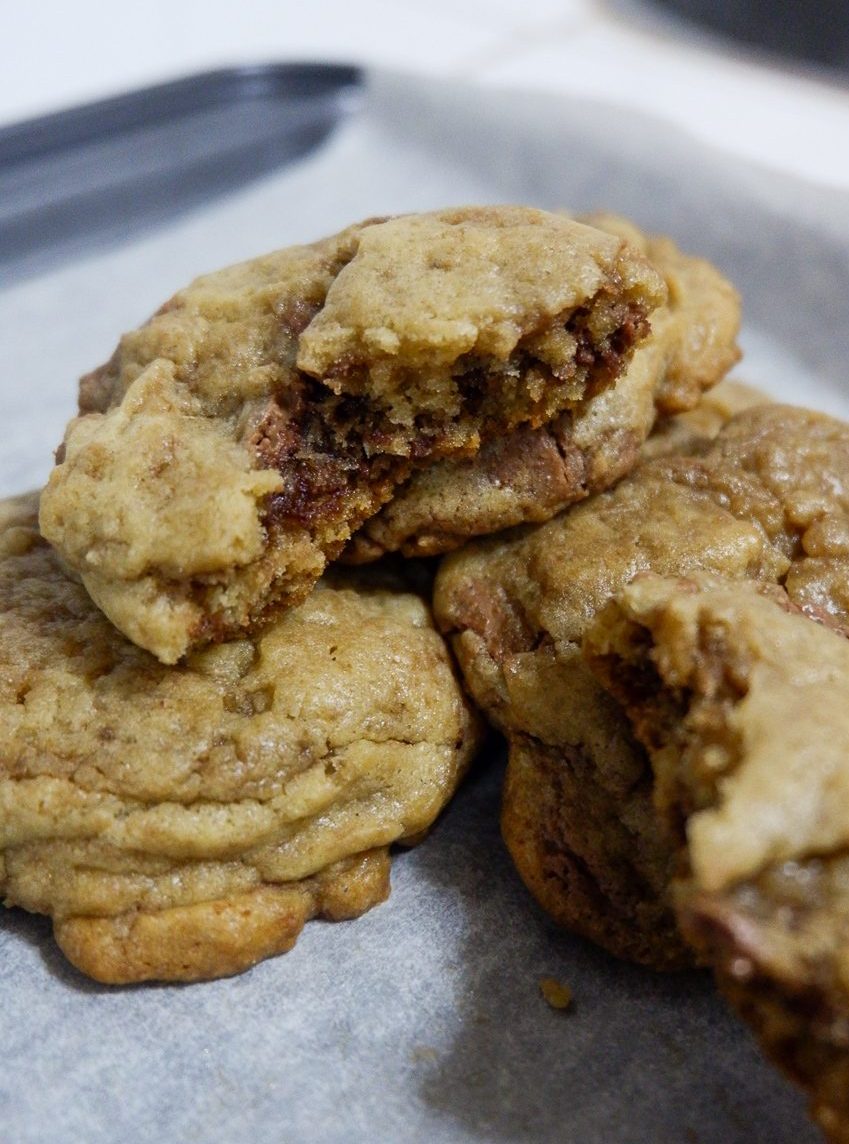 Aside from the chocolate-y inside, this cookie is light(weight), buttery, and chewy-crumbly (though this depends on whether or not you chilled your dough before baking). I think it's pretty good.
Here's how to make surprise cookies—or basically just brown butter chocolate chip cookies:
Ingredients
1

 

cup

 browned butter

1

 

cup

 brown sugar

1/2

 

cup

 white s

ugar

2

 

large

 e

ggs

1

 

large

 e

gg yolk

2

 tsp v

anilla extract

2 1/4

 

cup

 f

lour

1

 

tsp

 b

aking soda

1

 

tsp

 s

alt

2

 

cups chocolate chips/disks/chopped bars
Procedure
Make brown butter by melting it in a large pot over medium-low heat. Stir often and around the pan as the butter melts. It will change color from creamy yellow to deep amber yellow. When small brown bits have begun to form, that means the butter has already browned. Since butter can burn quickly, best to take it off the heat early.
Chill butter for 30-60 minutes.
Pour chilled butter into a mixing bowl, then add brown sugar and white sugar and cream (mix) for 4-5 minutes, scraping the sides of the bowl often. Using a stand mixer would work for this.
Add eggs and egg yolk, one at a time, beating for 30 seconds after each addition. Stir in vanilla.
Add flour, baking soda, and salt. Stir just until combined, then stir in chocolate chips. Be careful not to overmix it.
Optional: Wrap cookie dough tightly and let it chill in the refrigerator for at least one hour. If you have more time, you can also let it chill for 24-48 hours.
Preheat oven to 385 degrees. Line baking sheets with parchment paper or Silpat. Roll (or scoop) balls of cookie dough and place on cookie sheet. Bake for 9-10 minutes or until edges starts to become a light golden color.
If you want them to bake as a "surprise" cookie (the way I did), don't chill your dough. Bake it as soon as you finish mixing it. When scooping onto the baking tray, make sure there's more batter on top, and the chocolate is hidden inside or underneath your cookie dough ball when you place it on the sheet.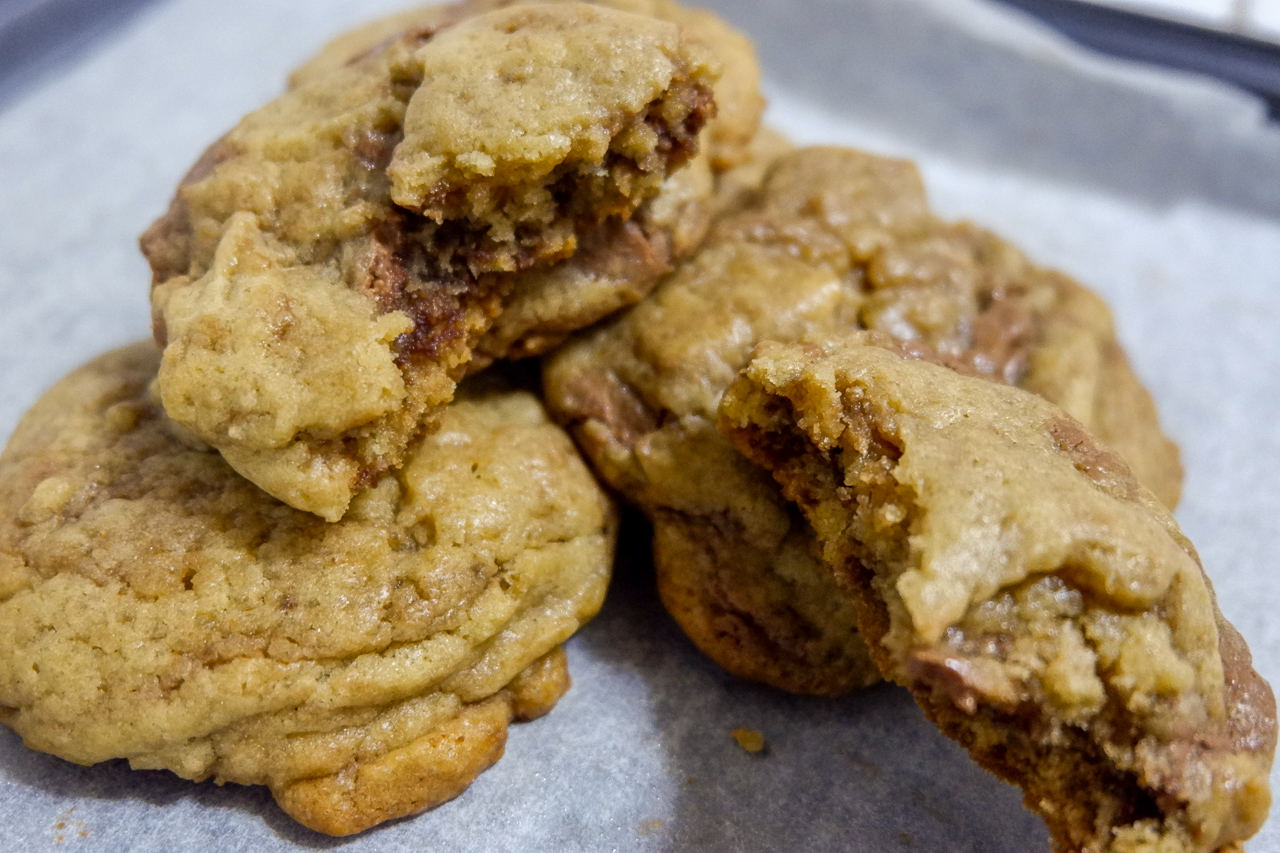 For a more obvious, chocolate cookie exterior, keep the dough in the refrigerator for 24-48 hours. When ready to bake, thaw it just enough to be scooped or portioned. I find this made it harder for me to control the amount of batter or chocolate that comes out on top of the cookie, which makes it look more like the classic chocolate chip cookies we see versus the "surprise" version. A chilled dough does make for a chewier cookie though! (Pun intended?)
Get more stories like this by subscribing to our weekly newsletter here.
Read more:
ICYMI: Liz Uy's cookie business, Mood Bake is doing a popup at Greenbelt
The Flour Girl's Hundred Gram Cookies are not made for sharing
Six places dedicated to cookies that you can run to for a quick sweet fix
Read more by Pauline Miranda:
I tried making "boy bait" cake for Valentine's
Speakeasies where you can "party" in peace
ICYMI: Poison has champorado and tuyo donuts
TAGS: brown butter brown butter chocolate chip cookies chocolate chip chocolate chip cookie recipe cookie recipe cookies dessert recipe