Remembering the desserts we went crazy for
Sweets we didn't mind lining up for
Apr 18, 2018
Let's admit it: here in Manila, we're all pretty trend-obsessed. We've seen numerous fads come and go, but food always seems to be the most popular.
Whether driven by curiosity, a fear of missing out, peer pressure, a need to stay relevant and in the know—or all of the above—getting a taste of that new culinary thing was and is a top priority. Standing through long lines and waiting lists has become standard at this point, almost like a pilgrimage to the holy land where a culinary treat waits.
Over the years, we've seen a number of food crazes come and go, but sweets, in particular seem to have a pretty high turnover rate. Let's bring back some nostalgia and reminisce the desserts that swept over Manila.
Red Velvet
This was one dessert that got popular before Instagram took over our lives, so it's not really attributed to one specific baker or cafe. It was, however, found in almost every food bazaar and marketplace. Whether it was a cupcake, cake, cookie, or crinkle, you can bet every baker started making their own version of this confection during its heyday.
Cupcakes
A natural progression from red velvet, cupcakes have been around since the dawn of time but blossomed into a full-on trend—and I think it's safe to say—thanks to Sonja's Cupcakes. Opening in Serendra sometime in 2006, the shop was Instagrammable before Instagram was even a thing; the kitschy interiors, which were still pretty novel at the time, gave customers something nice to look at while waiting in line. They made the most out of the long queue by ordering cupcakes by the dozen, leaving the store with powder blue boxes sealed with the brand's red logo.
Milk Tea
It's pretty hard to imagine a time where milk tea wasn't commonplace. But years ago, this drink was only really ever found at OG stalls like Zagu and Quickly. When established chains like Serenitea and Happy Lemon were brought over sometime in 2008, people would go out of their way just to get a taste of Okinawa milk tea, or to find out what rock salt cheese milk tea tasted like. Do you remember Serenitea's first branch at Alex III in Greenhills? Pretty nostalgic. But this is one food trend that's here to stay.
Mochi Buns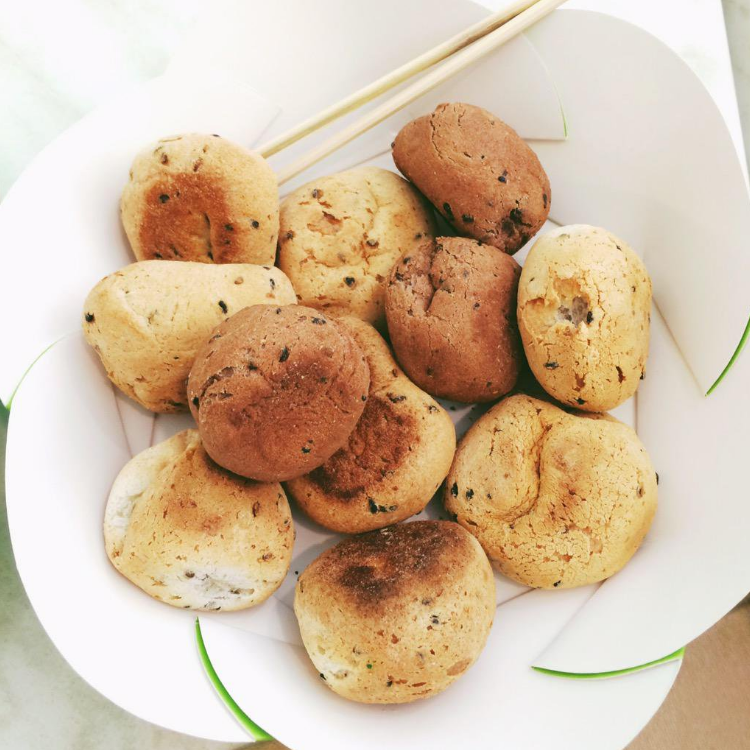 A cross between a pandesal and mochi, this bite-sized treat had the crumby exterior of the former and the chewiness of the latter. It was a popular pairing with milk tea, but unfortunately, its popularity didn't last as long.
Cronuts
Invented by New York based pastry chef Dominique Ansel in 2013, the half-donut, half-croissant creation that took America by storm was made available locally thanks to Wildflour. During the early days of its release, the restaurant's cronuts would sell out before noon. As the cronut bandwagon gained traction, however, it became increasingly difficult to get your hands on some unless you placed an order in advanced. A handful of bakers began offering their own cronut creations to capitalize on its hype, but this trend was short lived and eventually died down.
Churros
Churros still feel relatively new, but can you believe that it's been three years since La Lola opened their first shop? Like the cupcake, this wasn't a new culinary invention—Dulcinea has been the go-to churro spot for years. But La Lola was sort of the Sonja's Cupcake equivalent in the churro world; they were responsible for making this dessert as popular as it was. La Maripili followed, and before long, every influencer and food blogger was Instagramming churros cups of chocolate in elegant packaging.
What other dessert trends do you remember? Tell us in the comments.
Main images by Patrick Segovia and Gabby Cantero.
Read more:
New York's most beloved bakery is coming to Manila
Bakerē's got us craving for Butuan lechon sandwiches and grilled ensaymada
Summer desserts roundup: Halo-halo
Read more by Jessica:
This new cafe is for all the matcha lovers
Go on a Tokyo food tour with this Netflix series
TAGS: churros cronuts cupcakes desserts Dominique Ansel food trends la lola La Maripili Milk tea mochi buns nolisoli nolisoli.ph red velvet Serenitea Sonja's Cupcakes Wildflour